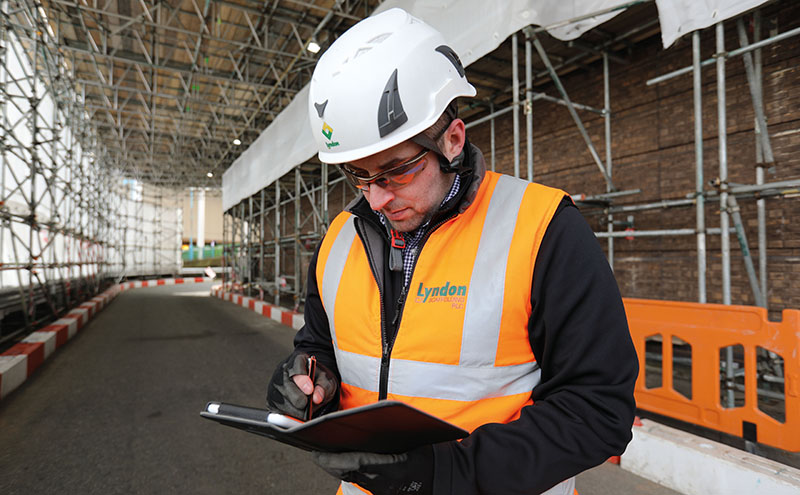 A "ground-breaking" app for scaffold inspection management has been launched, which developers claim will improve efficiency and provide safety benefits.
Lyndon Scaffolding said its Lyndon Inspection Manager software improves and streamlines legally required weekly inspections, doing away with the "burdensome, time-consuming and flawed" paper record system.
The firm added that by providing higher quality inspections and improved record keeping, managers will have more time to invest in site safety.
The software works by providing a "fast and simple" route to add photographs out on site, record safety information and capture faults in a structured format. The app allows capturing of all information from the start of a scaffold erection to clearance from site.
A further advantage is that customers can obtain full access online to the scaffold records through the management system. The software covers the entire lifecycle of the scaffold.
The product was developed in-house by Lyndon Scaffolding and created by software experts.
Rob Lynch, Lyndon Scaffolding CEO said, "At Lyndon, we are always looking to improve what we offer our customers. Scaffolding is a very conservative trade, we though are not prepared just to carry on doing things the way they have always been done.
"This software enables us to give a faster, safer, and more reliable service.
"The traditional paper-based system is time consuming, quality is hard to ensure and record keeping a nightmare.
"Our software removes all of these issues, and offers a wealth of additional features.
"This new software ensures that Lyndon Scaffolding's customers have safer scaffolds – revolutionising scaffold inspection management on site and frees supervisors to dedicate more time to site safety, rather than an endless stream of paperwork. It's about innovation and finding ways to be better in every area of our service."