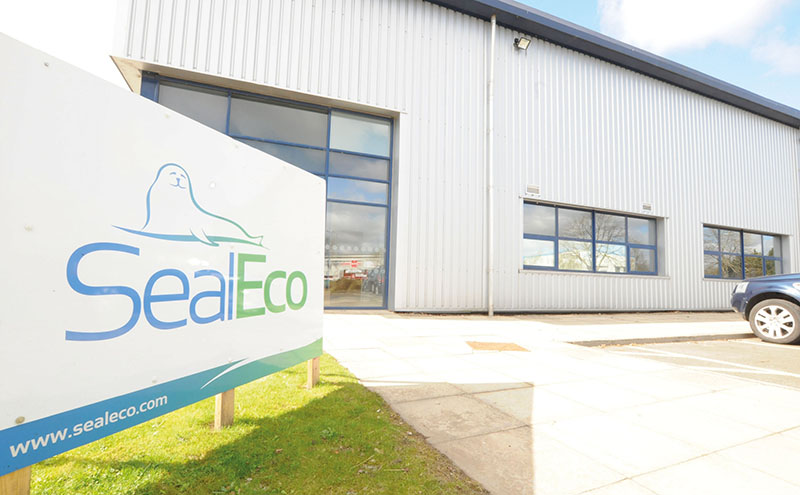 PROMOTIONAL FEATURE
SealEco Ltd has responded to the growing offsite market by moving to state-of-the-art premises in Wishaw complete with new fabrication facilities.
The single ply membrane manufacturer and roofing contractor (part of Nordic Waterproofing Group) supplies a range of products and solutions including EPDM single ply membranes for use in roofing, pond liners, façade waterproofing and air sealing.  They also offer a modular green roof system, GreenGrid.
The investment in the prefabrication element of the business is a game-changer for SealEco in the UK.
Dr Ronan Brunton, Managing Director at SealEco Ltd, said the driving force behind the decision to invest in fabrication facilities was the sector's increasing shift towards offsite construction.
"You just need to look at the news to see that it seems to be the way forward for the construction industry in general," he explained. "We support this idea completely and we're driving prefabrication in this direction in the roofing and waterproofing side of the business.  We have already, for many years, been supplying prefabricated pond liners, mainly through our fabricators in the UK.  We're taking the fact that the market is already used to having prefabricated EPDM rubber in civil engineering and pond lining and we're bringing it more to the fore in the building industry in a roofing context.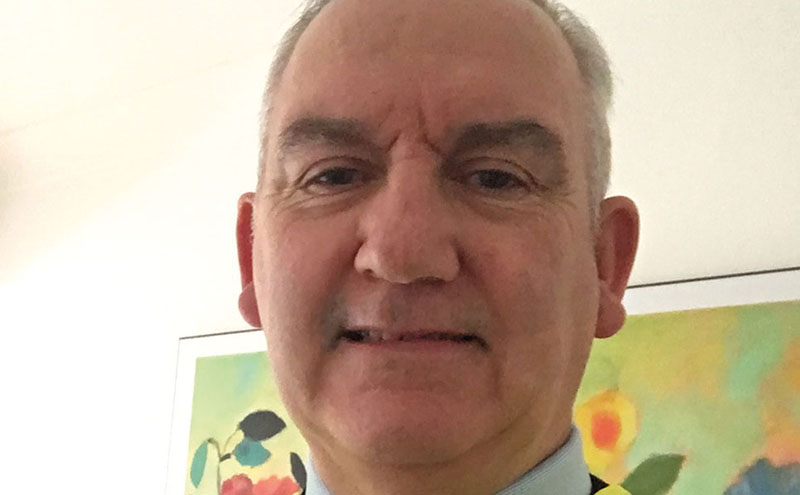 "We're fabricating bespoke roofs here in our facility and then these are sold to roofing contractors and modular builders to improve their efficiency.  We're now investing in three-dimensional roofing at this location."
Dr Brunton said the benefits of offsite construction include increased quality, efficiency and safety. "There's clearly also a cost saving," he added. "The most important issue for contractors should be health and safety. If we can cut down the hours spent on site, we reduce the element of risk. With the kind of weather conditions we have, particularly in Scotland, we should try and work indoors as much as we can because clearly that is going to be a benefit, not only in relation to efficiency and being able to get our teams working productively, but also for the quality as well.
"We're trying to utilise our workforce more effectively; it's as simple as that. From a roofer's perspective, you can work more efficiently indoors than if you have to go onsite because you're not waiting for a window of opportunity to put a system down during bad weather.
"There will always be some elements of onsite works necessary as the building becomes integrated, however our objective is to keep this to a minimum."
Dr Brunton believes that if roofers are only onsite for a short space of time, they can use that period to focus more closely on the key elements that can't be performed in a factory.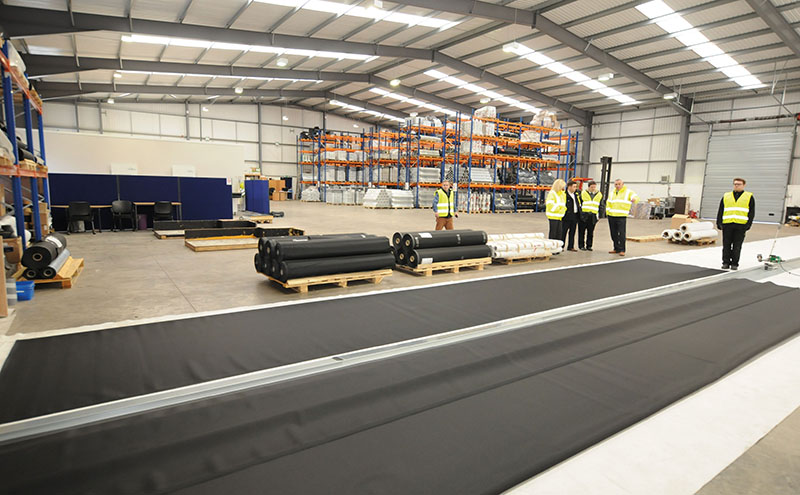 The challenges, he explained, of moving more towards an offsite culture include coordination of getting sub-contractor teams integrated and adapting to being in a factory environment. Dr Brunton said, "Where improvements can be made is where people are becoming involved in offsite projects and still thinking the way they have always done previously. It needs to be a cluster of people and companies feeding into the offsite process. If you're talking about those who are used to working indoors – such as joiners and electricians – it's probably not so different. But for roofers, we need to educate the workforce differently.  For example, workers may not be spending as much time travelling, they might be coming more to one place. Our own roofers have been going to sites all over the country all their lives. Now they may come here 90% of the time, so it cuts down their travelling. Historically, construction workers are nomadic and we should be looking to change this because there are cost reductions to be had, improved efficiencies and potentially better conditions for our employees."
SealEco UK's move from Uddingston to much larger premises in Wishaw has brought everything together on one site and will aid the firm's expansion plans.
"We have office space, warehousing for all our rolled goods and stock (which is distributed UK wide to roofers, façade and curtain walling installers) and now also we also have the fabrication facilities, which will continue to receive investment," Dr Brunton said. "Externally here, we can also work with and prepare GreenGrid, which is our modular green roof system. We're self-contained; when we need to expand, we can expand at this location. We have made the commitment and brought everything together to one central location.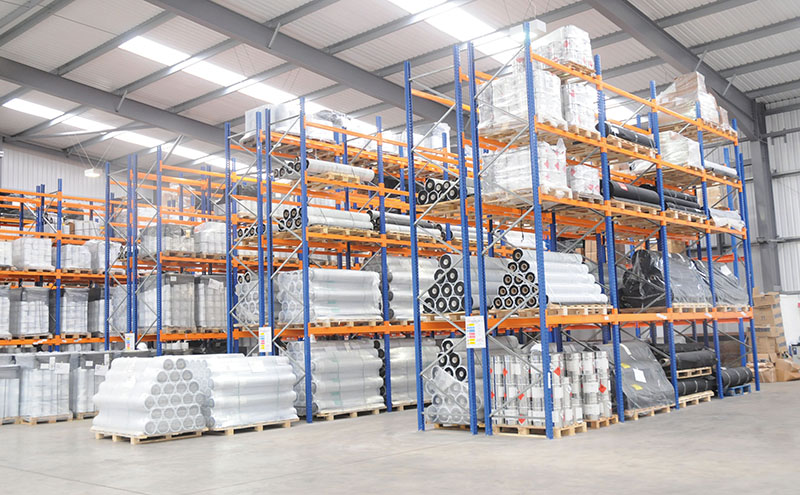 "The facilities here also include a brand new training school for other contractors. They can come along and be trained and approved to install our systems. One of the reasons we started a contracting division was the lack of knowledge of EPDM in roofing systems, particularly in Scotland. It is an excellent product with a life expectancy in excess of 50 years and we feel that our new training facilities will very quickly increase the knowledge base of EPDM roofing as a system and how it can benefit the industry, particularly as the system can be cold applied.  We also invite customers, specifiers, etc to visit our facilities and see first-hand the fabrication process and to work with us to share ideas for further innovation.
"We feel our edge will be in being one of the very few companies providing a fully fabricated roofing system in single ply. That gives us a significant advantage because we're trying to make something that's effectively bespoke and that gives us an edge both in the modular market and the general roofing market. We can fabricate the complete waterproofing for a building and deliver it. We have a current project where, instead of being a week onsite, it will be a day-and-a-half.
"We have 16 employees based here. Most of the office and warehouse staff have been with us for at least ten years. Our objective is to recruit and train people internally to progress through our own organisation.
"Five managers report to me and they're all experienced in the industry; they've been doing their particular disciplines in this type of environment for well over ten years. That gives us the opportunity for them to pass on their knowledge to younger people as we bring them through."
Despite being based in Lanarkshire, Dr Brunton said less than 10% of the firm's work comes from the Scottish market. However, SealEco has been involved in a number of standout Scottish projects including supplying and installing the waterproofing and green roofing materials for Portavadie Marina Spa and Leisure Centre, five levels of roofing at the Marriott Hotel in Edinburgh's Baxter's Place and the Helix Visitor Centre by the Kelpies.
"People can buy our products and install them as a contractor or we can install them ourselves," Dr Brunton said. "We have our own contracts division and have worked with the majority of main contractors. We're fully accredited and were winners of the NFRC single ply contractor of the year for Scotland 2015.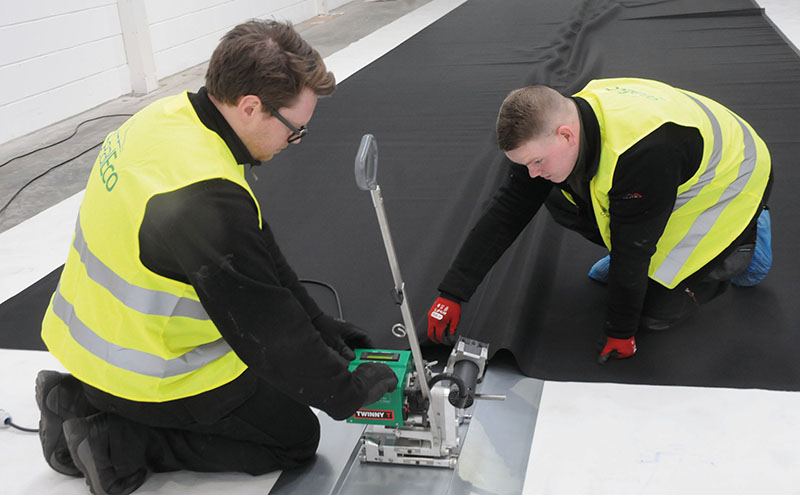 "The company promotes environmentally friendly products and systems. When Part L came out, our products helped the designers and contractors meet their obligations. I am a qualified BREEAM assessor so we're pushing all aspects associated with the environment, not only in the products and the systems that are derived from those products, but also in our attitude to the market. We're trying to do the right thing in terms of quality, efficiency and the way we treat people, both internally and externally. We intend to live up to those core values because they are SealEco core values. We're not just trying to tick boxes; we're trying to really make a positive difference.
"Everybody is seeing the benefits of being associated with the environmental mantra but are people really following it through? I'd say there are varying degrees of that. We don't claim we are doing everything perfectly right, but we're always striving to improve. We've always had a philosophy 'this is what we want to do' and we're gradually doing more and more in a positive way towards our goal. There are many excellent companies out there doing very important, good things. We can only focus on what we are trying to do; I think we've come a long way in the past ten years. We actually want to measure ourselves internally as much as externally on how we're achieving that."
Regarding the future, a big target area for SealEco UK is supplying products to builders' merchants. A new sales team has been hired in England, focusing on the builders' merchant and specification markets.
Dr Brunton said the business would always try to improve along the same lines as it has always done, while at the same time, strive to drive up standards across the sector. "I'm a council member of the Single Ply Roofing Association (SPRA). SPRA works to promote quality and training within the industry and we support that wholly.
"We believe the only way of addressing the skill shortage issue is for companies to be dedicated to taking people on and training them. We're trying to get more members into SPRA because then they submit to a code of practice. They're audited and checked by SPRA. It's not an elite, exclusive club; we're trying to broaden it and improve the roofing industry in general.
"As a contractor and manufacturer, we see it from both sides and understand the issues they both have.
"With our products, we're focused on the building envelope and its performance; in sectors of civil engineering and also we're looking to drive innovation in these areas.
"We retain the core elements of the business, however going forward, the way in which they will be used and the way we'll be more innovative and will engage with the industry, will deliver better products and systems that will meet these objectives; efficiency, transparency, better quality."