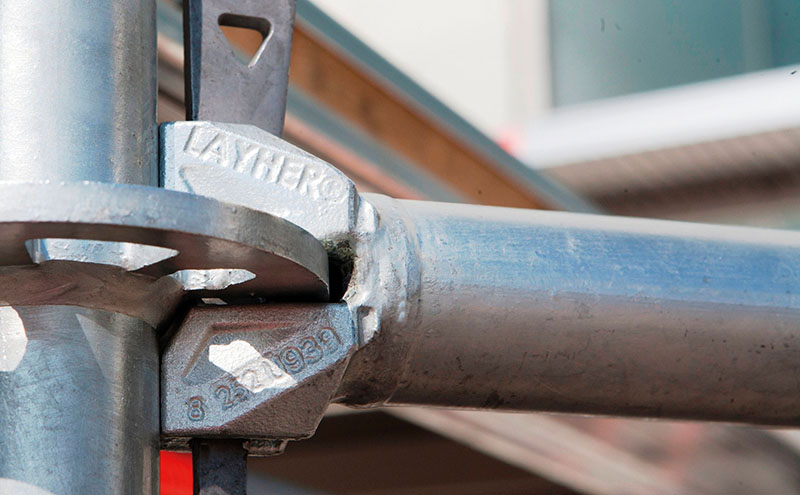 Equipment design and proven performance are key factors in almost all successful scaffolding installations. But, according to Sean Pike, UK Managing Director of Layher – who have developed a strong presence in Scotland via the company's depot in Livingston – the capability of the scaffold system itself is only part of the story
THE wide range of access and weather protection needs that can be seen not only in construction but also in specific areas that range from the rail and highways industries to oil and gas production and shipbuilding, all have common characteristics.
Safety, cost effectiveness and adaptability are high on the list but delivery on these requirements, and many more, starts much earlier than the arrival of the vehicle on site.
At Layher, we take the view that there is no substitute for building a close relationship with our customers, whatever their size or complexity of the project. Transferring our own knowledge to each contractor is the best way of ensuring every installation is tailored not only to the needs on site, but also to the broader project objectives.
Clearly training is key in this context and our range of in-house CISRS-approved courses is designed to match the requirements of scaffolders of all skills.  However, while this is also closely linked to ongoing product development, it also enables the benefit of system integration to be fully enjoyed – a factor that can maximise both project scheduling and efficiency.
One of the key factors that has always been central to Layher's success is our versatile rosette connection system.  This allows a wide range of layouts to be achieved quickly and, because there are no separate loose fittings, has an obvious safety advantage including reductions in the risk of components accidently falling or of equipment being left at site.  Importantly, as this design is at the heart of every piece of equipment we produce, it also allows usage to be maximised and, therefore, contractors to optimise their stockholding.
This is further enhanced by the in-built strength that arises directly from extensively tested and proven manufacturing procedures, allowing, for example, wider bays and clear walkways to be specified.  From façade scaffolds, bird-cages and bridging systems to stairtowers, temporary roofing, event systems and falsework, the gains in terms of speed of erection and safety are well recognised.
These are all elements, we believe, that are best realised through a commitment to developing a close working relationship with each customer.  Factors such as in-house technical support, financial options and on-site back-up, underpin the importance of building an understanding of every individual contractor's needs. Yet, these also depend on one other vital factor – stockholding and, moreover, easy accessibility to support and back-up.
The establishment of regional Layher depots around the UK and Ireland pays testimony to our commitment to this view and our facility in Livingston is a prime example.  Fully supported by our UK head office in Letchworth, the capabilities of Technical Manager for Scotland and Ireland, Kenneth Redman, and his team ensure the full range of Layher's expertise in the UK – and, indeed, that of our world headquarters in Germany – is fully available to the marketplace across the whole of Scotland.
It is an ongoing operation to which we are fully committed in terms of both personnel and product availability – for example, we are delighted to welcome Mark Bisset as a new Area Sales Manager who brings extensive experience as a scaffolder to our customers.
Whichever Layher system is used, however simple or complex the project, whatever the objectives in terms of cost and scheduling may be, we believe it is vital to apply the same proven principle. Because we believe ourselves, our scaffolding contractor customers and their own clients all have the same fundamental interest – achieving the safest, most versatile and cost effective scaffolding and access solution – there is much to be gained by everyone from building both awareness and close relationships. We are proud that there is a proven and growing list of successful installations in Scotland where this approach has, and continues, to produce tangible benefits.