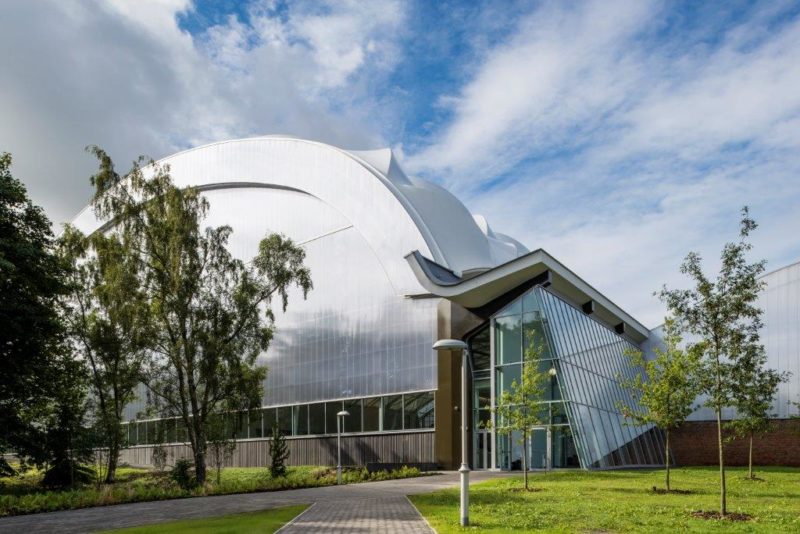 AGGREGATE Industries has announced that it has supplied more than 15,000 tonnes of aggregates and specialist sand and 1,100 sqm of commercial hard landscaping to the £33 million Oriam, Scotland's National Sports Performance Centre.
The Edinburgh building, based within Heriot-Watt University's campus, features a wide range of sporting facilities including inside and outdoor pitches, a strength and conditioning centre, hydrotherapy pool and fitness studios.
Aggregate Industries teamed up with main contractor, Bowmer & Kirkland, to offer an "integrated materials supply solution", which involved the supply of 5,600 tonnes of 6mm and 580 tonnes of 10mm single size aggregates, 4,633 tonnes of Levenseat ProPitch 25, 3,884 tonnes of ProPitch Rootzone and 400 tonnes of ProPitch 20 as well as 1,100 sqm of Charcon Andover Washed premium block paving in Anthracite Charcoal.
Duncan McCool, sales manager at Aggregate Industries explained, "Our real USP on the Oriam project was to be able to service the full construction materials brief through an integrated solution. From the client's perspective, this means one contact and a much simpler supply structure, particularly in terms of timetable management and site access, which when you're on a tight deadline with eight different pitches and various different materials specifications, comes into its own.
"Our Levenseat silica sand quarry in West Lothian has built a reputation for offering the best sports sand on the market having supplied Hampden Park, BT Murrayfield, multiple Scottish Premier League football clubs, the Victoria Park Stadium and now the National Sports Performance Centre."