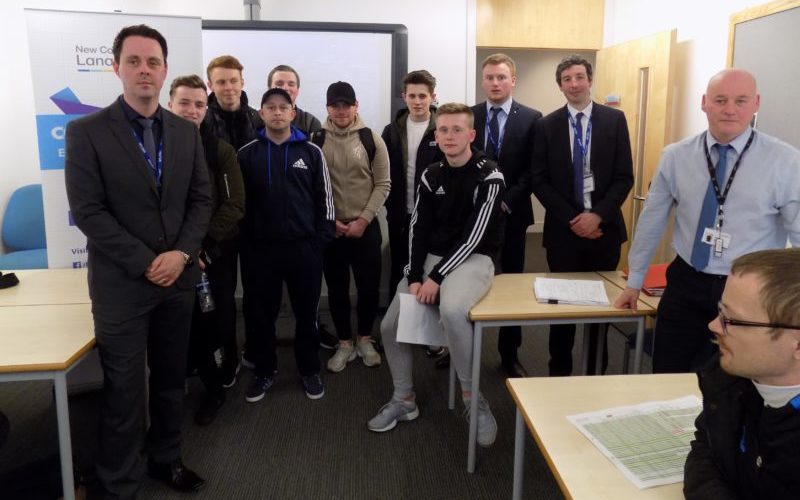 EMPLOYEES from Morrison Construction have helped give built environment students from New College Lanarkshire a taste of what's involved in major construction projects.
Two quantity surveyors and a project manager from the firm recently gave a presentation to more than 30 students about the planning and processes being employed at the £43 million Largs Campus, which brings together early years, primary and secondary education into a complex of seven buildings.
The students got to see detailed procurement schedules involving more than 60 sub-contractors as well as a master programme for the works.
Quantity surveyor Ian Paterson said, "It's important for industry professionals to engage with students so that they have a good understanding of the opportunities that are available to them within the built environment.
"I hope it has encouraged the students to think about the different career paths on offer, and how they could progress from studying to realising their ambitions. Whilst studying is very important, it is vastly different to working on a live construction project and I think it's important that students get a more complete picture about the variety of work that is involved in delivering a large construction project.
"Projects such as Largs Campus can be both rewarding and challenging and it is good for students to have relevant 'real life' examples that they can aspire to be involved in."
The College has worked with Morrison Construction for the last two years on securing work placements and employment opportunities. Lecturer John Quinn added, "The presentation illustrated the different career paths available, either through traineeships or a full-time education route at university, which both achieve the same goal.
"The students did find the size and cost of the project quite daunting, but it was really useful for them to learn that these guys were in a similar position to them when they first went to college or university and didn't really know what they ultimately wanted to do in their respective careers."