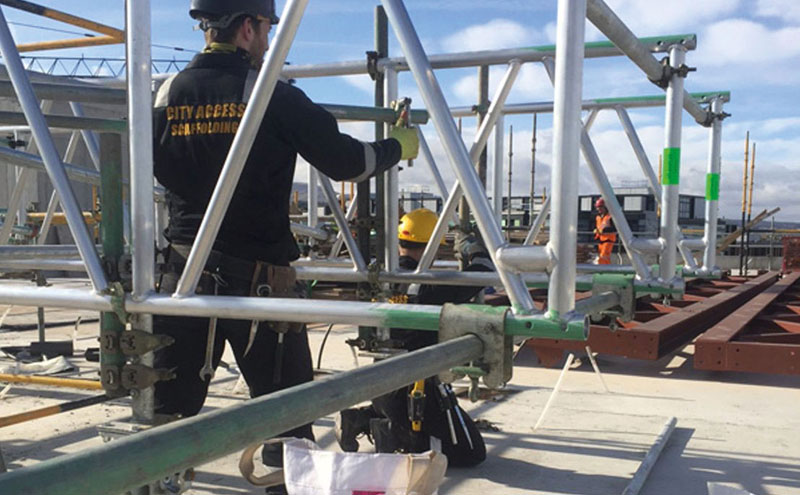 AN Edinburgh-based scaffolding firm has warned that the lack of young scaffolders with a working knowledge of the tube & fitting method could lead to a skills shortage of traditional scaffolders in the future.
Mark Skinner, director of procedures and compliance at City Access Scaffolding told Project Scotland that over the last 15 years, the training young scaffolders receive has shifted in focus to system scaffolding, which is resulting in a "smaller core knowledge" of tube & fitting, as those well versed in the method reach retirement.
"We worked all our days prior to establishing City Access with tube & fitting," explained Mark.
"We put all our trainees in with our advanced scaffolders (on projects) and keep them working with the tube & fitting in order to maintain that level of competency going forward, because we know that this is going to be a major shortage."
As well as placing trainees alongside advanced scaffolders on projects, Mark said the firm holds regular training days at their site where they are able to gain experience on other designs; "They'll do stuff they'd never do elsewhere like slung scaffolds that you very rarely get, so they're getting exposure to these complex scaffolds and tube & fitting on a regular basis."
Speaking on the potential skills shortage, Mark said, "In the next ten years you're going to have a major shortage of traditional scaffolders… you'll not get the level of service on clients' jobs because you can't provide the competency that the client deserves and requires for his work. (There is a) lack of trainees and people coming through with that core tube & fitting knowledge; it is basically getting diluted, diluted, diluted."
While system scaffolding is generally considered to be less time and labour intensive, Mark said that is it more difficult to build around obstacles such as pipe runs or cable trays.
"Time-wise, (system scaffolding is) great, but if you've got something above you and something in front of you…you might have to put elements of tube & fitting in it to get round it and then that increased time where you're doing that, you've created more work."
Mark said that "nine times out of ten" complex design scaffolds will be based on the tube & fitting method and, without proper knowledge, young scaffolders will not be competent to build to those design plans.
He continued, "You've got to work with tube & fitting day in, day out for a good five years solid in order to really appreciate how it works and what component does what. Whereas if you go to college, you do your ten days at college working with tube & fitting, that then doesn't fall out onto where you're actually working because you'll do those ten days at college then you'll come back and you'll start throwing about systems scaffold again.
"You're not getting constant exposure to the traditional tube & fitting. You can't solely base scaffolding on a system, you need to have options; you need to have options where if a system can't go in there and it's not appropriate for the work that's being done then you get a design and you go with your tube & fitting."