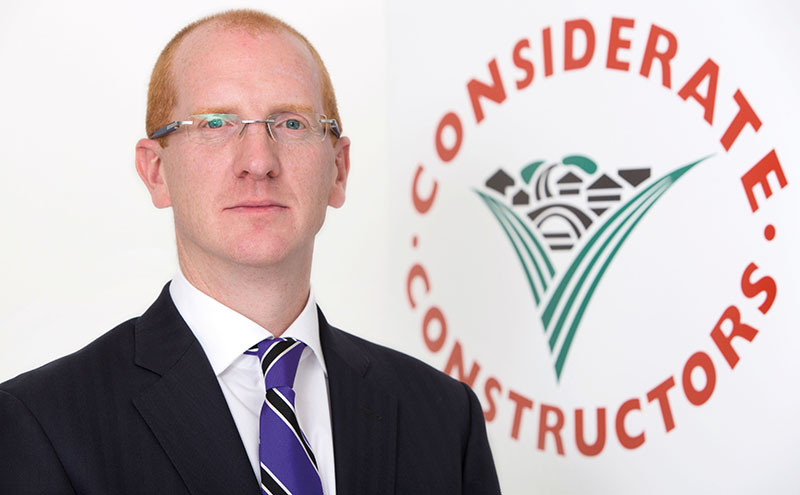 MAIN contractors are being urged to carry out spot checks and implement robust procedures to ensure there are no illegal workers on their construction sites.
Edward Hardy, chief executive of the Considerate Constructors Scheme (CCS), said the issue of people working illegitimately in the sector appears to be rising, based on the responses to a recent survey. The CCS has now added two new questions on the subject to its Monitors' Checklist and launched a nationwide campaign in an attempt to shine a spotlight on the matter.
Hardy told Project Scotland that it's not acceptable for main contractors to assume that subcontractors and other companies in the supply chain have carried out the necessary checks. Instead, he is calling on main contractors to take responsibility by ensuring they have their own procedures in place to crack down on any illegality taking place on projects.
He said the issue of illegal working in the construction sector is a "serious problem". The CCS recently conducted an industry survey on the topic. "We asked people working in the sector what they believed the main issues were and how big they thought the issue was," he explained. "About 33% of those surveyed suspected that there were illegal workers present or previously working in and around them on sites. 81% believe that is on the increase and has been increasing over the past 15 years. If that's the barometer for what's happening out there, that suggests there is quite a big problem."
The Home Office's definition of illegal working concerns individuals who are subject to UK immigration control, and have either entered the UK illegally, overstayed their permission to be here, or have permission to be in the UK but are subject to a condition preventing them from working.
Hardy pointed to statistics published by the National Crime Agency, which revealed construction was the sixth most prevalent industry when it came to labour exploitation.
The combination of a transient workforce, high levels of self-employment, a high demand for labour and the much talked about skills shortage has created a perfect storm for illegality to prosper.
Hardy said the CCS has discovered that in most cases, it has become an assumption rather than a tested fact on the part of some main contractors that those working in the supply chain have been making the necessary checks to ensure everyone is legitimate to work.
He added, "What we're saying is that you can't base your reputations on an assumption; there has to be more than that. What we're pushing contractors to do – main contractors in particular – is to ensure they have procedures and processes in place to be able to check the legitimacy of the workforce.
"That can include right to work checks and spot checks on sites. There has to be a culture throughout the construction industry where people feel that they are able to highlight where they think there are issues, or where they have concerns.
"We can't base our beliefs on expectation; legitimacy has to be checked and processed. There have to be procedures in place to ensure that there aren't illegal workers on sites – we can't just make that assumption. All of the data suggests that this is a long-term problem. We're a scheme that's all about improving the image and reputation of the construction industry; and in order to attract all the right people for the future, the industry must have a fantastic reputation and a fantastic image of being a positive and good employer. If the belief is that the construction industry is somewhere where illegal workers are, then the industry should do all it can to address that."
A further concern Hardy highlighted is that if some workers on sites are there illegally, there could be safety implications.
"You have to assume if they're able to work on sites illegally that they're probably not getting the necessary level of training, guidance and advice around health and safety, because surely if they were getting those toolbox talks, inductions or training, at that point it would probably flag up that they're not legitimate to work," he said.
"I think we must assume that by the very nature of the fact they're not working legitimately, they probably aren't working to the highest possible standards that we would expect."
The CCS, which makes around 18,000 monitoring visits annually, recently launched its campaign aimed at tackling illegal working in the construction sector: 'Spotlight on…illegal workers'.
The Scheme has added two new questions to its Monitors' Checklist centred specifically on the legitimacy of an organisation's workforce.
The new questions are:
• Are there processes in place to ensure subcontractors (and subsequent subcontractors) are conducting right to work checks?
• Are physical spot checks conducted to ensure minimum standards of right to work checks are taking place within the supply chain?
The gist of this is that main contractors should not assume that their supply chain is legitimate to work on their site.
Hardy added, "They, as the main contractor, should ensure that the supply chain is doing all the necessary checks.
"Our advice is that the main contractor should also carry out spot checks on site at any point in time to test and ensure those checking processes are robust.
"By the very nature of the fact that we're asking these questions, sites will start addressing our concerns and will in turn, start asking the questions.
"This should result in construction becoming a much less attractive place for people to want to put illegal workers, because they'll know that the checking processes are robust and it makes it harder for people to get away with it."
For more information about how to tackle illegal working within the construction industry, visit www.ccsbestpractice.org.uk/spotlight-on/illegal-workers/ to access the Considerate Constructors Scheme's Spotlight on…illegal working campaign.