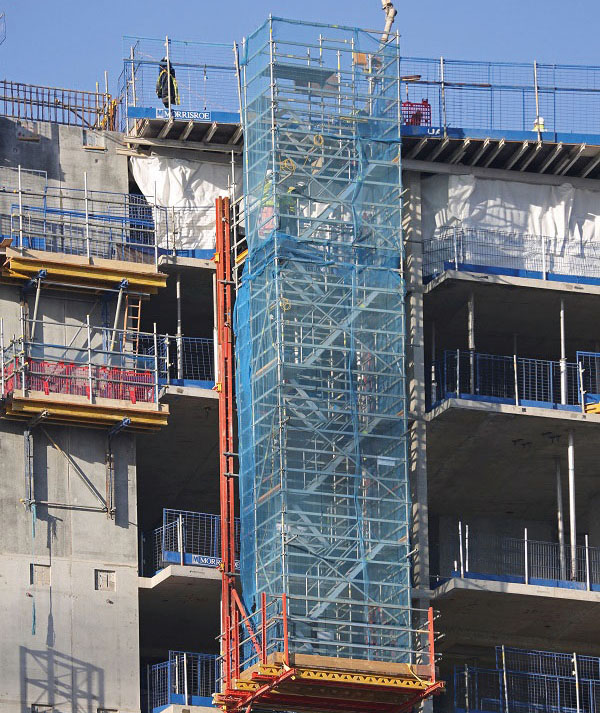 Howard Ball, Product Manager – Scaffolding at PERI UK discusses the issue of integrated scaffolding and formwork solutions, and how these can be deployed to deliver increased site efficiencies and improved construction cycle times
WITH space at a premium in many cities and unprecedented demand for new buildings, quite literally, the only way is up for the construction industry.
To get around space restrictions, more and more property developers are turning towards high-rise buildings as a means of maximising their investment. As a result, the London skyline alone is due to change beyond recognition, with more than 200 high-rise buildings currently under construction or due to be built over the next few years.
It's a similar picture in many other of the UK's leading cities. The surge in demand for buildings of this kind raises several important issues, with efficient construction cycles and safe working at height practices taking centre stage. Historically, most projects have used separate suppliers for formwork and scaffolding. From a project management perspective, however, the opportunity to deal with one supplier to provide both formwork and scaffolding systems reduces supervision and administration time, as well as the number of different contractors on site at any one time.
Efficiency is a real priority for the construction industry, with a growing emphasis on doing more with less time. Furthermore, the challenges of high-rise construction, often on sites short of ground space, coupled with increasingly complex building designs and with respect to their shape and profiles, can be addressed with integrated formwork, scaffolding and access systems.
An example of an access system integrating with formwork elements to provide a practical site solution could work as follows. For any high rise development including residential blocks, access to all levels at any one time is vital for the various phases of the construction process. Typically, a traditional access solution would comprise a large stair tower built from the ground upwards, remaining on site until permanent access is available. Not only does this take a large amount of time to build, it requires constant extension to follow each rising floor, which exposes workers to the external elements, takes up vital space on site and restricts other construction phases from starting on the lower floors.
In this scenario, we would propose a different system, supported by a cantilever, providing access from the wet construction levels down a number of floors on the outside of the building (for example, 5 or 6). The scaffold stair tower is erected on the ground in small modules and then craned into place and stacked, eliminating the risks associated with working at height.
A system like this could utilise our RCS climbing formwork which fully integrates with PERI UP scaffolding and access system to allow quick and efficient assembly without the need to be rooted to the site floor.  Below the floors covered by the system, workers can then use the now constructed permanent internal stairs to move down to the ground floor while safely housed inside the building.
This cantilever access system enables workers to continue constructing the concrete frame on the upper levels, but frees up space and access to all lower levels to allow other works to begin such as cladding, steelwork and fit-out. The self-climbing system works using a hydraulic jack, freeing up vital crane time for other activities. There is also a significant reduction in the risk of lift operations being called off due to poor weather, with the overall benefits of this system enabling faster, more efficient construction by opening up lower levels sooner to the next phases of work.
Another example which demonstrates the importance of a flexible scaffolding system is the construction of tunnel works on the Farringdon Station Crossrail project. The construction method required a mobile scaffolding system within a tunnel of more than 8m in diameter to enable both waterproofing and spray concrete lining. The scaffold design also required access for trucks to enter the tunnel so that concrete work could run simultaneously.
With safety and stability at the forefront of the design, one of the main challenges was to meet Prestec's preference for a castor-mounted scaffolding structure which significantly restricted the system weight available to us. At the same time, this also had to enable the contractor to conduct concrete spray lining using a system that was sufficiently narrow to move freely within the tunnel.
In response, our design team in Brentwood were able to design a bespoke PERI UP system with detachable cantilevered console brackets on the edges of the structure to allow waterproofing to take place. Once waterproofing was completed, the brackets could also be utilised for the concrete spraying which enabled the work to be completed in a shorter period of time.
An additional example of the compatibility and ease of integration between PERI UP and formwork systems can be seen in the construction of escalator shafts. By utilising a formwork base frame within a sloping construction site and mounting mobile PERI UP scaffolding system on this base, a flexible and cost-saving mobile platform aids a quick and safe construction process.     
Having an integrated solution provided by a single supplier can help to ensure that critical activities in complex construction projects go ahead as planned.
Conversely, introducing additional suppliers creates additional challenges for contractors, which may impact on smooth running of a project. Unnecessary risk cannot be countenanced, while integrated solutions can help to deliver greater efficiencies in terms of time, cost and logistics, while also helping to achieve improved worker safety.