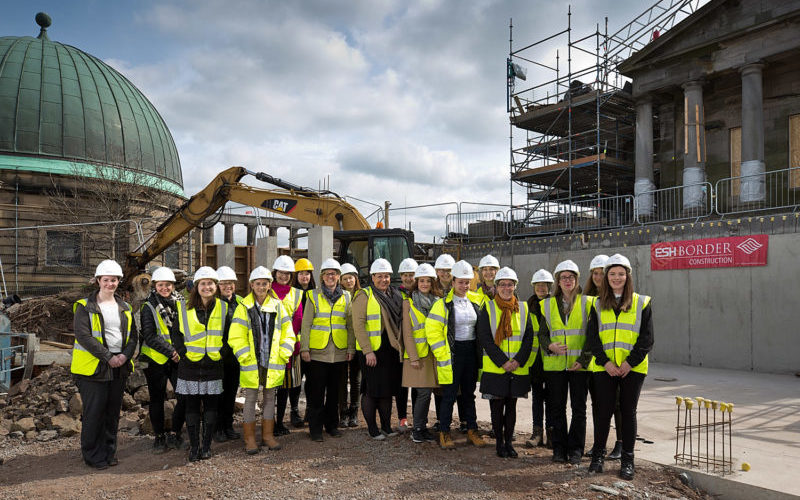 THE contractor currently delivering the transformation of Edinburgh's Calton Hill Observatory site has given an exclusive preview of the project to women from across the property spectrum.
Esh Border Construction invited the Association of Women in Property (WiP) to a tour of the site, where they saw "significant progress" has been made on the £3 million second phase of redevelopment work. The group was also treated to a presentation about the works at a local hotel.
Esh is working to open up the 19th century 'birthplace of astronomy and timekeeping in Edinburgh' for public use as well as delivering a new restaurant and gallery space. The project is being delivered for a partnership of City of Edinburgh Council and visual arts organisation Collective.
Visitors to the new restaurant will enjoy "stunning" views, according to Esh, thanks to a "substantial area of westward-facing glazing". The building will be illuminated at night and be visible from all around Edinburgh.
The gallery will provide space for artists, audiences and producers, with astronomical instruments and telescopes on display in the City Observatory. The site grounds will also be restored.
The "revitalised" observatory complex is to become fully accessible to the public for the first time.
Ashleigh Day, Esh Border Construction's assistant estimator, hosted the WiP event. She said, "We were delighted to have the opportunity of showing the group around the site, giving them a preview of the exciting development to come.
"The women enjoyed their sneak peak of this landmark project, one that we are certain will inject new life into a hugely important site in the centre of Edinburgh while fully showcasing its stunning views.
"WiP was able to see how the project will soon house one of the finest visual arts spaces in the country as part of a wide-ranging attraction that will be open to all, encouraging creative interaction.
"The group heard about the project's massive emphasis on economic and regeneration objectives, going hand-in-hand with Esh Border's ever-present focus on adding value in the communities where we operate."