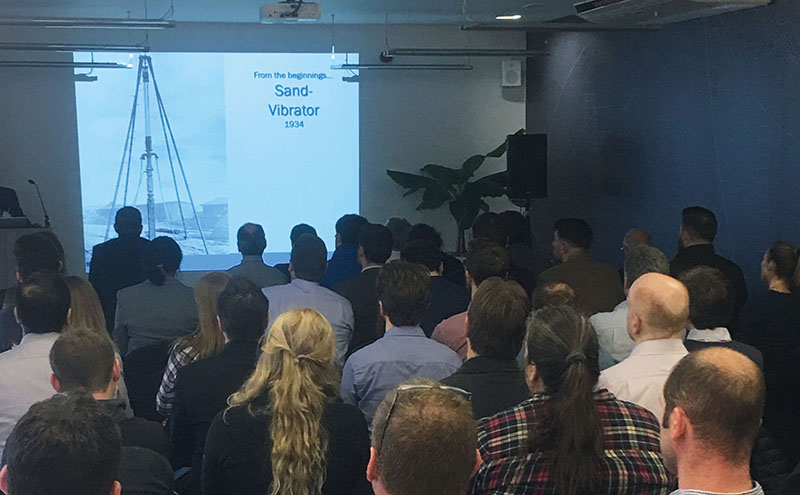 NOW in its tenth year, Geotex events are held across the UK at prestigious venues including the National Railway Museum in York, the RAF Museum in London and the Titanic Museum in Belfast.
The most recent one, at the Falkirk Wheel in mid-March, attracted dozens of delegates and speakers.
"Primarily, the focus has always been ground engineering innovations, together with a broader look at how legislation affects the use of those innovations, particularly with regard to environmental concerns," explained Geotex event director, Patrick McGowan.
Patrick said that Geotex has "gone from strength to strength" since the first event was held at Manchester United's Old Trafford football stadium in March 2007, both in terms of audience participation and the variety of companies coming forward to exhibit.
He continued, "When we first started with Geotex one my concerns was that the construction industry didn't evolve fast enough to provide us with a continuous flow of innovations – I mean, how wrong could I possibly have been?"
Patrick, who has 30 years experience in the construction industry, explained that the event offers companies an opportunity to showcase their innovations to self-selecting delegates who have an interest in those new solutions and are keen to network.
Speaking after the event, Patrick said he thought it went "really well".
"A good crowd of delegates, there was quite a lot of networking going on and questions for our speakers – a good turnout, an excellent venue, as usual, and an excellent event.
"Some (delegates) had been before but only about one in 20, so that's also interesting that every year there is a whole new audience."
Patrick added, "There's always a really good buzz in Scotland. A great crowd, good humour and banter and a good bit of networking, which is great to see. I enjoy that part of it."
Representatives from companies including Scottish Power, BAM Ritchies, Keltbray and Fairhurst were in attendance, along with local authorities including Stirling Council, Falkirk Council and City of Edinburgh Council.
Keller UK was at the Geotex event at the Falkirk Wheel to highlight the company's ground improvement techniques.
Derek Taylor, business development manager at Keller UK, commented, "We want to get across that we're first an engineering firm. We solve geotechnical problems and we want to get across in as quick a time as possible that we have a wide range of solutions to solve any geotechnical problems.
"We get a chance to showcase anything new that we might be doing, we get a change to showcase local projects and make connections with the local geotechnical community."
Derek added, "Keller have always had an office in Scotland in some form or another and we always support this event. It's one of the only geotechnical seminars focused just on geotechnics and we feel it's attended well by Scottish geotechnical engineers."
Uretek was in attendance to present their non-invasive ground stabilisation technologies. The firm specialises in a liquid polymer that is injected directly into the ground.
In his presentation, business development manager for Uretek, Bill Stevens, said that the method had "no cure time" and the company was capable of doing "big repairs without causing major delays".
Speaking after the seminar, Bill said, "It's so simple – the idea of injecting a liquid polymer into the soil under an existing structure and you can stabilise that structure.
"Even very large structures can be stabilised without any digging out and it can all be done very quickly and it's very efficient, at a good cost. There's 60 or 70 people here who will be directly involved in commissioning work that we will be able to help with, so it is one of the best events for us.
"People are really interested in what we're doing and they're very interested in the type of system that we've got and comparing it to more traditional approaches."
Phillip Greer was at Geotex representing Pontypridd-based material technology firm, Concrete Canvas.
Speaking after the event, Phillip explained, "We've developed a product called Concrete Canvas, which essentially is a concrete impregnated geotextile that hardens on hydration to form a durable fibre reinforced concrete layer.
"It can be described as concrete on a roll; it starts life soft and flexible, it will conform to whatever slope or channel you put it on and you simply add water and it hardens to form a fibre concrete layer, so it's a new vehicle for applying concrete in a very rapid fashion.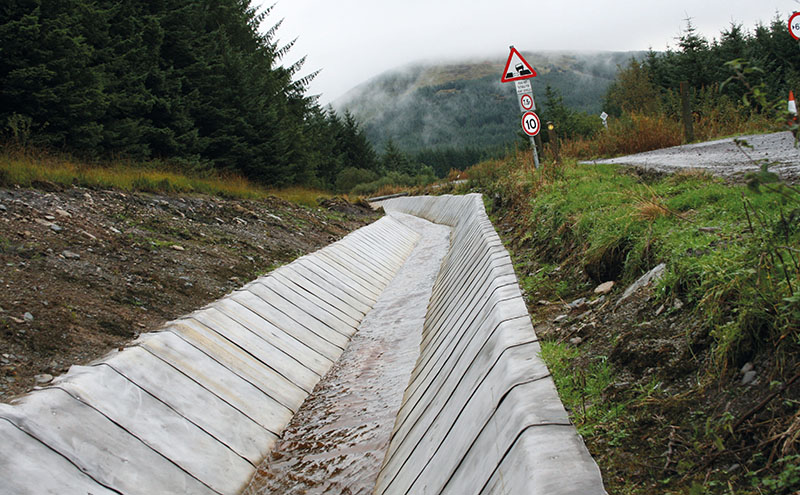 "We're still relatively in our infancy in terms of the construction game, so although we've been going for ten years now, it's only in the last six years or so that we've been focusing on our Concrete Canvas material.
"A big part of what we do currently is raising awareness of Concrete Canvas and raising it to the attention of geotechnical engineers and engineering consultancies."
Phillip explained that Concrete Canvas recently appointed a new technical salesperson to cover Scotland as a reaction to the "sustained growth" they have seen in the country.
Going into further detail about why Concrete Canvas is suited to the Scottish market, Phillip said, "One way of looking at is would be the inclement weather that Scotland is invariably subjected to – so one of the advantages of our material, unlike a lot of wet concrete products, is it can be installed in very adverse conditions. We have a delayed setting time on the material, which means that if it gets prematurely wet you still have two hours of working time to install it so just because it is battering down with rain, it doesn't mean that you have to stop the installation of Concrete Canvas. It lends itself very well to wet weather installation.
"Also, the geography of Scotland – it is very hilly, there's a lot of mountainous, remote terrain where it's difficult to get conventional concrete works in.
"Because our material is so transport-efficient you can get 200 sq. m of Concrete Canvas onto a single pallet.
"That means (that at a) lower logistical footprint you are more readily able to service more remote locations where otherwise it would be difficult to install."
Phillip highlighted two Scottish projects that the company is now using as aged case studies to illustrate the effectiveness of the product in the years following installation.
Concrete Canvas installed of 800sqm of product for a ditch lining project at Lunan Bay, Arbroath for QTS Group in 2011 and 7,500sqm at the Bowburn hydroelectric flume in Dumfries for Scottish Power in 2013.
Phillip added, "Again, it's all about establishing credibility. We're now showing some of the earliest jobs we had installed (and) how they've performed, four and five years later."
Patrick explained that after five years at the Falkirk Wheel it was time for a change and Geotex is set to make a move from Falkirk to Glasgow next year with the city's Riverside Museum lined up as a venue, after hearing positive things about it from some of the speakers.
He added, "That's part of the appeal, too – you get to do some networking, you get to learn something and you're in an interesting venue. What's not to like?"