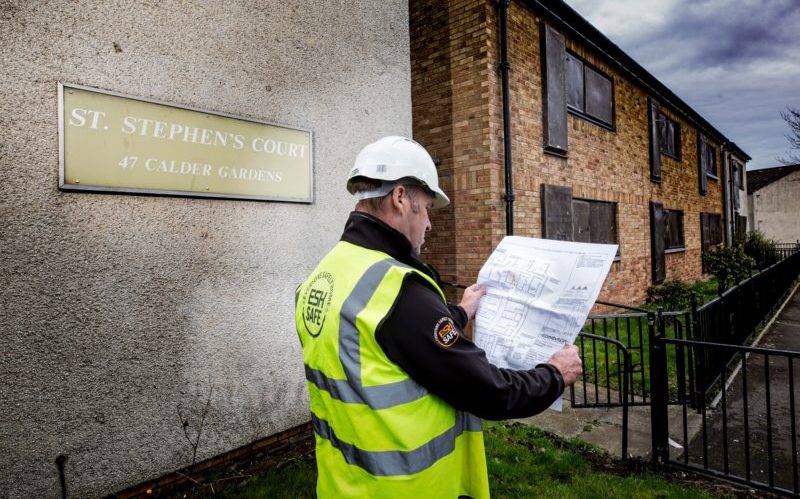 LIVINGSTON-based Esh Border Construction is poised to transform a derelict Edinburgh care home into "much needed" social housing after winning a £1.5 million tender.
The firm said it will internally reconfigure St Stephen's Court in Calder Gardens to provide 29 one-bedroom properties for Edinburgh City Council. The project is expected to be complete in December.
Energy efficiency of the building will be improved through increased insulation, double glazing and more efficient heating systems.
Built in 1976, St Stephen's Court was previously a sheltered housing complex, providing bedsit flats. Due to the small size of the flats, previous owners found it difficult to let them and approached the council to discuss alternative uses for the building. In 2010, the council and its Health, Social Care and Housing Committee agreed to purchase the property for temporary accommodation. However, no plans were taken forward at that point.
The local authority then resolved in 2015 to seek "a cost effective and sustainable solution to bringing the building back into use".
Esh is part of the City of Edinburgh Housing Asset Management Framework, providing general fabric repair work across the council's housing stock.
Simon Phillips, regional managing director of Esh Border Construction said, "We are pleased to have won this significant tender, which continues our relationship with City of Edinburgh Council. We're looking forward to now commencing work on St Stephen's Court. We expect it to progress quickly, delivering much-needed accommodation in west Edinburgh as the local authority continues to deliver on its housing pledges.
"We hope that the new apartments will help to improve the area's social and economic prosperity and attractiveness, while supporting City of Edinburgh Council's vision of sustainable housing that is fit for the 21st century."