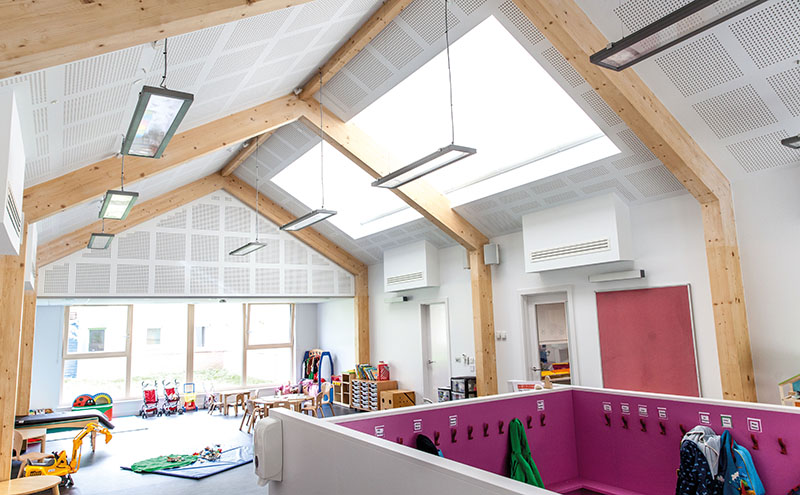 BMJ Architects' design of the University of Aberdeen's £2 million Rocking Horse Nursery has set standards from a number of perspectives.
In terms of Passivhaus credentials, it was Scotland's first fully certified commercial building, the first accredited nursery in the UK and the first building in Scotland to achieve a combination of Passivhaus accreditation and a BREEAM 'Excellent' rating.
To meet demanding requirements in terms of thermal insulation, 18 electrically operated, quadruple-glazed FAKRO FTT U8 Thermo roof windows with insulated flashings were installed in B6/1 combination.
FAKRO manufactured a bespoke 94 x 180cm size in order to meet a requirement to maximise use of natural daylight during winter months.
The FTT U8 has Passivhaus product certification and a U-value of 0.58W/m2K which, FAKRO said, remains unequalled.
Such low thermal transmittance has been achieved through use of shrink-resistant thermoplastic elastomer (TPE) seals and a glazing unit which is set in a sash frame specially designed to minimise thermal bridging.
The building caters for 78 children of both students and staff of more than 20 different nationalities on campus.
It showcases a commitment to providing a family-friendly campus community, while at the same time demonstrating leadership in sustainable and environmentally-friendly new infrastructure.
The Passivhaus principle is the fastest growing energy performance standard in the world and is designed to provide the highest-level comfort, while minimising energy used for heating and cooling. As a standard for low energy buildings, it employs the simple approach of superinsulation, airtightness and maximum use of controlled solar gain to harness energy within a building.
Professor Sir Ian Diamond, Principal and Vice-Chancellor of the University of Aberdeen welcomed the ground-breaking new facility, saying, "We are extremely proud to offer our students and staff this wonderful new nursery for the youngest members of our community.
"The building and its facilities demonstrate in very practical terms three key underpinning values of this University: first and foremost, that our people are at the heart of our mission, whether student or staff. Second is our dedication to environmental sustainability and to demonstrating this in our campus and the way we run our business. And thirdly, of equal importance, is our commitment to innovation, and to being at the forefront of putting new ideas into practice for the benefit of our community."
FAKRO said the FTT U8 Thermo is another example of innovation by the company which "so far remains unmatched in a standard product by any other roof window manufacturer".
Managing Director Noel Shanahan explained, "Quality is at the heart of FAKRO roof window design, so much so that we are happy to encourage any specifier or installer to compare our products with those of any other manufacturer.
"With such a noticeable increase in Passivhaus designs, products like the FTT U8 will make a tangible contribution to thermal efficiency."