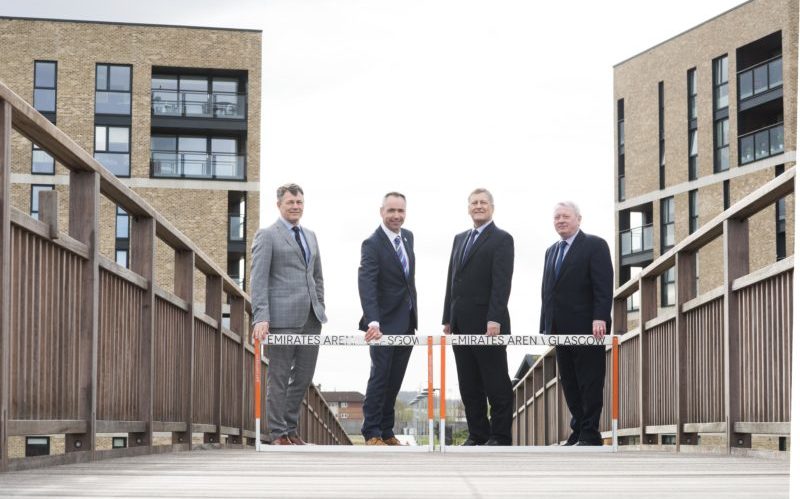 THE consortium of Glasgow housebuilders that developed the 2014 Commonwealth Games Athletes' Village has won the Queen's Award for Enterprise – the 25th award the development has won.
City Legacy Homes, which comprises CCG, Cruden, Mactaggart & Mickel and WH Malcolm, picked up an award in the sustainable development category. Energy efficiency measures that were incorporated at the Village include solar panels, a ventilation and heat recovery system to recycle air and heat and a district heating scheme that supplies instant heat and constant hot water and is said to be around 40% more efficient than normal heating schemes.
Previous accolades won by the Athletes' Village include Best Sustainable Development at the Scottish Business Awards, winner in the Large Scale Housing Development category at the Scottish Saltire Design Awards, and the Regeneration winner at the Scottish Design Awards.
John Gallacher of Cruden and director of City Legacy said, "The Village has won many awards in the past, but this one is extra-special. To be given a Queen's Award for Enterprise is undoubtedly one of the highlights of the wonderful journey that The Village has taken us on here at City Legacy. It really is the icing on the cake.
"The success of The Village could not have been achieved without the hard work and dedication of my fellow directors, Calum Murray at CCG, Ed Monaghan at Mactaggart & Mickel and Martin Kiely at WH Malcolm and their teams – not to mention my own team here at Cruden. We were always confident that the Village would be an exceptional project, but even we were a little surprised by the speed at which the homes sold, and the extent which it has sparked the wider regeneration of the surrounding area."
Councillor Frank McAveety, Leader of Glasgow City Council, who were partners in The Village project added, "The 2014 Games really were the greatest games ever and the Athletes' Village is one the most prominent examples of the lasting legacy for the East End of Glasgow. I am over the moon that this project, which the council has delivered in partnership with City Legacy, has been acknowledged with a Queen's Award for Enterprise. You cannot get a higher level of recognition than that."