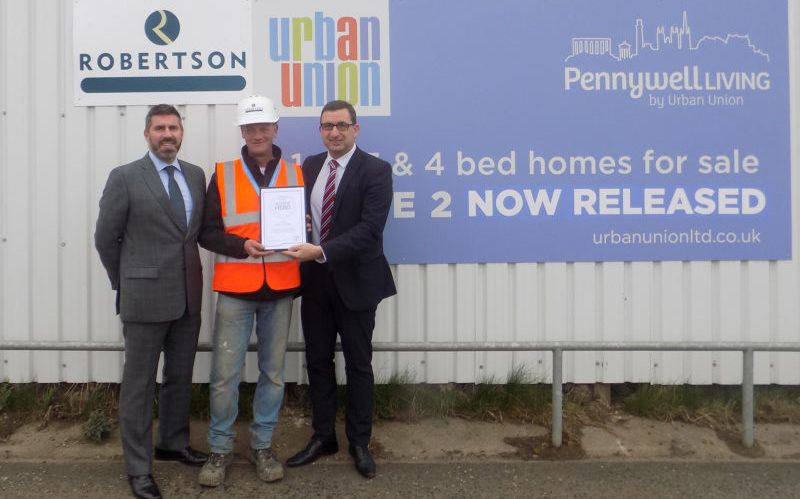 A site labourer at Urban Union's Pennywell development in Edinburgh has been chosen as a Considerate Constructors Scheme Hero.
Scheme Heroes is an initiative that shines a light on individuals working in the construction industry who go "above and beyond" when being considerate to others. Roy Graham was nominated by the entire team for his work making sure the site is clean, tidy and safe.
Brian Pettigrew, construction director for RPH, works with Roy at the Pennywell Phase 2 site. He said, "Everyone on site is delighted Roy has been named as a Scheme Hero as he plays a huge part in making Pennywell a great place to work.
"Roy always has a smile on his face and takes great pride in his work, which is carried out to the highest standard. He always makes a point of getting to know all the new residents as they move into their properties, and they all know that if they need assistance with anything he will gladly help. He has cut lawns, emptied bins, cleared household rubbish, swept paths – literally no job is too big or too small. Roy's respect for the community is second to none."
Roy's manager Craig Shiell added, "In the building trade I have often heard the phrase that somebody is "worth two men", but this has never been entirely accurate until I met Roy."
Urban Union managing director Neil McKay said, "Roy is very well regarded by everyone on site and by local residents so I'm really pleased he's been recognised out with our business as a hero as he is a highly valued member of our team."