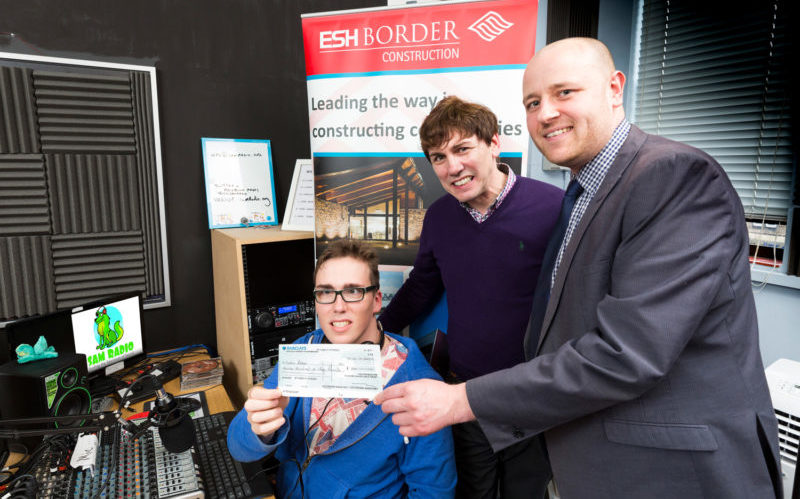 AN Edinburgh-based community radio station that is helping to raise awareness of autism has benefited from Esh Border Construction's community bursary initiative.Sam Radio is the first station of its kind in Scotland, attracting autistic listeners from all over the world. Euan McDermott, business development manager at Esh Border Construction, was recently interviewed on air and thanked for the Livingston-based firm's support.
The non-profit radio station was alerted to the grant funding possibilities offered by Esh Border Construction's Communities scheme. The scheme has granted just under £10,000 this year alone to organisations across Scotland.
Sam Radio was established last year but already has 18 presenters. The idea for the station came from Paul Ross who, despite a diagnosis of Asperger's Syndrome, managed to get Sam Radio off the ground with family support.
Paul's father, Phil, said, "Sam Radio has made a big difference to the lives of everyone involved, significantly boosting confidence and engagement while providing an amazing social outlet where people of similar backgrounds have been able to make great new friends.
"At first, some of the presenters were scared to go on air on their own, so brought in someone else who was also autistic, and then slowly built up their confidence.
"Suddenly they are able to talk on air for five or 10 minutes without a break, plan and organise their radio slot, and even do small things that might not have been possible before – simple things like independently travelling here on a bus. Paul started the station because he didn't have great experiences of community radio elsewhere. Now he's flourishing and Sam Radio is helping to raise awareness of autism across the world – we have listeners as far away as America and Saudi Arabia tuning in through the website http://samradio.org/ as well as Facebook and Twitter.
"We are essentially a community – everyone supports each other – but the support of external organisations like Esh Border Construction is vital if we are to continue and grow."
Euan McDermott added, "It's a real privilege for us to contribute to and support Sam Radio's growth. The station is a brilliant resource for so many who otherwise wouldn't have had opportunities to get into anything like this. Sam Radio is enabling positive change in such an amazing way, and we're so proud to be part of that. Seeing how it operates and being invited on to be interviewed is the icing on the cake.
"Adding value to the communities in which we work is such an important guiding principle of the business, and Sam Radio represented an ideal recipient for funding."