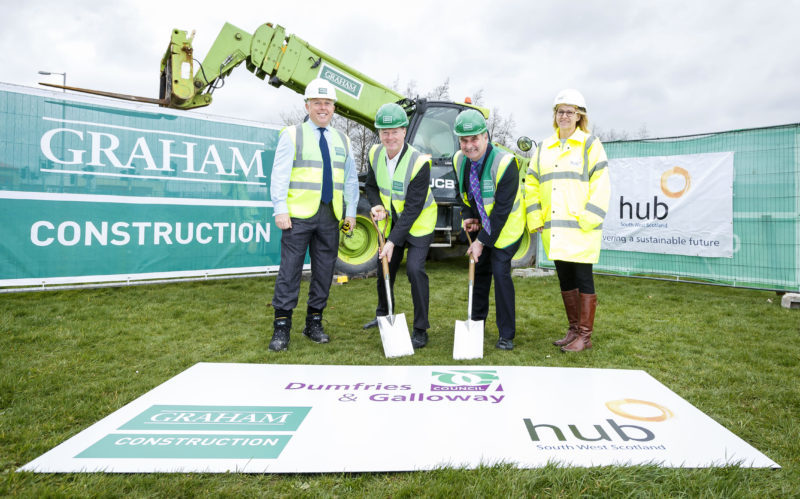 CONSTRUCTION work is underway on The Bridge – the third of the Dumfries Learning Town projects.
Planning approval was granted in March and the partnership of Dumfries and Galloway Council, hub South West and main contractor Graham Construction is reported to have made "exciting progress" in recent weeks.
Set on a former bowling green at the King George V site in Dumfries, the facility will deliver lifelong learning opportunities not found in traditional education settings.
Graham Construction said The Bridge will be available to individuals and groups that "wish to develop new skills, take forward initiatives and enterprises, meet as special interest groups, stage performances, or hold private functions".
Gary Holmes, regional director for Graham said, "Developing emerging talent is at the heart of our company's ethos and The Bridge will play an important role in progressing this. We're proud to be participating and working alongside our partners, to make this a reality. The exciting Dumfries Learning Town programme is one of the largest we have undertaken to date for Dumfries and Galloway Council and The Bridge project brings a new and exciting dimension to education."
Dumfries and Galloway Council Leader Ronnie Nicholson added, "The start of work on The Bridge is the final piece in phase one of the transformation of education in Dumfries. Not only does this development bring together academic and vocational opportunities in Dumfries under one roof, it is being developed right in the heart of North West Dumfries, showing the ambition the Council has to support the community and the whole of our town."
Michael McBrearty, hub South West chief executive said, "Dumfries Learning Town is an exciting and ambitious project that hub South West is thrilled to be a part of. With work to modernise St Joseph's College and develop the new NorthWest Campus well underway, phase 1 of the Dumfries Learning Town is progressing well. The Bridge is a modern and innovative approach to supporting learning for youngsters in the Dumfries area. So it's fantastic we're now moving forward rapidly and we'll be on site within a few weeks."
The Bridge project is due to complete in the winter of 2018/19.