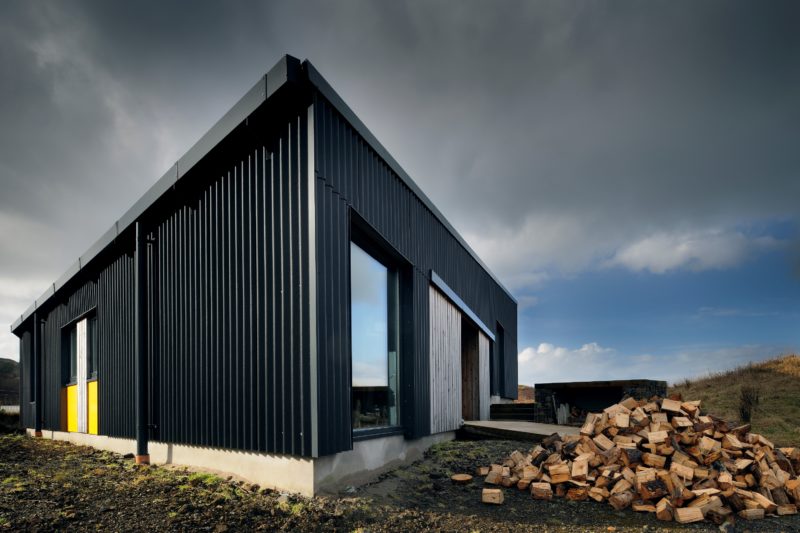 A striking cladding solution has helped a self-build home on the Isle of Skye blend in seamlessly with its surroundings.
Marley Eternit's corrosion-resistant Black Profile 6 sheeting was specified for a three-bedroom family home at Fiscavaig – known as 'The Black House'.
The single-storey, mono-pitched house was designed by local firm Rural Design Architects.
Marley Eternit said the architects responded to their client's brief by delivering a "memorable and robust building that is entirely in keeping with the local agricultural vernacular, with the profiled sheeting exterior helping to reflect and complement the ad hoc buildings forming an important part of the surrounding rural landscape".
Gill Smith from Rural Design Architects said, "The house form and aesthetic is inspired by rural, agricultural sheds and it was therefore important to use a cladding material that was authentic to this vision.
"In addition, as the project was to be self-built, the materials we specified had to be easy to source, cost efficient, flexible and demonstrate proven performance credentials."
Marley Eternit said the firm had used profiled sheeting on previous jobs as it combines aesthetic appeal with durable performance to work well on buildings that are often subjected to harsh weather conditions.
The durability and robustness of profiled sheeting is said to make it "ideal" to store outside on site until the build requires it, helping to save time on such projects.
Marc Vasment, area sales manager for Marley Eternit added, "The specification of profiled sheeting for this project highlights its performance and aesthetic appeal to architects, as well as the ease with which it can be installed as part of a self-build project.
"It has enabled the architectural team to realise their client's original vision to create a home in a stunning location that is highly in tune with its natural surroundings and the agricultural heritage of the location.
"With proven performance characteristics, as well as a sustainable manufacturing process enabling it to achieve A+ or A ratings in the BRE Green Guide, profiled sheeting provides a perfect solution for projects such as 'The Black House' by underpinning architectural aspiration, maximising cost benefits and delivering long-lasting and sustainable functionality."
Marley Eternit said the home owners were so delighted with the black Profile 6 sheeting that they subsequently extended its specification for use on a second smaller-sized, artist's studio building located alongside it.
Gill Smith added, "Marley Eternit's Profile 6 sheeting ticked all the boxes in terms of cost, aesthetics, performance and design options for this residential self-build project.
"The clients are so pleased with the end result and we are extremely happy that, with the help of the external cladding solution, we have helped them build a dream home set in a dream landscape."