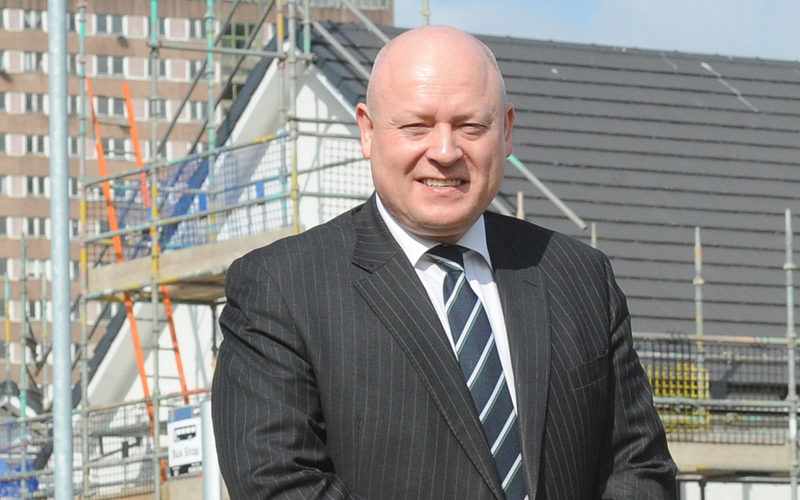 NEW figures have revealed a "modest decline" in the output generated by the Scottish construction sector from £14.7 billion in 2015 to £14.5 billion last year.
The figures, issued by the Office for National Statistics (ONS), revealed a rise in output from the housing, private commercial and repair and maintenance sectors. However, output from infrastructure dropped from a record high of £4.2 billion during 2015 to just £3.1 billion in 2016.
Vaughan Hart, Scottish Building Federation managing director, was encouraged overall by the results but again voiced fears over the impact of the removal of empty property rates relief. He said, "There has been encouragingly strong performance from the housing, private commercial and repair and maintenance sectors of the Scottish construction industry last year. Output from the housing sector rose by 16%, largely driven by an increase in private housebuilding. The private commercial sector was also strong, rising 6% to more than £2.6 billion, the highest it's been since 2008. We've also seen good output in repair and maintenance, rising 5% to more than £4.1 billion. On the other side of the equation, infrastructure output has dropped significantly and private industrial activity is at a new low, partly prompted by the removal of empty property rates relief which is a policy we have consistently campaigned against.
"Overall, these are encouraging results which suggest that the industry is moving in the right direction in terms of achieving a balanced recovery across different sectors, hopefully with a reduced reliance on major infrastructure projects to drive future growth as other key sectors such as housing, commercial and repair and maintenance continue to show strengthening performance. We will be watching closely to see if this momentum continues into 2017. However, that is obviously very much dependent on how the wider economy performs and there is still a good deal of uncertainty about future economic prospects just now."
The ONS also revealed that output in the British construction sector fell by 0.4% in January 2017 compared with the previous month, but increased by 2% compared with a year earlier. New orders fell by 2.8% in Quarter 4 of 2016, driven mainly by falls in private industrial and private commercial work. Despite this fall, the annual volume of new orders is now at its highest level since 2008.
Rebecca Larkin, senior economist at the Construction Products Association, said, "Following an increase in output in Q4 last year, the overall fall in construction output in the opening month of 2017 was disappointing, with a decrease in housing, industrial, commercial and RM&I activity over the month. 
"Furthermore, the construction new orders data from the ONS suggests that there may be continued weakness in activity in some sectors during 2017. Commercial new orders tailed off in the second half of 2016 and in Q4 were 10.6% lower than in Q3 and fell 24.1% from a year ago, and new orders in the industrial sector were the lowest in two years. Building work in both sectors requires a large up-front investment for a long-term rate of return and it appears decision-making has been clouded by a rise in economic uncertainty."
Allan Callaghan, managing director of housebuilder Cruden Homes West, said the construction sector must continue to keep recruiting and developing young people. Speaking as Scottish Apprentice Week comes to an end, he emphasised the fact the sector is "suffering" from an ageing workforce with widening skills gaps.
"This week's Scottish Apprentice Week has put a spotlight on the value of apprenticeships to construction employers," he said. "It's vital that we continue to keep recruiting and developing young people to build a skilled and talented workforce.
"We desperately need to build more new, affordable houses and, with the requirement for over 12,000 new workers over the next five years, there's never been a better time to encourage young people into this thriving sector.
"Much more than hard hat jobs, it's a flourishing industry that is home to varied careers including engineering, surveying, marketing, architecture, planning and much more."