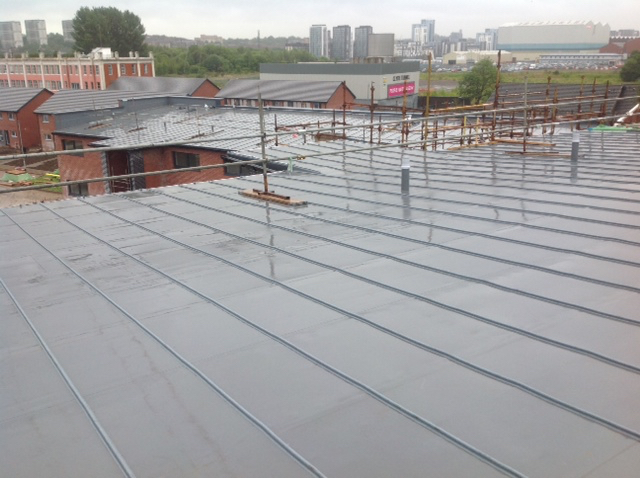 A new social housing scheme on the banks of the Clyde specified a Protan engineered roofing solution.
CRGP Architects has created a development, built by CBC, of 40 apartments and 20 houses for social housing in Linthouse, Glasgow.
The roofs interconnecting predominantly four-storey blocks that house the 40 apartments are all roofed with 1700m2 of Protan SE1.6mm prefabricated single ply PVC membrane.
Protan's prefabricated option, welded into large format 4m wide rolls and mechanically fixed in place with the addition of PVC profiles, was used by roofing contractor WF Price Roofing.
"We wanted a modern but almost invisible space that blended seamlessly into its brownfield surroundings," said architect David McIntosh. "The simple lines and low pitch leant themselves to a single ply roofing solution."
Derek Price of WF Price Roofing added, "Protan is unique in offering a factory-fabricated option, whereby it calculates the most effective use of membrane to cover the specific area, then welds all the seams in a factory-controlled environment. All we need to do on site is mechanically fix at the edges. It gives the customer enhanced assurance over the performance of seams and joints, enables us to construct the roof more quickly, with reduced waste, and yet is cost-comparable to conventional single ply, cut, welded and fixed on-site."
Developed to withstand the weather extremes of Scandinavia, Protan said its SE membrane is "more flexible" than comparable PVC membranes, and delivers reduced risk of fracturing even in extreme cold.