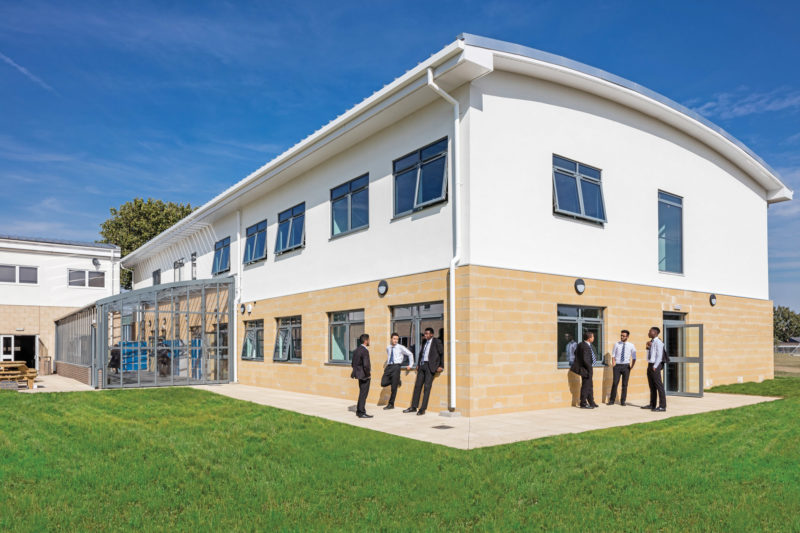 Chris Hart, Wernick Buildings' divisional manager for Scotland, answers questions about the benefits of modular construction
Q) WHAT'S THE HISTORY OF WERNICK BUILDINGS?
A) Wernick Buildings is part of the Wernick Group, which started as a company called Wernick & Sons in the 1920s. Back then they were building poultry crates. The firm started to grow into making sheds, greenhouses and eventually holiday chalets.
In the late 1980s, Wernick acquired Swiftplan and started to move away from timber frame and into steel construction. We began constructing permanent buildings like schools, nurseries, hospital wards and MoD buildings. Under our present chairman, David Wernick, the company has experienced significant growth over the past decade, through both organic growth and acquisitions. Wernick Buildings alone now turns over around £30 million.
Q) WHAT ARE THE ADVANTAGES OF MODULAR BUILDINGS?
A) Speed of build has always been the biggest benefit. With that comes cost savings. The whole superstructure is constructed in pieces in a factory. While that's happening, we can start groundworks and civils work on-site. These things run concurrently, unlike traditional construction methods where you build the foundations, then the steelwork, and then you clad the building. What we're doing is manufacturing the superstructure along with a large quantity of the fit-out in the factory while the groundworks are happening on-site. Because that's overlapping in the programme, the whole build process is reduced quite considerably.
The lack of disruption is also a massive benefit. A lot of the work happening off-site means the really high-risk, noisy part of the construction process is reduced to a matter of days. If you think of areas like schools, noise can be very disruptive to the day-to-day working. With hospitals, you've got dust control and mess; there's a safety aspect there. That lack of disruption is often something that makes our clients think this is a really good solution. The fact we're building in a factory also means there are no weather delays.
Quality assurance is a big thing for us. Because we're building in a controlled factory environment we have a much better control over the materials we use. Every screw, every bolt, every sheet of plasterboard is procured to very fine tolerances and are on the line when the operatives need them.
Something that is also very topical at the moment is the greener, eco-friendly side of the construction business. Manufacturing in the factory, with very fine tolerances of procurement, means there's virtually no waste with almost nothing going to landfill. The reduced time at actual construction site also minimises pollution and the disruption to wildlife.
The construction industry, as we all know, is experiencing skills shortages at the moment and during the last recession a lot of the experienced people moved onto work in other sectors. Because we're working in a factory situation, we don't suffer the same skills shortages and can bring in new staff easily.
Q) WHAT ARE THE BIGGEST CHALLENGES INVOLVED WITH THIS TYPE OF CONSTRUCTION?
A) Overcoming preconceptions is, by far, my biggest problem when it comes to the modular industry going into the marketplace. There's still this misconception that modular buildings are outdated, flimsy, portable cabins or site huts. The reality is that modern modular buildings can achieve most of the architectural flourishes and design details offered with traditional construction.
Another misconception is that modular buildings are a temporary build solution but we build to a permanent specification. With building regulations the way they are now, there aren't really the same relaxations there used to be. We build to the same standards that traditional construction methods would use.
There's a lack of knowledge and awareness within the marketplace. People often don't know what benefits are actually there for them with modular construction, or they aren't fully aware of how to go about procuring it. Your typical local authority, for example, can often be cautious about modular schemes because they're so used to traditional methods.
With procurement, particularly in Scotland, the marketplace suffers because public sector organisations generally tender modular contractors versus modular contractors. That results in modular solutions being basic steel-clad industrial boxes because it's the cheapest solution. It leaves this endless chicken and egg cycle going round and round. In reality, we're constructing buildings with colourful renders, stone claddings, brickwork, curtain walling. But the only way to realise these benefits is for modular building to be viewed as a viable alternative to traditional construction methods. If you look at a comparison of a brick and render clad building constructed traditionally, and then the same built using off-site construction techniques, then the savings can be considerable and you end up with the same result. Treating modular as an alternative to a traditionally constructed building would be the answer to a lot of the problems.
Q) HOW IMPORTANT IS THE SCOTTISH MARKET TO THE BUSINESS?
A) We opened a divisional office up here a number of years ago now to support the group's expansion plans. It's been fantastic. We're working with a good number of the Scottish councils and the list is continually expanding. The benefit of having an office in Scotland is quite considerable as we're offering a local service and local knowledge. It makes us a very good alternative to other forms of construction.
Our biggest marketplace is educational buildings. If you look at the Scottish Government's manifesto, pledging to significantly increase the number of nursery hours, to meet that objective there's going to be an awful lot of construction required to build new nursery buildings. You can see there's a nice crossover there where the solution we offer – lack of disruption, low cost and speed of construction matches the requirements of the education sector perfectly.
Q) ARE MODULAR BUILDINGS BUILT TO THE SAME QUALITY AS TRADITIONAL BUILDS?
A) The simple answer is yes but arguably, I would say better. We're using the same materials but it's put together in a factory-controlled environment so we closely monitor the manufacture process, which means we can put out a higher standard of building.
One thing that's quite unique to the modular industry is the level of warranty and guarantee you can get. We'll put out a 25-year structural guarantee on our buildings and a five-year products warranty. You would never get that from a traditional contractor.
Q) WHAT SECTORS ARE YOU MOST PROMINENT IN?
A) Education's the big one, just because there's a nice match there when you look at the lack of disruption, speed-time and cost. A lot of the time in education projects you're looking more and more at constructing buildings over the course of the summer holidays. As an example, we started on site in May last year in Glasgow to build a six-classroom extension to a school and it was handed over before the end of the holidays. 12 weeks on site and the high spec building was completely commissioned and handed over.
We also work in leisure, healthcare and commercial buildings. Custody suites is something Wernick specialise in, all approved to Home Office standards. We also do work closely with the MoD.
Q) WHAT STANDOUT PROJECTS HAVE YOU BEEN INVOLVED IN?
A) We've recently done four or five custody suites in Scotland. We've just completed the second £1.2 million extension to Glasgow City Council schools.
In London, we've just completed a four-storey £5 million building for Lendlease. They're involved in an interesting project regenerating the Elephant & Castle area of London and this is their central hub. We've also created a few contemporary pavilions for East Kilbride-based Goals Soccer's five-a-side football centres.
Q) WHAT ARE THE ENVIRONMENTAL BENEFITS?
A) As I said earlier on, the key one is reduced waste. If you go back to the programme benefits, that has a lot of environmental knock-ons when you consider things like noise pollution. There are a lot fewer vehicle movement involved in a modular building. On a traditional building project, a truck will turn up to deliver the plasterboard, a truck will turn up to deliver the timber, a truck will turn up to deliver the doors, a truck will turn up to deliver the windows. Whereas we bring all the materials to site inside the modular bays. There have been various studies on this showing that it's a massive reduction in the number of vehicle movements and the pollution that comes with it.
Q) WHAT DOES THE FUTURE HOLD FOR THE SECTOR?
A) Hopefully big things! If you look at the marketplace, take up for modular buildings in the UK is just 2% so there's a massive amount of room for growing the sector. It's really down to the decision makers out there to do something about it. There's been a lot of publicity recently about modular housing in the UK. Local authorities are starting to look at modular solutions for that but the concern is that people will forget about the commercial sector, which is a massive part.
To realise the true benefit of modular buildings, buyers need to get used to buying modular buildings. The only way that will happen is if they actually involve modular contractors much earlier in the process. The biggest fault people make is to design traditionally, then realise they don't have the budget and try to revert to a modular solution. By that point, the layout has already been approved and drawings have sent for planning permission.
The big message from me personally is to get out there straightaway and get discussions going with modular contractors earlier. Why not go and visit modular buildings? If there's a concern that they are temporary, cheap and flimsy buildings, go and visit one. If you were buying a car you would test-drive it first. So why wouldn't you do it if you were building a school?