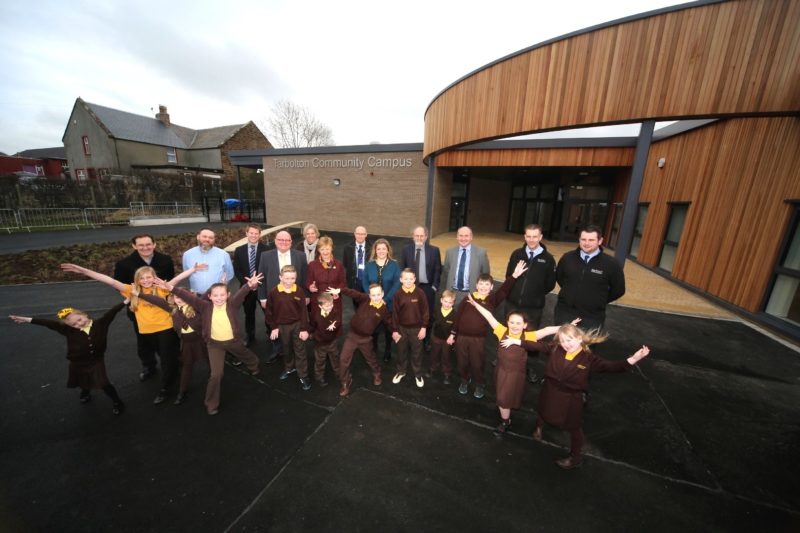 THE new £3.8 million Tarbolton Community Campus is up and running.
The facility, built by Morrison Construction, was built on time and on budget and will house 297 primary children and 40 early years youngsters. The project was a collaboration between hub South West and South Ayrshire Council.
The low-rise building also features sports, leisure and library facilities, while meeting rooms are available for use by the whole community.
Michael McBrearty, chief executive of hub South West, said, "The new Tarbolton Community Campus looks fantastic and we're thrilled that pupils have now moved in and can enjoy all the new facility has to offer. It has been just under a year since contracts were signed and work began, so it is great tribute to partnership working that we can now celebrate the finished result. The new campus will be a great asset."
Jaqueline Blair, headteacher at Tarbolton Community Campus, added, "It's an exciting time for staff, parents and children alike. Here we are, with lessons underway and the school buzzing in this amazing new building that will allow us to do so much more. I'd like to thank everyone for their support in helping to make the move as painless as possible."
Tarbolton Community Campus is the second of four projects hub South West will have delivered on behalf of South Ayrshire Council within four months. The first was the Phase-1 redevelopment of Marr College in December 2016. Tarbolton will be followed by Dailly Primary School and the new Carrick Leisure Centre.