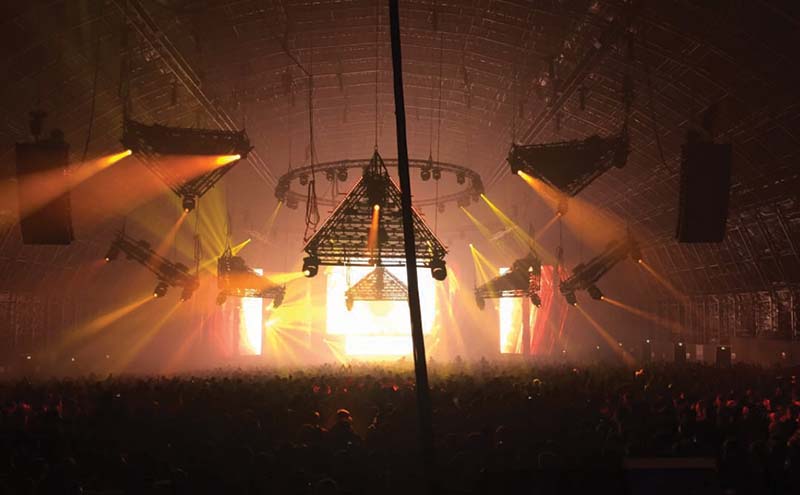 ACORN Scaffolding (Yorkshire) Ltd collected the first ever NASC Scaffolding Product Innovation Award for its 'Acorn Super Structure' temporary roof at the Creamfields Steel Yard festival.
Judges said the £1.8 million structure was the result of months of collaboration, planning and design, with festival-goers receiving the "enjoyment of the premium technical production and high end immersive technology".
The winner was announced at the confederation's AGM, held in Amsterdam.
A highly commended NASC Product Innovation Award was also handed out to TRAD Scaffolding Co Ltd for their "revolutionary" 'Big Ben Braked Gin Wheel'.
In total, there were eight entries for the inaugural biennial NASC Scaffolding Product Innovation Award. Acorn and TRAD will now be able to use a bespoke NASC Product Innovation logo for two years.
Speaking about Acorn Scaffolding (Yorkshire) Ltd, the judges said: "Acorn came through in creating an innovative structure using an innovative product.
"Their aim is to help clients deliver world class, unique and memorable events – specialising in innovative, temporary scaffold-based event structures. Their brief was to push the boundaries of festival production.
"It is an exceptional product borne out of determination to reach solutions in close liaison with a manufacturer and client. The judges made their determination considering the project as innovation at its best."
Runner-up, the TRAD Scaffolding Co Ltd 'Big Ben Braked Gin Wheel' was highly commended for its "wide-reaching benefit, ensuring that loads do not go into free fall, and for radically reduced rope chafing characteristics".
The judges said: "By applying designs from other industries to our trade and enhancing the safety of this commonly used lifting accessory, TRAD evolved this clever item through their in-house 'Play it Safe' safety meetings. It was seen as a major benefit to the whole of the industry – ensuring loads cannot plummet, which is a real innovation and safety feature.
"This product will undoubtedly ensure a reduction in handling injuries. Even hoisting upwards allows fluid movement and safe landing of materials – solving a major safety feature that is a common 'near miss' situation. It will assist in significantly ensuring safe practice and helping to ensure operatives go home safely to their families at the end of the day."
Robin James, NASC MD, said, "This new biennial award has attracted considerable interest and has been superbly supported by the NASC members.
"It shows the ingenious and inventive nature of our membership – who lead the way with scaffolding product innovation, for productivity and safety.