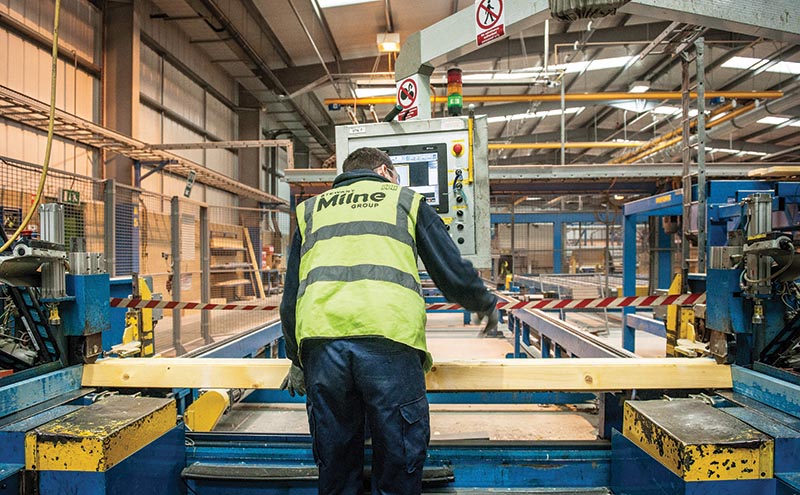 With timber frame increasing its share of the housing market, Alex Goodfellow, group managing director of Stewart Milne Timber Systems, draws on over 30 years' experience to highlight the benefits timber frame and offsite construction can bring to a project.
WITH a Government focus firmly on delivering 400,000 new affordable homes by 2020, housebuilders and developers are seeking alternative ways to achieve volume, while managing cost and quality, in a market where the skills shortage continues to cause concern.
Offsite construction is considered by many to be the way forward.
An established, high-value manufacture and construction method, it delivers guaranteed quality, precision-engineered components to meet a variety of standards.
A mainstream and intelligent way to build, it presents cost effectiveness, speed and energy-efficiency advantages from inception to construction, while removing practices that could invite error or inconsistencies.
For residential surveyors, offsite construction offers significant on-site benefits, cost certainty, and outstanding durability and robustness. Based on certified products manufactured in controlled factory environments, it uses modern technologies to minimise construction risk and simplify design.
The construction process at the on-site stage is vastly reduced, making installation easier, reducing the need for trades, removing opportunities for error and enhancing the long-term performance of the projects. In the UK, timber frame is the largest offsite construction sector; 70% of houses in Scotland are built by this method, which is also on the increase in England and Wales. Given its many advantages, timber-frame offsite construction can deliver home units quickly while maintaining profit margins and equity interests for constructors and investors. Stewart Milne Timber Systems also enjoys an unlimited, sustainable material supply chain, giving the potential to manufacture 10,000 homes or units a year, with considerably shorter call-off periods than traditional build methods.
Using timber systems and offsite construction, the speed at which the main structures of a building can be erected significantly increases. Manufacturing offsite means 10 blocks of terraced houses can be erected five weeks earlier than if building with masonry or other on-site methods. Once on site, a typical four bedroom detached home can be erected, wind-protected and made watertight in as little as five days.
With offsite construction currently used for one in five new homes, industry stakeholders know it to be durable and exceptional value.
When combined with a fabric-first approach, offsite construction adds even more value for clients and surveyors by delivering high-performance housing that requires little to no ongoing maintenance in terms of 'add-on' energy-efficiency technologies. Offsite construction reduces the building design versus as-built performance gap, through factory quality, simplified detailing and improved process controls on site.
Building with timber frame comes with a guaranteed supply chain and therefore has the capacity to take on large projects and deliver materials quickly, ensuring that projects are not hampered by materials shortages that can impact brick and block construction.
Stewart Milne Timber System's technical team works with clients from the concept and design stage to advise on appropriate specification, value-engineer the project from the start, and reduce waste and risk. This contributes to increased buildability, lessens construction costs, and incorporates robust and durable solutions to any project brief.
Lending and insurance authorities can balance both perceived and accepted risks for newer offsite construction products through a dedicated guarantee programme. The Build Offsite Property Assurance Scheme (BOPAS) of which Stewart Milne Timber Systems is accredited, is an industry-leading accreditation scheme underwritten by RICS, Buildoffsite, Lloyd's Register and Building LifePlans. It guarantees a product's consistent through-life performance that it will remain saleable and insurable for a minimum of 60 years (more than three times the term of many mortgages) and provides assurance against any form of variability in the system or product warranted. Developed in consultation with the Council of Mortgage Lenders and the Building Societies Association, BOPAS presents the gold standard for novel offsite construction techniques.
The publication of the Farmer Review of the UK construction labour market in October 2016 delivered a set of 'modernise or die' recommendations for the industry with a greater adoption of offsite construction one of its key actions.
Offsite construction with timber systems offers a clear route forward for the industry and addresses major challenges including skills and materials shortages. It is a modern, energy efficient and cost effective way of building everything from homes to hospitals and office buildings. It offers increased output and performance standards with reduced onsite costs and less reliance on variables such as good weather to complete a project on time and within budget. Therefore, it is vital that the industry embraces offsite construction to thrive.