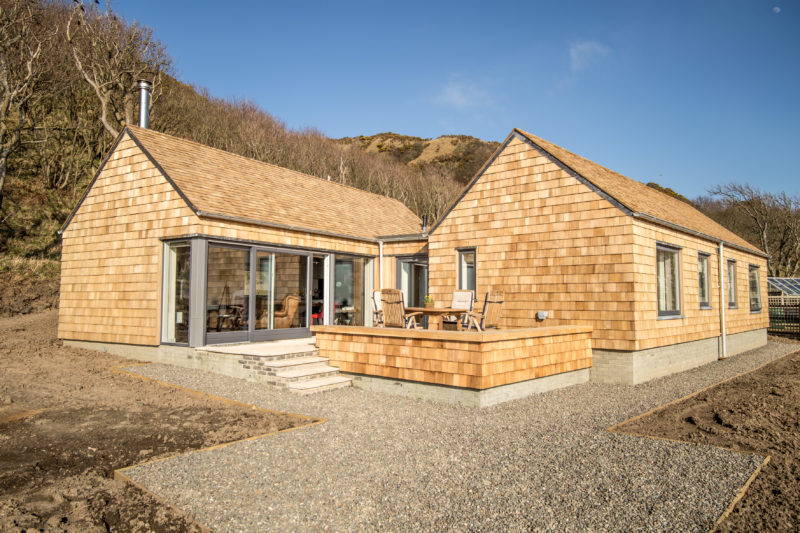 A luxury hotel in Dumfries and Galloway has used Marley Eternit's JB Shingles to create a "stunning" cottage annex.
Architect John Murray specified the product for the Victorian boutique hotel. Shingle Lodge, built by 3b Construction, has now been wrapped entirely in the western red cedar shingles to blend in with its natural surroundings.
Marley Eternit said the owners of Knockinaam Lodge hotel wanted to create a separate cottage annex for guests who require easy accessibility and self-contained accommodation.
Situated within 30 acres of landscaped grounds, and featuring its own private beach, the architect needed to ensure that all exterior materials for the hotel annex were robust enough to withstand the severely exposed conditions without deteriorating.
Marley Eternit's JB Shingles were specified for both the roof and cladding of the annex. The firm said that when viewed from a distance, Shingle Lodge has "achieved what the architect intended" by retaining its aesthetic integrity and blending into the coastal environment.
Architect John Murray explained, "I could see that using shingles would maintain the character of the hotel, retain the unique sense of place of the cove and fit well with the abundant backdrop of vegetation behind the cottage.
"The real beauty of shingles is that they age gracefully.
"In just a few years, the aptly named Shingle Lodge will blend into the local area as if it has always been part of the natural landscape."
Sarah Jackson, marketing product manager from Marley Eternit added, "The use of our JB shingles on this cottage annexe provides the perfect aesthetic for this location.
"Using the product for both the roof and cladding creates a striking contemporary, yet natural, aesthetic, which is ideal for its rural and coastal setting."
Marley said that "with one of the lowest carbon footprints of any widely used building product", shingles are perfect for projects which are driven by sustainability objectives.
Meanwhile, Marley Eternit recently supported a charity project for a special episode of DIY SOS by supplying its JB  CitiDeck solution free of charge.
'The Million Pound Build', for the BBC's Children in Need, saw the team work to renovate a Victorian house into a young carers' facility in Blackpool.
The project was headed up by renowned interior designer Lawrence Llewellyn-Bowen and over the course of 10 days, involved completely renovating two separate homes, while also incorporating the landscaping of the building's one-acre of wild garden.
Marley Eternit was drafted in to help in the construction of a circular decking area installed in the grounds of the centre.
Measuring 25m² and with a circumference of over 15m, JB CitiDeck in a "robust" oak finish was installed.