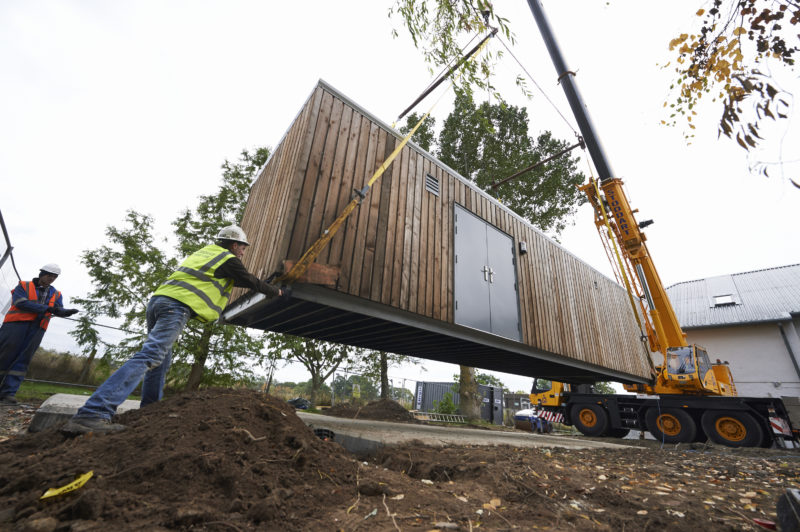 Project Scotland's Fraser Rummens speaks to Bruno Berardelli, managing director of Fort William-based HWEnergy, about the benefits of going green
AS the issue of sustainability in construction grows ever more important, HWEnergy aims to offer a greener alternative to traditional oil and gas heating by specialising in non-domestic biomass heating and wood-fuelled combined heat and power (CHP).
The term 'biomass heating' refers to the burning of organic matter to generate heat – in this instance, wood chip or wood pellets – which is automatically fed into a boiler.
"The main thing we're trying to do is make biomass easier for clients," HWEnergy managing director, Bruno Berardelli, told Project Scotland. "The boiler, in principle, operates the same as an oil or gas boiler, It's just that the fuel happens to be wood."
The company, which is headquartered in Fort William and has an office in Bellshill, operates only in commercial premises and counts high-profile corporations such as Sky and Co-op Food among its client base and does a lot of work with local authorities, hospitals, hotels, offices and schools across Scotland. The firm is also beginning to expand south of the border, with a presence in the north of England and East Anglia.
The firm recently marked the milestone of reaching 50 megawatts of installed capacity on a programme for North Ayrshire Council, which involved the installation of 15 biomass systems across primary schools, high schools and other properties.
Since HWEnergy was founded in 2003, Bruno has watched as the popularity of biomass as a means for generating heat has grown massively. "At that point there wasn't much going on in renewables, let alone biomass," Bruno said. "The biomass world was really small, it was really niche."
The company grew slowly over the years, performing some of the first biomass installations in Scotland and in 2011 the UK Government introduced the Renewable Heat Incentive (RHI). The Non-Domestic RHI assists businesses and public sector and non-profit organisations meet the cost of renewable heating systems, which, Bruno said, brought the industry "into the mainstream".
"(Since the introduction of the RHI) I've been able to watch an industry that was absolutely tiny at the beginning suddenly get an injection of adrenaline, effectively, and scale up massively over a period of months and that's been quite interesting to watch."
Speaking on the benefits of implementing a biomass heating system for businesses, Bruno said, "If (a business is) making the investment they are also looking for a financial return, so their financial return is based on two things – one; it is any saving they can get from what they are (currently) using for the heat, and two; it's coming from the Renewable Heat Incentive that's given to them by the Government.
"The Renewable Heating Incentive is a bit like a feed-in tariff for heat; it is paid on every kilowatt-hour of heat generated so the customer will front the capital, usually, to install the system, but they then earn this income over the 20-year period of the scheme," Bruno explained.
"How much they are saving against fossil fuels will very much depend on what the fossil fuel price is. Biomass heat costs tend to be very stable, which is one big advantage, whereas oil, for example, the price can fluctuate wildly."
Bruno continued, "The other reason that a lot of clients are doing this is to reduce their carbon emissions. Heating and hot water is 50% of the country's total carbon emissions… whereas electricity, I believe, is less than 20%, so heating is effectively the big area to go for in terms of reducing carbon and one of the most cost effective ways you can do that as a business or public sector organisation is to convert your building to biomass heating because, at a stroke, you usually reduce your carbon emissions."
Bruno also said that biomass has "given us the opportunity to grow our own fuel".
"It helps our nation's economy by growing our own fuel, rather than importing heating, oil or gas from abroad. It helps our trading deficit, it helps create jobs and it is just better for the local economy. One of the reasons the UK Government was quite keen to encourage renewable heat was security of supply."
HWEnergy, Bruno believes, stands out because of the solutions it offers and the company's track record.
"We offer very end-to-end solutions. We do install the systems but we don't then walk away. We offer very comprehensive service or heat supply contracts depending on what the customer wants. We have invested an awful lot in our service and supply team, which means we are able to do that.
"From our own point of view, one of the most satisfying things we've done is be able to set up a nationwide service support, heat supply and fuel network… and now to actually be able to move across the border and expand the area of operations.
"We've been in biomass since the very beginning; we didn't just appear on the back of the RHI. We've been around for a long, long time and we're into biomass because we really believe in it, which means we're going to stay the course."