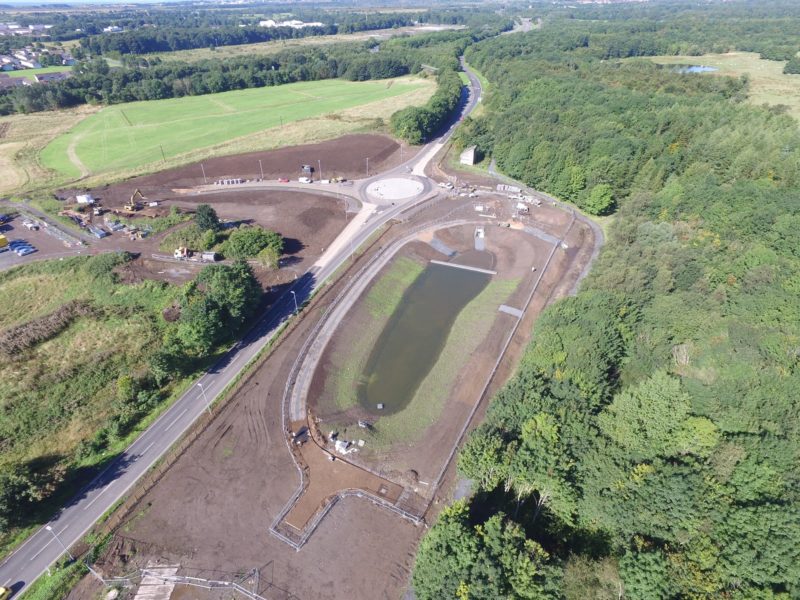 CONSTRUCTION has been completed on a major road project in Irvine, paving the way for a new residential development opportunity.
Robertson Civil Engineering carried out work on a new road and roundabout, which forms part of the construction of a new development at Montgomerie Park.
The company also built a 10,000m³ drainage pond to receive all stormwater at the site, as part of the £1.4 million project.
Tony Fry, managing director, Robertson Civil Engineering explained, "Work on the transport infrastructure at Montgomerie Park has been a major project which will bring tremendous benefits for local residents. Construction took place on the existing live carriageway so traffic management was an important consideration throughout the build.
"The roundabout and road, combined with the new drainage pond, will play a key role in ensuring Montgomerie Park is a modern, dynamic location which residents can enjoy for many years to come."
Councillor Alex Gallagher, cabinet member for economies added, "The completion of the roundabout and installation of drainage infrastructure opens up an exciting new residential development opportunity on the edge of Eglinton Country Park.
"With nearby access on to the trunk road network and a system of cycle and path networks offering active travel and leisure opportunities, new development releases will embrace opportunities for smaller developers and self-builders, extending the range of housing on offer. A retail development opportunity is currently being advertised and housing development opportunities will be brought to the market in 2017. Montgomerie Park is a great place to live and I am delighted that this stage of the development is now complete."