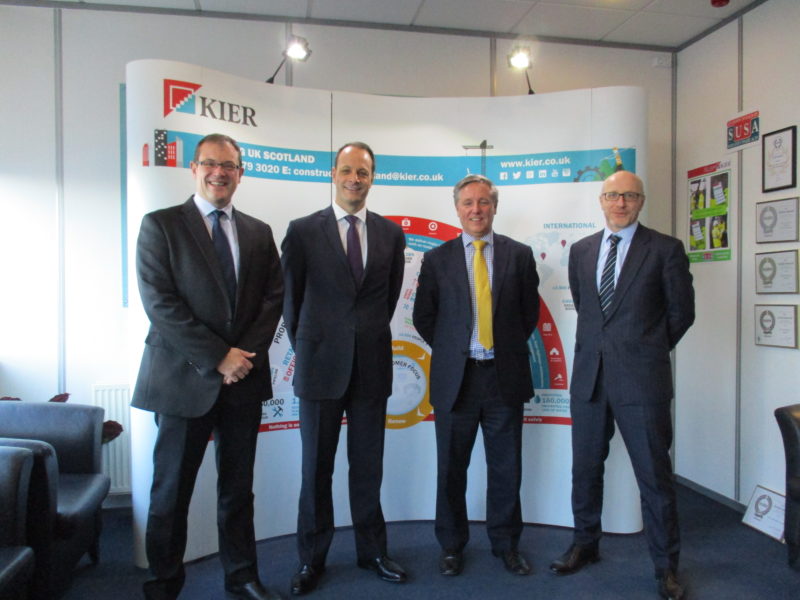 KIER Group chief executive officer, Haydn Mursell, and finance director, Bev Dew, have completed a tour of the company's major Scottish projects.
The visit included trips to three of the new high schools Kier is building in the south west of Scotland on behalf of hub South West Scotland – William McIlvanney Campus, Marr College and Ayr Academy, as well as two of Kier's heritage projects; Aberdeen Music Hall and the restoration of the fire damaged Mackintosh Building for the Glasgow School of Art.
Haydn and Bev also visited Kier Living developments in Scotland including the award-winning Hawkhead Village in Paisley. This development, built around the former Hawkhead Hospital, saw Kier refurbish a number of dilapidated, listed art deco buildings by modernist architect Thomas Tait. These buildings form the centrepiece of a new urban village of more than 300 homes.
Haydn Mursell said, "It was great to meet the teams working on some of our key projects in Scotland, including those undertaking the restoration, refurbishment and extension of some of Scotland's world renowned cultural buildings.
"Throughout all our construction and housebuilding projects, it's clear to see our commitment to providing unique and valuable learning opportunities to young people on a wide range of skills within the industry – combining traditional crafts with modern methods of construction."