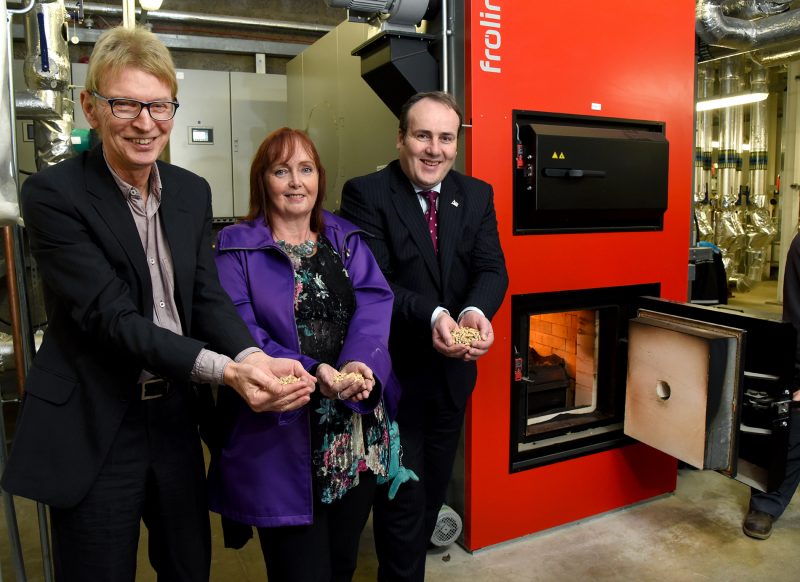 PAUL Wheelhouse MSP, Minister for Business, Innovation and Energy, has visited Broomhill in Greenock to see how its new £7 million district heating system is helping to tackle fuel poverty.
Social housing provider River Clyde Homes is investing £26 million in improving Broomhill. As well as the new biomass and gas district heating system, which became operational in September, the project will also see over 600 properties refurbished with external wall insulation, new kitchens and bathrooms, double glazed windows, and security features.
The district heating system, which was funded by British Gas under the ECO scheme, has a large central boiler within a localised energy centre that supplies hot water directly to 555 homes via a system of underground, pre-insulated pipes. The water is delivered directly to a heat exchanger within each building, providing residents with heat and hot water on demand without the need for individual boilers.
The Scottish Government aims to have 40,000 homes connected to district or communal heating systems by 2020. Mr Wheelhouse visited the scheme's energy centre, where he met with Albert Henderson MBE, chair of River Clyde Homes and Gary Wilson, director of Property and Business Development, as well as several residents who are already noticing "substantial" reductions in their fuel bills. A recent survey of tenants has shown that bills have dropped from an average of £16 per week to between £5 and £10 per week in most cases.
Paul Wheelhouse said, "More homes and businesses across Scotland are seeing the benefit of renewable heat. New figures published by the Energy Saving Trust, on behalf of the Scottish Government, estimate that last year saw the largest annual increase in renewable heat output since measurement began in 2008 – up by over 1,100 GWh in a single year. 
"There remains more work to do to reduce demand, supply heat more efficiently and increase the role renewable heat plays in Scotland's energy mix. More than half the energy we use in Scotland is used to provide heat and that's why we continue to develop new and existing avenues of support in this important area and this will be reflected as a key priority in our forthcoming Energy Strategy."
Albert Henderson MBE, chair of River Clyde Homes added, "The transformation of Broomhill is a major three-year plan, one of the largest regeneration projects in Scotland and I am very proud of the difference that's being made here. I was very pleased to be able to welcome the Minister to Broomhill today to see first-hand the difference our district heating system is making to the lives of our tenants. The Minister and I share the common aim of eradicating fuel poverty, and district heating systems are one of the most effective ways to do that."
Local resident Angela Hair said, "The new district heating system has made a tremendous difference to me – I am saving a fortune. I used to pay £50 per month for heating and hot water. Now, thanks to the new system and also the new double glazing and render that helps to keep the heat in, I have spent just £11 since August."