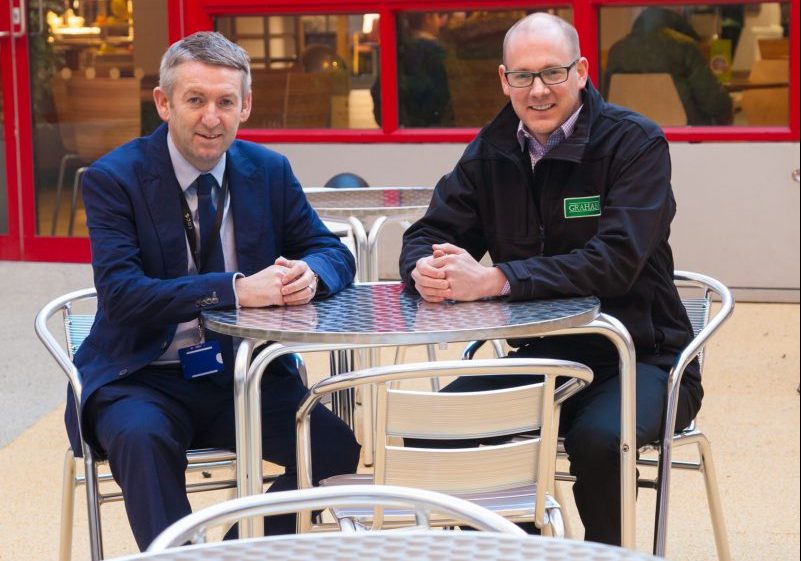 GRAHAM Construction has donated a range of new garden furniture to Café Aroma at Queen Margaret Hospital in Dunfermline after carrying out work at the building.
The café was modernised as part of the ongoing £9.2 million revamp of Queen Margaret and Victoria Hospitals for NHS Fife. 
As part of the work to the Queen Margaret Hospital, Graham has delivered a new dental suite and an audiology unit. the firm has also completed a number of developments at the Victoria Hospital in Kirkcaldy including a new aseptic suite to boost the facilities for controlling and storing prescribed medicines.
Chris MacLeod, framework director for Graham Construction said, "We're always pleased to support the local community when we are undertaking projects of this scale. This furniture will support a comfortable environment for people using the hospital, many of whom will be receiving treatment or visiting relatives. This type of sanctuary is extremely important, contributing massively to the overall quality of care."
Andrew Fairgrieve, NHS Fife's director of estates, facilities and capital services added, "Graham is one of NHS Fife's preferred suppliers and has worked on several of our sites, carrying out major refurbishments and new build projects.
"These projects have been completed on time and within budget. Their approach in providing community benefits such as this is fantastic and much appreciated by staff, patients and visitors to the hospital."