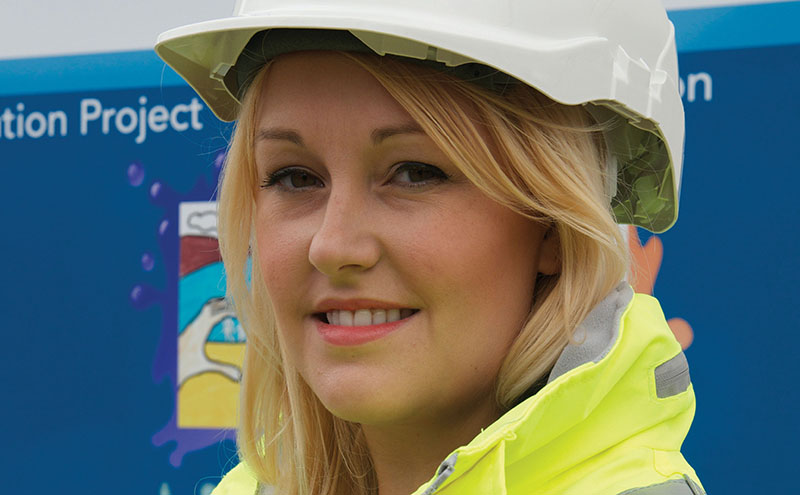 By Lynsey Lennon, Performance Team Leader – Alliance Management, Scottish Water
LAST month I was invited to talk to a room full of hundreds of construction professionals about improving their productivity. The idea was a bit daunting at first – because let's be honest, most people's first thought when you mention the P word is that someone wants them to work harder and for longer.
But the truth is very different. It's not about working people into the ground and squeezing every last ounce of resource from them, it's about working smarter and doing more with the resources available to us by innovating, becoming more efficient and more productive.
I was invited to address delegates at Construction Scotland's 2016 conference because Scottish Water's new efficiency drive has ideas for everyone, regardless of what part of the construction industry they operate in.
Improving our efficiency was driven by our regulator, but we wanted to make the most of the challenge to benefit our customers and partners too. We didn't have enough knowledge of this area internally so we brought in a consultant with expertise in improving productivity and a proven track record of working across the construction industry. Thanks to knowledge transfer and training, we were able to build our internal capability that would allow us to develop and control our own productivity improvement in the longer term.
Our three key learnings, I've since realised, are relevant to almost everyone within the industry. The first one is about understanding what your repeatable tasks are. For example, ours could be installing rebar, concrete shuttering and sheet piling. Your repeatable tasks might be completely different from ours, but the theory is the same. Once you understand these elements you can plan and resource your work more efficiently. For those repeatable tasks, are there some teams who are delivering them much more efficiently than others? If you can identify which sites or teams are doing these tasks the best then you can replicate their technique and working pattern elsewhere.
When we compared the productivity of our different squads, we found that one squad on our water pipe relining programme had a much higher production rate than others. We wondered what they were doing so well and what best practice they could share across other squads. It turns out they were using the second part of the working day to prepare for the next day – they were sending part of squad ahead to do the launch of reception pits for the next day's relining. Believe it or not, this made the difference between relining 250m of piping a week and relining 400m of piping a week. Everyone was a winner here, as by spending less time working on the roads under traffic management, we were causing less disruption to the public. This squad was using their full working window, and had the right number of people, so we're now trialling that working pattern across other projects.
The second lesson for us was collaborative planning. This is a lean technique that can be used on construction projects of any size, and is working extremely well for us. It's about getting your design team, construction teams, suppliers, sub-contractors, and any other key stakeholders into one room and starting to understand all the interdependencies in the different areas of the project. The aim is to pull out any risks to your programme, any clashes or risks to delivery.
Project programmes can sometimes be created by one person in isolation, using data from many different sources. They tend to have quite a few assumptions in them, such as standard durations which can later come back to bite you. For example, an electrical panel was due to be installed in November in a pumping station, but the heating wasn't due to be installed at that point, so if this had gone ahead, condensation could have potentially caused thousands of pounds of damage to the panel. Typically we find two or three of these issues in each collaborative planning session, so it is really worthwhile. It also builds up trust and relationships – people get to meet each other and put a face to the name at the end of the email, which helps enormously. There was a little resistance to the collaborative planning sessions at first, but now our alliance partners are all really positive and find it really useful – the proven success of this method to date helps get buy-in from our colleagues.
The final key point is all about people. You must take all your people with you on the journey and everyone needs to be on board, from senior management to site agents and foremen. The people at the highest level have a clear financial incentive to improve productivity – after all, it boosts profit. But what about apprentices and steel fixers on the ground – why should they get on board?
Listen to the people who are actually doing the work, and they are more likely to listen to you. They know what a lot of the problems are and they can give you very valuable feedback. Our people have told us that many things affecting our productivity on site have happened way before the job even gets to site – so we've had to hold a mirror up to ourselves and ask what we need to do differently, and that's great because it's all part of collaboration. Our alliance partners and some of our Tier 1 contractors have identified productivity champions within their organisations who help implement the initiative, and they work closely with our in house team. Our journey is still in the early stages, but it has been a genuine team approach and so far it is going really well.
Working smarter is the future – and I'm confident that by working collaboratively as an industry, we will deliver better futures for our businesses and for our customers.
To find out more about the Profit through Productivity programme, visit www.cs-ic.org/productivity