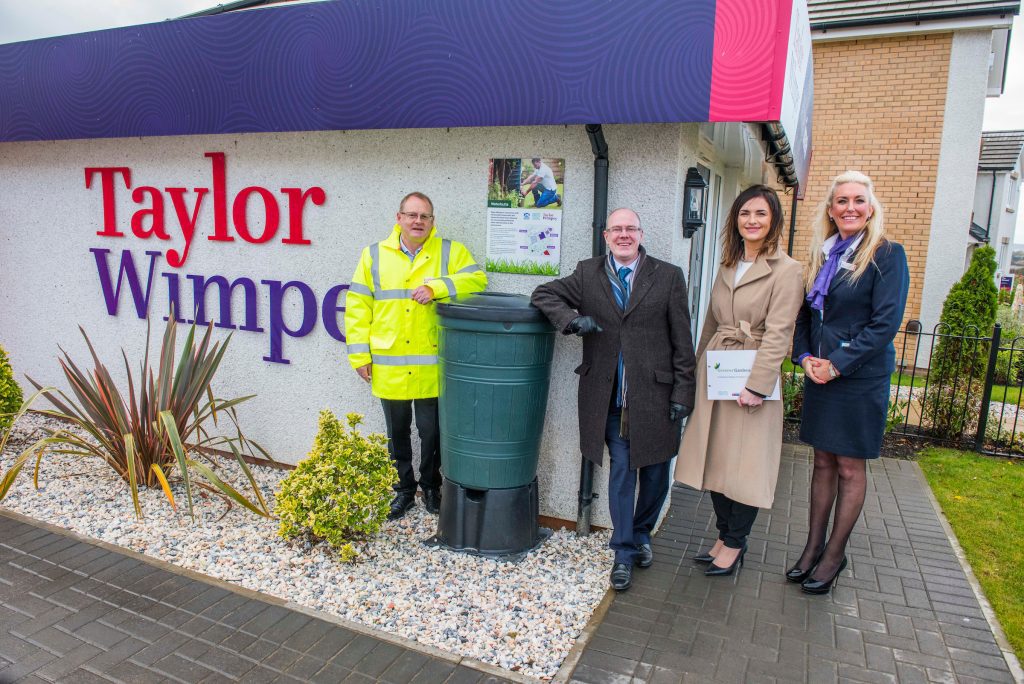 Residential developer Taylor Wimpey West Scotland has been involved in an "innovative" project that will provide free water butts to 80 new homes.
Taylor Wimpey is working in partnership with the Scottish Government, Central Scotland Green Network Trust (CSGNT) and academia on the 'Greener Gardens' project, which looks at how gardens of new homes can be used to contribute to green infrastructure, biodiversity and storm water management.
The developer has, together with project partners C&D Associates, Abertay University and CSGNT, installed two types of raingarden and a sustainable urban drainage system called a 'SUDSbox' on its Torrance Park development in Holytown, North Lanarkshire.
Also, As part of the project, Taylor Wimpey is funding two years of research by Abertay University into how source control SUDS in new housing developments can contribute to storm water management and reduce downstream flooding.
In a bid to encourage homeowners to get involved while the research takes place, and highlight the importance of the project, Taylor Wimpey West Scotland, CSGNT and Scottish Government are working together to install a free 200 litre water butt to the first 80 new homes on the development.
Stephen Andrew, technical director for Taylor Wimpey West Scotland, commented, "Along with our project partners we are leading the way both in research and analysis of raingardens at plot level.
"We believe the inclusion of raingardens within house plots can contribute positively to help the industry deal with storm water management in a sustainable way as a source control SUDS technique.
"We are really excited to be at the forefront of this project which we believe will provide us with valuable insight into how our industry will adapt and plan for the challenges brought about by climate change."
Mr Andrew added, "The Torrance Water Project received valuable recognition in last year's VIBES Awards (Vision in Business for the Environment Awards). And as the year of Innovation, Architecture and Design provides a focus on innovative projects like ours, we will look at ways in which we can continue to evolve our work in this area."
Keith Geddes, Chair of CSGNT, said, "Greener Gardens is helping us to work with developers to educate homeowners about how they can play their part and make a difference to the wider environment by considering how they plan and plant gardens.
"As well as helping to manage rain water, raingardens provide much needed habitats for nature which supports and improves biodiversity in the local area. The Torrance Park Water Project gives us an opportunity to evaluate these benefits and show how green infrastructure in gardens can achieve better quality environments for our communities."
Minister for Local Government and Housing, Kevin Stewart added, "Greener Gardens' is a practical project which demonstrates a new way to implement the principles in our "Green Infrastructure: Design and Placemaking" guidance.
"The purpose of our involvement and providing funding support was to work with a housebuilder and progress work on mainstreaming raingardens in new developments, recognising how at a larger scale this could contribute to the Central Scotland Green Network national development.
"Through the partnership we are aiming to show how there can be effective solutions for both individual homeowners, as well as the wider housebuilding industry to create sustainable gardens and developments whilst encouraging biodiversity.
"We believe Taylor Wimpey West Scotland is the first volume housebuilder in Scotland to pioneer work on raingardens and commend their commitment to green infrastructure, and hope this project will flourish and inspire other developers to green their gardens."