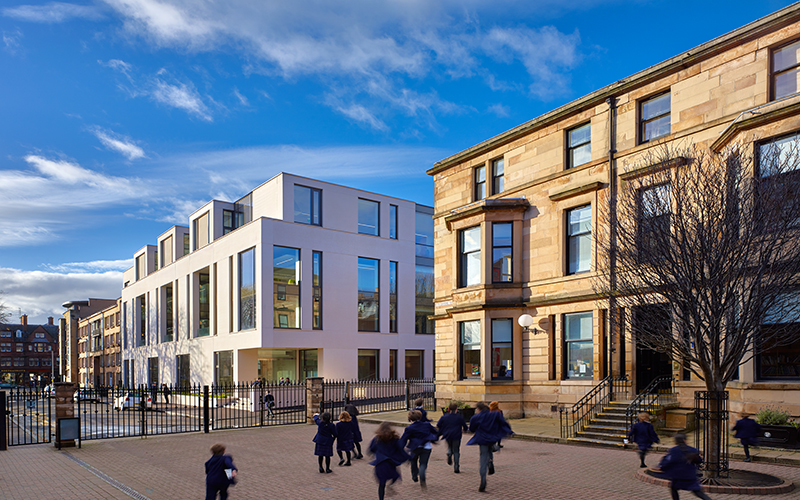 Page\Park Architects' Saunders Centre in Glasgow has landed the coveted RIAS Andrew Doolan Best Building in Scotland Award for 2016.
The science and technology building for the Glasgow Academy emerged as a "clear winner" from a shortlist of eleven projects.
The award was presented at a ceremony at the National Museum of Scotland, with the winner receiving a cheque for £25,000 and a gold medal.
Fiona Hyslop, Cabinet Secretary for Culture, Tourism and External Affairs said, "Every year, through the shortlist for the Andrew Doolan Award, we see a display of the many benefits that great architecture can bring and we show the quality of Scottish design to the world.
"During the Year of Innovation, Architecture and Design 2016, we have been celebrating the best of Scotland's architecture, both old and new. This year's Festival of Architecture, organised by the RIAS and its partners, continues to be a fantastic success and tonight's winner is a welcome addition to the hall of fame of great Scottish architecture."
The judges this year were David Dunbar PPRIAS (chair), Iain Dickson PPRIAS and Eleanor McAllister OBE Hon FRIAS. The full judges' citation for the winning project reads:
"This splendid new addition to Glasgow Academy's campus is an elegant and subtle addition to the streetscape. The reinforced concrete structural frame is clad in a pattern of precast polished and honed finishes. This modular assembly rises from the podium for the raised ground floor, through a sequence of bay windows to a reinterpretation of the Glasgow dormer at roof level.
"The corner entrance signals the main circulation stair, appropriately spacious and robust, which comfortably accommodates class changeovers. The ground floor incorporates a teaching kitchen and provides access to the 178-seat auditorium, complemented by a generous foyer that wraps around the sculptural, oak-clad, elliptical form of the inserted auditorium. The new theatre space is available for assembly and teaching on a daily basis but also offers a further hi-tech performance space for theatrical and public events, enhancing the Academy's relationship with the West End community around.
"On each upper floor, four general teaching labs, together with a sixth year lab, are arranged along a glazed break-out. An informal array of seating in these gathering spaces encourages chance meetings. The window bays overlook the historic main school."