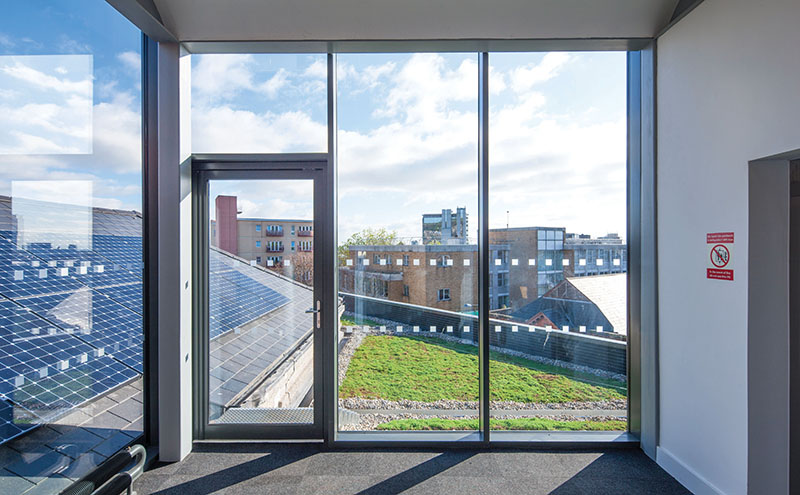 By Graham Hurrell, commercial director, AluK
IN order to achieve optimal building envelope performance, the envelope itself should integrate and work with other elements of the complete building.
By doing so, the building envelope satisfies functional demands such as offering protection against weather, noise and air pollution, all of which have an impact on the interior environment and occupant comfort.
Structural systems such as façades are integral to the performance of a building over its entire life span, which means life-cycle costs must be considered.
The materials used should minimise the impact on the environment, taking into account global warming, resource depletion and toxicity.
Aluminium has many unique properties that make it an ideal building envelope material. Characteristics such as durability, flexibility, strength and low cost recyclability make it the primary framing material within architecture and the built environment, with the latest research giving it an 81% market share.
The commercial building sector is responsible for around 18% of all UK carbon emissions, with heat loss through air leakage and a lack of natural light identified as the two biggest causes of energy waste.
It is estimated that the total UK non-domestic floor area will increase by 35% by 2050, with 60% of existing buildings still in use.
As legislation and green building advocates push for more sustainability, a building envelope that can control and manage a property's energy demand is a crucial component to achieving high building performance.
Thermally broken aluminium curtain walling systems are energy efficient and can achieve enhanced building envelope performance levels as they are tested for airtightness to minimise and control air permeability.
These features have the potential to reduce a building's energy usage and occupational running costs as well as improve the productivity of its occupants.
Research by the World Green Building Council has established that access to windows for daylight and views is one of the most important determinants of an occupant's level of satisfaction.
The health and wellbeing of users must be highly considered bearing in mind that Europeans spend at least 90% of their time indoors. Products offering a choice of opening configurations and manual operability are key as they allow users the option to further manage ventilation.
The best systems offer slim framing sightlines and expanses of glass that can increase natural light transmittance.
INTERACTION WITH OTHER BUILDING COMPONENTS
The Whole Building Design Guide (WBDG) highly recommends the use of operable windows for natural ventilation and occupant control to manage airborne moisture so that it is not transmitted through the building envelope, compromising indoor air quality. Furthermore, it advocates maximising the use of daylight and the use of movable shades or blinds for glare control to maintain a healthy visual environment.
To ensure that building envelope performance requirements are being met, it is important to identify areas of concern that can negatively impact a building's energy usage and indoor environment quality such as air infiltration and leakage, moisture diffusion, surface condensation and water ingress.
Systems should be able to work in conjunction with other building components to achieve and maintain the required quality levels, so interfaces need to be well designed and proven.
A high performing twin-wall façade for example, should introduce a number of opportunities for passive climatic control. By utilising products such as an air exhaust louvre at high level and an air inlet louvre at the bottom to create a 'chimney' effect, the gap between the internal and external wall of the twin-wall façade can be used to control the flow of air and temperature within the building interior.   
In winter, solar gain can be collected in the buffer zone, and brought into the building to offset the heating costs, while in summer, when overheating can be an issue, windows can be closed and heat rejected using mechanical ventilation. High performance aluminium systems should also offer the option of manual operation, allowing users the ability to introduce more air.
The best systems must be able to incorporate solar shading systems in order to reduce glare and overheating. When designed and engineered well, with specialist and knowledgeable manufacturers, these systems are flexible enough to meet the climatic changes for most types of building use.
Collaborating with supply chain partners at the design stage is crucial as it allows for modifications to be easily incorporated, as oppose to during construction when alterations may add substantial costs.    
As the emphasis on sustainability and occupant health strengthens, constructing buildings that offer positive benefits to inhabitants will invariably be good for the bottom line for architects and their clients.