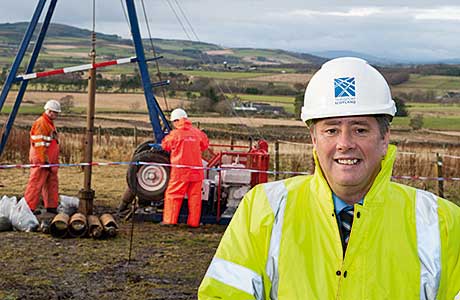 PLANS for the construction of a pumped storage hydro (PSH) electricity generation station in Dumfries and Galloway, which has been tipped to employ around 327 workers in its construction phase, have been given the green light by Scottish ministers.
The site of the Glenmuckloch PSH electricity generation station is currently operated as a surface coal mine.
Keith Brown, Cabinet Secretary for Economy, Jobs and Fair Work said, "Renewable energy sources generated more than 56% of gross electricity consumption in Scotland in 2015, helping support our world-leading ambitions to become a low-carbon economy.
"The Scottish Government believes there is a huge opportunity around pumped storage hydro. This tried and tested technology can support peak demand and effectively store greater levels of electricity at times when renewable energy output is high but demand is low.
"With an installed capacity of up to 400 MW, and supporting 327 temporary and up to 15 permanent jobs, the Glenmuckloch station will help support the local economy in Dumfries and Galloway and support the growth of renewables in Scotland's energy mix."