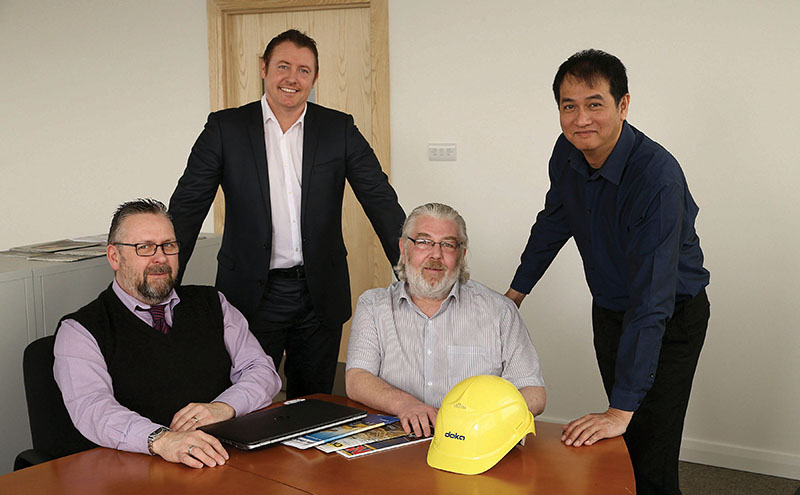 FORMWORK company Doka UK has opened a new office in Glasgow to service its growing Scottish market.
The firm is currently involved in the Aberdeen Western Peripheral Route project, where it is working on road bridges and balanced cantilever structures. Doka UK is also providing formwork travellers for the Forth Crossing.
The new premises are located at Buchanan Park in Stepps and are staffed by Scotland sales managers, Colin Butter and David Hancock, and senior formwork designers John Ferguson and Jun Bagapuro.
Ashley Simons, head of marketing for Doka UK, told Project Scotland, "We opened the Glasgow office to consolidate our successes there in the civil engineering sector and break into the construction sector in the Scottish market.
"We won in 2012/2013 the Forth Crossing and then in 2014/2015 we won the Aberdeen contract.
"We recruited two experienced formwork sales managers in 2015 and set up a permanent sales and technical office in 2016.
"We recruited salespeople and engineers and we're looking to build on that as our successes grow.
"The Scottish market has, in recent years, been a buoyant construction market and it was one that Doka UK had not really exploited on a permanent basis. Our successes in Scotland had been on what we call a targeted project base.
"We recognise the Scottish market is much more of a rental market than in England. The larger majority of our revenues coming from Scotland will be a rental business so as that rental business grows and develops over the coming years we will be looking to consolidate our presence and our successes with the potential of opening a fully stocked depot but that's going to be beyond 2018.
"We signed up, in recent terms, a supply agreement with Careys in Scotland, which virtually replicated the longstanding agreement we've had with Careys in England and on the back of that we've won a number of projects; notably, the Energy to Waste project in Dunbar.
"It's demonstrating our commitment that we have to Scotland and we do see a growing success in being able to expand the UK business," Ashley added.