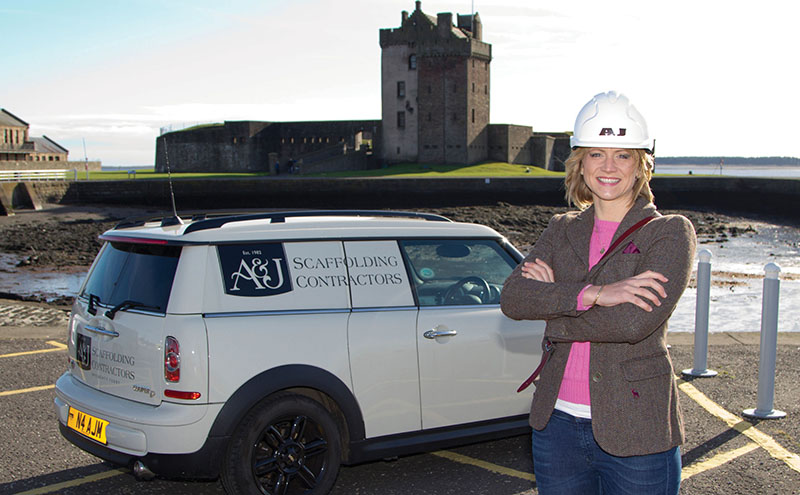 BROUGHTY Ferry-based scaffolding contractors, A & J Maintenance Support Limited, is keeping it in the family after Lisa Duncan joined the firm to work alongside mother and company director, June Duncan, and sister and company secretary, Jaclyn Duncan, after becoming one of only three female NASC, CITB qualified CISRS scaffolders in Scotland.
Lisa, who holds a degree in both accountancy and law from the University of Abertay, is currently the accounts and operations analyst at the firm. Now, as a fully qualified scaffolder, she intends to spend more time on site and is looking forward to obtaining her CISRS Scaffold Supervisor and Scaffold Inspection Training Scheme qualifications.
"Up until 2015 I was working in Aberdeen for an asset management company as a systems analyst, having previously worked as a financial analyst for the International Business Development Group at Franklin Templeton Investments in Edinburgh," Lisa told Project Scotland. Previously she had spent several years in manufacturing as an associate financial analyst at NCR then financial analyst at Stoneridge Electronics.
"I made the move because the oil industry has taken the worst financial blow I believe since the 70s. I saw areas of the financial market make uncomfortable shifts in Aberdeen at the same time the family business was looking to diversify into different markets, so they approached me as they hoped that I might consider a move as they felt that my financial background and scaffolding knowledge was what was needed going forward."
Lisa is now in discussions to go into local Dundee and Angus schools to discuss STEM subjects and CITB courses following her own positive experiences. Monifieth High School – Lisa's old school – have invited her back to speak at two career days and a workshop dedicated to Girls in Construction. Lisa hopes to inspire many more pupils into the industry – and not just scaffolding.
Explaining why she chose to return to the family business and become a qualified scaffolder, Lisa said it was her sister, Jaclyn, who encouraged her. "She's always asked me to come and work in the family business because she's convinced we'd make an enviable team – just like our parents. Having grown up in scaffolding, it's never been that far away. I've never forgotten what I was taught growing up so it's a comfortable place to come back to.
"I love the industry; every day is different, challenging and you are always learning. It is rather addictive once you get involved; it's an industry you should flourish in if you enjoy hard work and working outside your comfort zone.
"I originally went out on site to obtain information to produce spreadsheets in relation to streamlining the business but once on site I would find myself getting involved in other elements. I soon realised that I had to spend as much time, if not more, on site than behind my desk.  I looked forward to these opportunities to see first-hand what was transpiring on site, so when the offer of the apprenticeship was mentioned I didn't hesitate because I knew that not only did I want to do it but that I could and have succeeded along with the support of my family and colleagues.
"Although you can learn a lot of technical information relating to scaffolding from being members of the NASC (National Access & Scaffolding Confederation) and from the handbooks, it's not quite the same without the practical element of learning on the job or attending the CITB courses, so with that reasoning I become what you see today – a qualified scaffolder amongst other things to ensure my customers the best service."
The firm has put Lisa forward for the NASC Apprentice of the Year Award with support from clients Marjory Stewart and Mark Ross of DCC Construction Services, Steven Lynas of Hadden Construction, David Shepherd of Andrew Shepherd and Steve Ward of QAPM Ltd. "My family are immensely proud that I've chosen the route I have as it was the only way to learn what I needed to know and be the best I can," Lisa added. "I can't recommend a better way to learn our industry than to just do it; I am so glad I have entered the industry right now as I can bring a wealth of experience from other sectors and the progress I have made already has not gone unnoticed by my employer. Scaffolding is such a specialised industry, more so now with the compliance of SG4 and TG20. To succeed you can't be anything but hands-on and passionate about your service and as a company approaching our 34th year we still stand by the fact "you can't beat our service" and pride ourselves in being specialists in difficult sites."