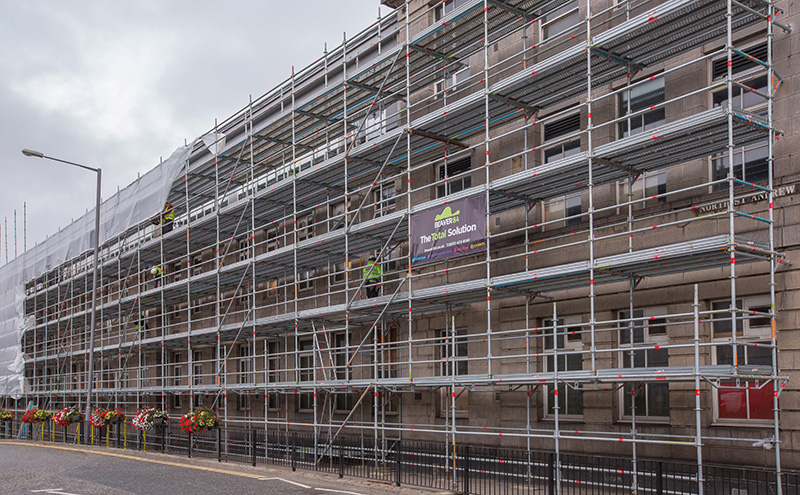 BEAVER 84's system scaffold, Plettac Contur, is currently being showcased at one of Aberdeen's most prestigious hotel developments; The Sandman Signature Hotel on St Andrews Street.
Originally built in 1908, the building is one of Aberdeen's most historic. Global hotel chain Sandman Group, who acquired the property in 2014, is converting and renovating the former Robert Gordon University building.
Scaffolding contractor, Advanced NI Scaffolding, who has worked with Beaver 84 on a number of major projects across the UK, began erecting the scaffold on 22 August and completed the first of four major elevations, each measuring 82m long and 15m high, within 12 days.
Robert Andrews, managing director, Advanced NI Scaffolding said, "The Plettac Contur system scaffold has been dubbed the most advanced modular system scaffold on the market today and it's easy to see why:  firstly, the system's starting collar meant that we were able to set the base out quicker, which immediately got the job underway in a matter of hours.  Secondly, the eight wedge connections make it fully multidirectional so the flexibility of the system meant that we could cover more area with less material than a conventional system scaffold. On other jobs of a similar scale, this may have taken us twice as long."
Scaffold design engineers, Highland Temporary Works Ltd, said of their first experience designing with Plettac Contur: "We were immediately impressed with the variety of components available which eliminate the need for traditional tube and fitting. The use of double ledgers with support spigots at the pavement gantry reduced erection time and manual hanling dramatically. The development of innovative system scaffold such as Plettac Contur will positively transform the future of the scaffolding industry."
Mark Ahmed, assistant manager for Sandman Signature Hotel Group added, "Witnessing just how fast Advanced NI Scaffolding were able to erect the first facade using Plettac Contur was eye-opening. This is the first Sandman Signature development where our scaffolding contractor has used Plettac Contur. From a site management perspective, a system scaffold that saves so much time and labour is worth its weight in gold."
In addition to the construction and facade scaffold applications used for this project, Beaver 84 said the Plettac Contur modular scaffold system can adapt to fit the most complicated areas.
Steve Tysoe, managing director, Beaver 84 explained, "This product provides such flexibility that it is an ideal choice for a wide range of industrial uses such as within shipyards, industrial plants and for both onshore and offshore applications. The real benefits of the system are the ease and speed of erection, which in turn increases productivity and reduces labour costs."
In total, the project is expected to make use of Plettac Contur for around nine months.
The hotel in Aberdeen is the third UK development from Canadian based Sandman Hotel Group who specialise in acquiring and converting existing buildings rather than build new.  The four-star premium hotel complex in Aberdeen will offer 220 rooms, including 61 suites, a restaurant and conference facilities and is expected to open its doors in late 2017.
Beaver 84 and Advanced NI Scaffolding are also partnering on another project of significant historical interest in the heart of Aberdeen; the £30 million refurbishment and renovation of Aberdeen's Art Gallery.
The project, which began in 2015, is being managed by main contractor McLaughlin and Harvey.  As well as Beaver 84's Beaverlok scaffold system, the project also requires staircase units, bird cage scaffolding, tube and fittings and various alloy unit beams to facilitate the roof support and atrium remedial works.
The gallery, designed by local architect Alexander Marshall MacKenzie, first opened in 1885 and boasts some superb architectural features such as the Gallery's magnificent centre court. Other remarkable features, such as the arches, had remained hidden until the project works unearthed them.
Robert Andrews, managing director, Advanced NI Scaffolding said, "The delicate nature of the fabric of the building has required great care and a steady approach by our team. Support scaffold is being used to hold up the archways while restoration work is underway. Internally the scaffold allows access to repair the various staircases, atriums and rotundas, the installation of new glass, painting, plastering and the preservation of ornate plastering to existing cornices, granite columns and archways. As a very complex project, we've required additional kit deliveries throughout and Beaver 84 have proven themselves to be utterly reliable in this respect."
Michael Kieran, McLaughlin & Harvey Construction Director added, "It has been a pleasure to work on a project with such historical significance. The access equipment supplied by Beaver 84 and installed by Advanced NI Scaffolding has been of critical importance due to the nature of this beautiful and multifaceted building. When Aberdeen Art Gallery reopens in winter 2017 it will surely rank amongst the best in its class."
Advanced NI Scaffolding and Beaver 84 have worked together on a number of other projects across the UK including a major shopping centre in Aberystwyth and a public access tower facility at Luton Airport.