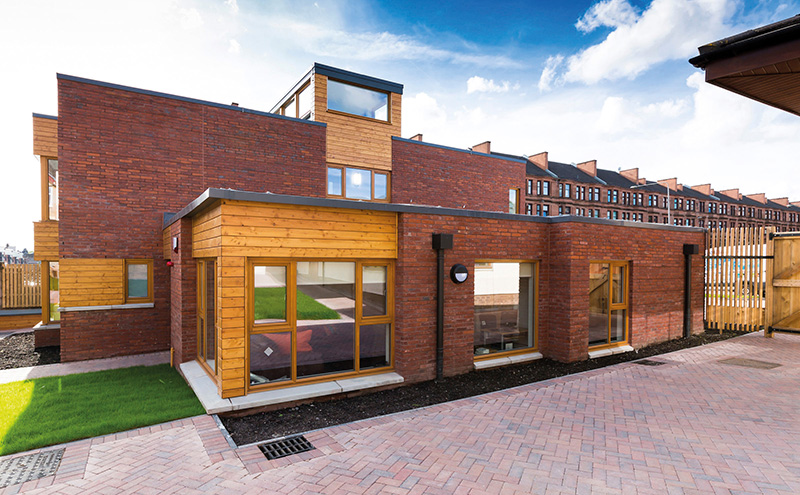 "THIS is not just a job. There is a bit of us that goes into each project."
Those are the words of Ronnie Burrows, director of Lenzie-based family business Fleming Buildings Limited.
The firm, which specialises in timber frame construction, has been going strong for more than five decades, excelling in sectors as diverse as education, health and religion.
Fleming has been involved in a number of recent high-profile projects, including the redeveloped Royal Edinburgh Hospital. The business has also just completed three buildings for Glasgow's East Park School, commenced work on a community centre in Irvine and is in the final stages of delivering a community centre in Inverclyde.
"The Royal Edinburgh was challenging due to the logistics," Ronnie explained. "We were designers, manufacturers and erectors of the kit and the roof. Due to the practicalities of so many buildings, a lot of time was taken to carefully plan in conjunction with the main contractor. What you don't want is Building 6 when they need Building 1. So the timings were important. We were involved on that project for six months."
Fleming is a Tier One contractor for hub West and hub South West Scotland, and a Tier 2 contractor for hub South East. Successfully earning a place on those frameworks involved a lot of hard work but Ronnie says it's been "good for the portfolio" and the business values the extra work this has generated.
"We like to support the people in communities where we're working," Ronnie added. "We try wherever possible to use subcontractors and suppliers within the area."
The company was started 53 years ago by Ronnie's grandfather, W.A. Fleming, when the timber frame sector was in its infancy. Another grandson, Mike, is managing director and there are employees who have been with the business for over four decades.
It's clear from speaking to Ronnie just how much the company values its staff. Current expansion plans for the firm's Lenzie HQ, including a mezzanine and connecting corridor, revolve around building on the firm's "collaborative approach" to working and bringing everyone closer together. There is also a longer-term plan to refurbish the offices.
"The whole thing is about working under one roof," Ronnie explained. "You're contactable, nobody's an island. People are working together. That's been our approach. Within the company there hasn't been a big change in our staff. We want people to enjoy their work.
"We have 80 employees. Our principle ethos is about working together. People value that. It defies the odds of the general building trade.
"Two of our employees have been here over 40 years and worked with my dad and grandfather.
"We're an SME. We've got a place as an SME. We're not the small guy, we're not the large guy. We're happy in the middle. That's our marketplace. You have to gradually expand and look at things on their own merit, asking where's our next project but not ignoring where you've come from. It's about controlling that carefully."
Ronnie said the firm has enjoyed "steady growth" over the years and is now more geared up than ever to tackle larger projects.
"Timber frame was just coming online about 50 years ago (when the company was starting out). There was an opportunity to do this type of work. The business started with smaller scale stuff and built up from there. It's grown steadily and we've progressed into new markets.
"Our name is good in the industry. Education, churches and medical are our big three sectors. We're also heavily involved in the community centre side of things and have done a lot historically, working in some of the areas of Glasgow and beyond. With our experience in the work that we're doing, we've got a good case history and a wide variety of projects within our marketplace. We've been involved in small amounts of private housebuilding but that's not our main business. We've also done work on some of the universities."
One thing Fleming is passionate about is apprenticeships. The business currently has eight apprentices and has beefed up its intake. Ronnie explained, "We want to see people not only doing apprenticeships but having further opportunities and progressing through these opportunities. A lot of money goes into training people. You don't want to waste four years. Do it well and follow it through. It's good to see apprentices doing well. I'd like to encourage that and also see them progress in their career and through the business.
"We've increased the number of apprentices that we train and that in itself is a commitment to training. Some have done their qualifications and are now with us as tradesmen in their own right."
Ronnie has also been in touch with local schools to discuss the possibility of speaking to pupils about the opportunities within the construction sector.
As far as the future is concerned, steady growth and seeking out new opportunities are key priorities.
"You've got to go where the work goes, Ronnie added. "We don't want to be fishing in a pond with too many fish and it's not viable for the business. We look at what's realistic and for developing opportunities in the markets that we're (already) in."