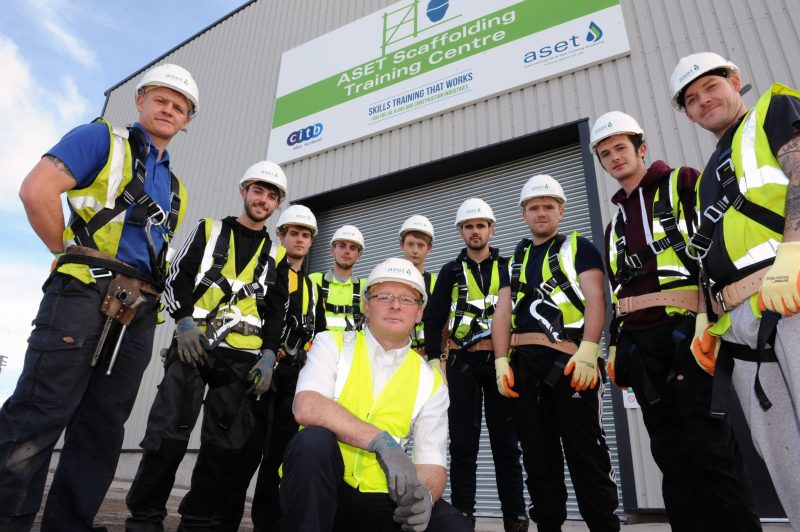 A new "top quality" scaffolding training centre has officially opened in Aberdeen to benefit future scaffolders in the north of the country.
The facility, which has received more than £1 million in investment, is a partnership between the Construction Industry Training Board (CITB) and ASET International Oil & Gas Training Academy (ASET).
The centre, based at Clinterty, offers professional training and a portfolio of CISRS (Construction Industry Scaffolders Record Scheme) and SQA (Scottish Qualifications Authority) accredited scaffolding courses. CITB said these will train and upskill the Scottish workforce and benefit both the construction and oil and gas industries.
David Mosley, CISRS scheme manager said, "The possibility of a second CISRS accredited centre in Scotland has been discussed at length. We are delighted that ASET and CITB have built an excellent facility and we wish them a very successful future."
Nine learners have started their apprenticeships at the new centre. Dundee-based employer Kevin Malone of Skyline Scaffolding Ltd, employs apprentice scaffolder Darren Holt, who has just begun his training. Kevin said, "I was extremely happy when I heard the new centre was opening. It is long overdue, and will certainly be a great boost for scaffolding training in the area."
Atholl Menzies, chief executive at ASET added, "This is an exciting time for ASET and CITB as we now begin to realise our vision of creating a centre of excellence for scaffolding training in the north of Scotland. This purpose–built facility is perfectly positioned to meet the demand for accredited training at introductory and advanced levels – from Dundee to Shetland.
"The apprenticeship provision will help to attract new entrants into the industry, making an important contribution to the local economy. The extensive range of commercial courses available will open up new opportunities for employers and individuals alike.
"Organisations now have greater choice in selecting the right training options to develop the skills of their workforce, and individuals can choose to develop existing or acquire new skills in readiness for market opportunities in the decommissioning arena."
Ian Hughes, strategic partnerships director at CITB Scotland said, "This top quality training centre will offer young people a chance to start a successful career in construction. We're proud to work with ASET and get this new facility open for business in such a short period of time."