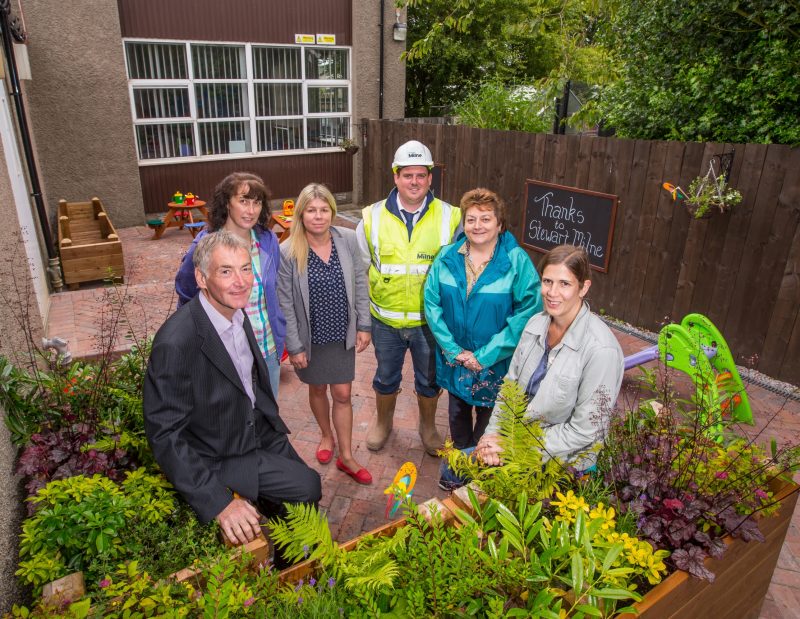 RESIDENTS of Cove now have a new community garden thanks to the support of the Stewart Milne Group's RUBY campaign.
Formed as part of the company's 40th anniversary celebrations, Stewart Milne Group launched its RUBY (Regenerating Urban Back Yards) campaign to improve run-down community spaces. The project at the village's Loirston Annexe Community Centre won a public vote and work at the site has now been completed.
An eight-strong team from Stewart Milne Homes removed large areas of concrete slab, upgraded drains, lay porous paving, built and planted garden planters and a shed.
John Low, managing director at Stewart Milne Homes said, "The RUBY campaign gave us the opportunity to provide support to deserving local projects and the Loirston Annexe Community Centre is a prime example of this. It has been fantastic to see work take shape on the centre which is so widely used by the local community."
Fleur Tarling, who is on the Loirston annexe management committee added, "The completion of this project is great news for the centre as it gives us a garden which is fully enclosed and safe. Winning support from the RUBY campaign was fantastic and it meant we could get the work completed and create a space which can be used by all of the children who attend the various clubs at the centre.
"The garden is an excellent play area and will also be used as an educational space. We are currently working with Cove in Bloom to put in a vegetable patch, which will be maintained by the children from the Clicc after school club, and there are plans for a bug house."
The community garden is one of four RUBY projects supported by Stewart Milne Group with projects already completed at a play area in Bridge of Allan and a disability resource centre in Castlemilk. The fourth project involves an area of community woodland in Wythenshawe, Greater Manchester.