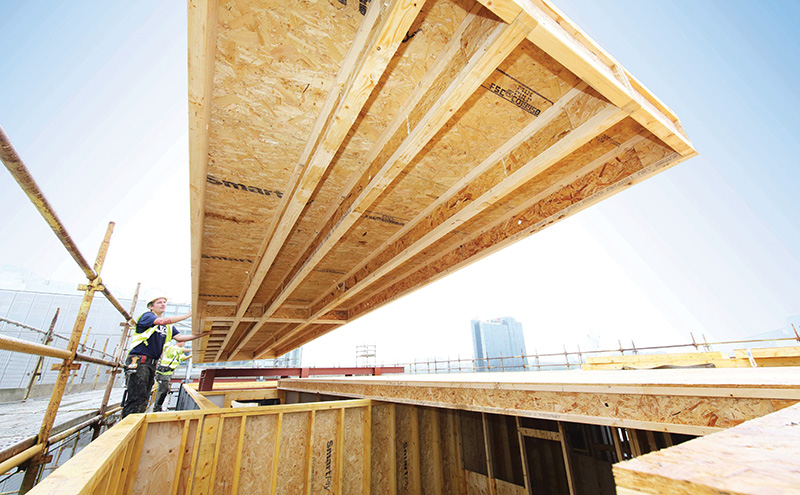 Alex Goodfellow, group managing director of Stewart Milne Timber Systems, uses over 30 years' experience in housebuilding to highlight how offsite construction and timber systems can play a crucial role in helping Scotland combat the shortage of affordable homes
THE Scottish Government is currently working with housing partners to increase the supply of affordable homes to offset the housing shortage. The ambition is to deliver 50,000 affordable homes in this Parliament, 70% of which will be for social rent. The need for high quality, efficient housing projects to get underway is acute. Luckily, offsite construction and timber systems present a solution to many of the sector's current challenges.
INCREASING THE SPEED OF BUILD
Ambitious Government targets require a focus on speed of build. Offsite construction provides the perfect platform to manufacture build systems to exacting performance standards, ready for 'just in time' delivery to site. Precision engineering, quality control and zero capacity constraints result in no delays for clients and easy construction on site.
Call offs can be arranged within three weeks which also minimises construction delays. With winter approaching, traditional timing setbacks such as bad weather impact less with offsite construction since the build systems arrive on site, ready to erect quickly.  A small team of highly skilled personnel can ensure a typical 4-bedroom house is wind and watertight within five days. This reduced number of workers also improves health and safety, since the quantity of people on site is lower.
CAPACITY TO MEET DEMAND
A reliable source of materials is paramount to meeting housing targets.
Timber is both a sustainable product and one without shortage issues.
Our 30-year partnerships with foresters demonstrate our commitment to sustainability and guarantee an ample supply of materials for offsite construction. One of our partner mills produces 154² of timber per hour, and with 10 mills in our supply chain, we can meet demand for 500,000 timber frame houses per year.
An example of a project that has been delivered to speed and scale is our work at the Athletes' Village in Glasgow's East End, where we were awarded a contract for 184 two-and-a-half storey housing units.
As part of the build system, the team supplied and fitted stair flights, which streamlined the supply chain and helped to further increase speed of construction.
This partnership approach started from the initial design stage and was carried right through to onsite delivery, guaranteeing a high standard finished product meeting timescales and budgets.
CONTROL COSTS WITH REDUCED LABOUR AND IMPROVED WASTE MANAGEMENT
The gap in skills is an ongoing concern for the Scottish construction industry.
Offsite construction provides a welcome solution to part of the problem as less labour is required on site. From initial concept design through to delivery, we value engineer to ensure that build projects are constructed efficiently, reducing cost wherever possible.
Waste management is also a priority and we recycle 100% of our waste at source, reducing landfill transportation costs.
Value engineering and design cooperation were particularly important during construction of the Premier Inn at Pacific Quay, a six-storey 144-bed hotel and restaurant development located in the heart of Glasgow. Each project partner was engaged to ensure that all materials and additional trades were integrated into the build schedule correctly and sequentially, streamlining the process and safety of the site.  Four storeys of timber frame were integrated on top of two levels of concrete and glass, just one of our successful hybrid projects.
Offsite construction has many benefits to the speed and efficiency of any build project, and when used at scale, it provides the key to the housing shortage conundrum that Scotland is currently facing.