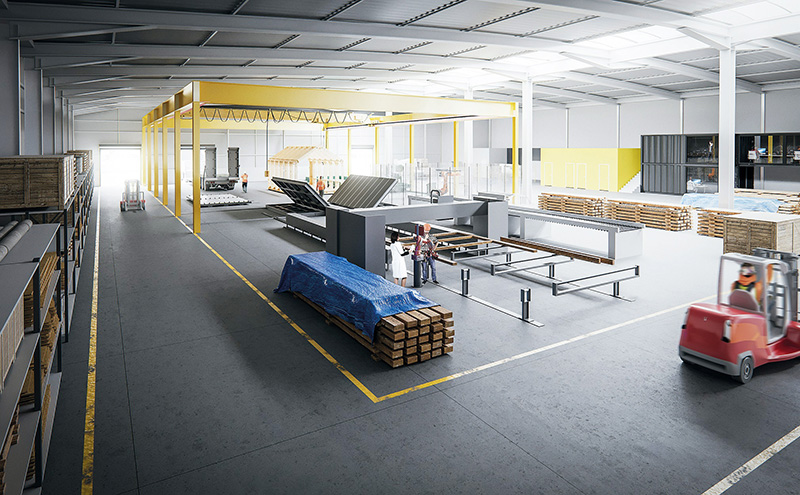 The Construction Scotland Innovation Centre recently celebrated its second anniversary with a conference in Glasgow, attended by over 300 people. The centre, which seeks to to connect industry and academia to drive innovation in the construction sector and generate a greater economic impact for Scotland, has just moved into a new facility in Hamilton. Gary Moug recently met with chief executive Stephen Good to discuss the progress made so far and future goals
"THE risk doesn't lie in innovating. The risk lies in doing nothing."
So says Stephen Good, chief executive of the Construction Scotland Innovation Centre (CSIC).
CSIC recently marked its second anniversary with a high-profile conference in Glasgow attended by more than 300 leading figures from the Scottish construction industry. The event coincided with the organisation picking up the keys to its new premises in Hamilton, which contains 35,000 square feet of office and workshop space and will house innovative construction equipment for Scottish firms to prototype and develop new concepts and solutions.
"There are two parts," Stephen told Project Scotland. "There's the "talking" part of the building on one side over two floors, which gives us seminar space, meeting rooms and incubation space, as well as space for training and CPD activity. Through the wall there's workshop "making" space where we'll locate the equipment industry has identified as being key to allow it to prototype, test and train."
Prior to deciding what equipment to locate at the CSIC, Stephen and his team engaged with hundreds of Scottish businesses in a series of workshops held across the country as part of Construction Scotland's strategy development.
"Out of that came some key topics around digitisation, automation, robotics and offsite manufacturing capacity," Stephen added. "We have a micro offsite-manufacturing cell, which will give companies the capacity to develop their next generation products in a collaborative environment that isn't their own production facility. They can bring new staff to this facility to be trained on the same sort of equipment without it slowing down their production lines.
"We have a piece of equipment called a thermo bonding line, which is geared towards using fibre material to generate not exclusively construction-related products – though in our instance it would be – to allow companies to develop perhaps a whole range of natural fibre insulation products, utilising waste fibre resource. It could be wood fibre, it could be cotton, and it could be your old jeans being turned into insulation products. This ties in very much with Zero Waste Scotland and the circular economy approach."
The CSIC will also feature equipment including large and small robots. "Both can be fitted with multiple tooling heads creating huge flexibility to cut, glue, nail, screw, router or 3D print components for example. The larger robot is located within a cage and would work on independent tasks. The smaller robot is designed specifically to work alongside people."
Stephen cited an example of a robot working side by side with a factory operative, perhaps supplying materials or lifting, laying and packing. Ultimately, it's about how firms can use technology to deliver greater and more profitable productivity.
The centre will also feature a vacuum press capable of producing CLT (Cross Laminated Timber) or Glue Laminated (GluLam) products. "Specifically around timber, there's been great progression with an initiative called the "Offsite Hub" that  we set up about 18 months ago with 13 of Scotland's most advanced offsite manufacturers who work almost exclusively in timber," Stephen said. "Working with some of them, Edinburgh Napier University and Forestry Commission Scotland, there was a desire to look at the potential in Scotland to develop solid timber manufacturing capacity. CLT was developed in Austria in the early 1990s as a use for their surplus or waste timber, which basically bonded timber lengths together to create higher value structural components. The CLT vacuum press will allow prototype components to be manufactured here using home grown timber. The CSIC will equally equip Scotland with the capacity to develop and prototype new CLT and glulam components, both currently unable to be manufactured in Scotland."
The CSIC will give firms the luxury of 'trying before they buy' with Stephen explaining that companies can use the facility on a pay as you go open access basis, use the equipment for training and developing new products, and if it's right for them and the market is responding to that technology, they can go away and invest in it themselves. The facility is designed to help de-risk innovation.
A suite in one of the seminar spaces will be kitted out with the latest software to allow firms to prepare for BIM Level 2 compliance, which was one of the major themes of the recent conference. "The Scottish Government has a requirement for publicly procured contracts to be delivered through BIM Level 2 by April next year," Stephen said. "Parts of the industry are still in a place where they want to understand more about what it means for them and if it's relevant to them. We'll provide the hardware and software. Companies can come in, use it, get individuals in their companies trained so that they can then go back to their organisations and develop their BIM implementation plans and strategies.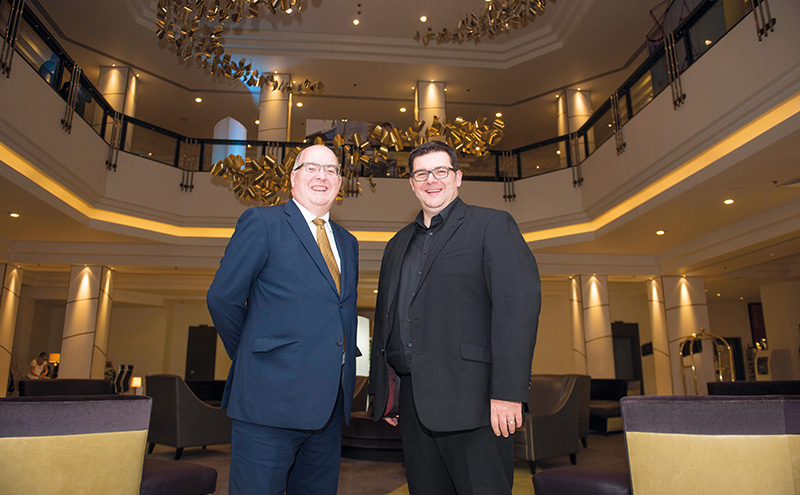 "A lot of companies are looking for solutions in terms of how they develop their suite of BIM components, which a main contractor or client might want to include in a 3D BIM environment. What companies don't want to do is invest thousands of pounds on equipment that's going to sit in the corner of a room. A lot of companies are past that point of asking, 'do we need it?'. They're now asking, 'when do we need it?' and a lot of businesses are gearing up with elements of training. What we launched at the conference was a 'step by step' BIM awareness and implementation programme, which maps out this journey for companies. This programme of events, workshops and training sessions, delivered collaboratively with Construction Scotland, BIM Regions Scotland, Scottish Futures Trust and Scottish Enterprise, takes you on a very logical process through that journey. The intention, by working collaboratively with others active in the BIM space, is to de-clutter things, join up the dots and provide coherent support in a structured way that's relevant to businesses. Our objective is to help deliver something tangible. That's what the BIM awareness and implementation programme has really been conceived around."
Hamilton might not seem like the most obvious location for the CSIC, but a lack of appropriate space in Scotland's larger cities limited the options available. Stephen explained, "We're based at the Hamilton International Technology Park. We had been looking for a while to find somewhere that delivered a number of key things. Because of the various items of equipment that industry had identified, and because of the scale of some of them, that set the agenda in terms of the size of facility that was required. About 35,000 square feet was identified and being a pan-Scotland organisation, accessibility was a priority. Finding that sort of space in the centre of one of Scotland's major cities was a challenge and, whilst that would have been great from a public transport point of view, there just wasn't anywhere suitable.
"Getting the right size of facility, with the right accessibility and location was so important. We needed a building in the right condition that didn't need a lot of work as this now allows us to be as prudent as we can with the funding we're responsible for.
"Hamilton International Technology Park ultimately provided the right overall solution. An added advantage is that the University of the West of Scotland is relocating their Hamilton Campus to the same site soon, and given they are one of CSIC's 13 HEI partners, the potential to collaborate and share facilities as neighbours is hugely advantageous. I understand their ambition is to have their facility operational for the 2017 intake and with that will come 3,500 students and staff to what is already a busy technology park. The university's arrival will also bring additional infrastructure in terms of public transport links so we're going to benefit from their relocation in that sense too for our visitors. Equally, we will benefit from the new road infrastructure works that are progressing around the M74/M73/M8 corridor, ultimately making it one of the most accessible sites in Central Scotland."
The recent conference was the culmination of two years of steady progress and Stephen said that the CSIC's first year focused on getting its structure and operational setup in place. "We started with 11 university partners and that's now grown to 13, with formal collaboration agreements in place with each one ensuring businesses can access appropriate support for these universities when required. We've developed and iterated all the processes, procedures and approaches that we follow in terms of how we engage with businesses, how we support them and how we fund the project activity of the innovative companies that we work with. This all required significant detail to be put on the bones of the original bid."
Recruitment has also been key and the CSIC now consists of nine team members, who have joined over the past two years, with four business relationship managers located across the country.
Ultimately, the CSIC is about championing innovation and connecting Scotland's construction industry to deliver transformational change and create economic impact. They do this by directly investing in innovative, industry driven projects and by utilising the world-class talent from across the 13 university partners, to turn great ideas into invoices. So far, 33 projects have been supported by the innovation centre. Stephen said, "The projects are broad and vary from initiatives with companies who want to evolve their business innovation culture through to specific product innovations, like a project exploring the recycling of shredded car tyres as acoustic barriers on the trunk road network. We have worked on projects that develop modular steel and timber offsite solutions for domestic and non-domestic building applications, new innovative cladding solutions using Scottish larch and the retrofitting of appropriate high performance insulation products to existing granite buildings. We were instrumental in the development of supply chain partnerships to deliver low energy Passivhaus solutions using exclusively Scottish products and innovative new construction materials delivered as part of the Scottish Government's Scottish Scenic Routes initiative.
"Other wider strategic initiatives include the funding of 36 new collaborative MSc places across CSIC's university partners, for which 50% of the course content is delivered by industry and linked to industry led projects and placements.
"We established the offsite hub, with 13 of the industry's most advanced offsite manufacturers recognising there's a big market in terms of offsite solutions in the south of England and London market that Scotland's expertise is well placed to supply into, but rather than all of those companies trying to do it themselves, how could we develop a coordinated approach around two or three key issues? We've spoken to them individually and picked up on things they're trying to overcome. Two or three strands came out of that. One was around skills – how do those businesses grow the skills that would allow them to expand their capacity into those wider UK markets? One was around the branding/marketing/PR side of things for this sub-sector – everyone in the UK understands the quality of Scottish whisky, beef and salmon but they don't know every company that makes whisky, beef and salmon. That was the starting point for the offsite sector. Scotland already has a reputation for being an international leader in innovative offsite solutions, a benefit of having some of the toughest building standards in the world. What companies in Scotland are doing is significantly ahead of international counterparts in some respects but this is not particularly well publicised. The final strand has been around opportunities, both in a UK but also in a Scottish context around the Scottish Government's 50,000 homes target and what role the offsite sector has in delivering against the government's ambition. Offsite won't be the only solution but it could be a very big part of it given 80% of homes in Scotland are already timber frame. So it's about how to articulate and communicate to the Scottish Government in a coordinated way that the expertise and capacity to deliver the necessary solutions are here in Scotland already and appropriate commitment and certainty of supply could kick-start a revolution in innovative Scottish construction solutions. Our role is to act like the glue to bring the parties together, then act a bit like a conduit to help present a coherent solution."
One message Stephen is eager to get across about the CSIC is that the process of getting a project up and running isn't as time consuming as some probably imagine. "We're conscious that our processes in the earlier days, and other processes in the past have perhaps been a bit slow and bureaucratic and not as slick as industry would like," he said. "That's not to say we haven't got good governance in place but we're evolving an approach that keeps things as nimble and dynamic as we can. In terms of the initial project generation side of things, that can come from a multitude of sources. It could be a company or industry organisation coming forward with a clear problem or demand they need help with or it could come from us stimulating a particular sector through a call or exploratory workshops around a relevant theme. Our measurement criteria for the projects we support are very much linked to economic impact so if the output of the project is undefined or difficult to clarify, or perhaps is too early, then we'll connect them to the most appropriate support."
Instead, the CSIC tends to get involved when a good idea is already forming and needs to be taken in a more commercial direction. "Our job would be to sit down with the industry partner, identify who they might want to connect with, who else might be able to help them achieve their objective, and we're also able to identify the academic partners who are best placed to support the activity and indeed any other public sector partners – that might be funding, it might be expertise, it might be access to facilities or equipment," Stephen explained. A project application is involved, where the industry partner answers a series of questions and explains what they're trying to achieve and what the impact would be on their business.
"That would then go to our project advisory group," Stephen said. "We have a pool of expertise we have amassed over last 18 months, which is a mixture of academic, industry, public sector and government representatives. There are around 75-80 people who represent the different parts of industry and the project advisory group team acts a bit like a Dragon's Den panel, sense checking and validating the project applications."
"A new evolution of the process will see future industry and academic partners come and pitch," Stephen added. "We're bringing applicants into the process because the panel wants to better understand the passion the businesses have for their projects because sometimes it's sizeable investment we're making in them. Our board will then assess recommendations quickly. Our quickest projects have probably taken five or six weeks to go from initial application to funding approval. Our longest projects – because there are some that are quite complex – are six to eight month's development work and these can be projects with multiple stakeholders. The biggest one at the moment is about a £7.5 million project value that we're developing with a number of key stakeholders around a really innovative solution to the speculative housebuilding market and promises a radical approach to how that's tackled.
"Our support in the form of academic expertise we directly fund, doesn't duplicate other initiatives that can provide innovation vouchers or similar assistance to businesses. Our funding tends to contribute between £10,000 and £300,000 to a project and that would be our matched investment in a project. To date, for every £1 we have invested, industry is investing £2 of cash and a further £1.50 in kind. Our investment is often helping an innovation project mature perhaps a little bit quicker and perhaps with an increase in scale and impact. Key, though, is industry driving demand, hence the businesses we support are all innovation active, and prepared to take the lion's share of the risk."
Given that the construction sector has often been perceived as old-fashioned, one challenge for the CSIC is encouraging firms from opposite ends of the innovation spectrum to work together.
Stephen said, "Anecdotally, around 80% of the industry is perceived as being traditional, conservative and risk-averse. Our journey with this sub-set is around what we describe as evolutionary innovation. It is moving forward, which is key, but it's at a different pace and with a different approach to risk. The other 20% of the industry that we're engaged with are those revolutionary innovators, going at 200mph with their hair on fire into the future. We have a remit to support both. The biggest opportunity and challenge for us is how we get that 80% to work collaboratively with the 20% because that's where the really interesting sparks will fly and lasting transformational change can be achieved across the industry. Underpinning all the work we do is the spirit of collaboration – whether that's industry collaborating with academia, industry collaborating with industry, or academia collaborating with academia, we've got a collaboration policy at the heart of everything we do."
To encourage firms to think differently and share information, they've introduced experts from the pharmaceutical industry into workshops to share their experiences of the benefits working together on common problems can bring.
Stephen added, "We're quite blunt about it. We're keen to fund relevant projects if businesses commit to working together. We're unlikely to fund similar projects with multiple partners who don't want to collaborate.
"As one of Scotland's eight innovation centres, we're conscious that there are people, not just in the construction industry, that find the 'I' word a bit scary because they think it means greater risk and higher costs and less certainty, but our message in response is a simple one. In an increasingly competitive world, the risk doesn't lie in innovating. The risk lies in doing nothing. When you have that conversation with business and explain that innovation can be lots of different things, it takes away some of the preconceptions. We're not here to encourage companies to take risks that might make their business fail, we're here to help them do things differently. Often, these can be very simple, straightforward things or occasionally quite big and dramatic things, that are going to make them better, more sustainable versions of themselves."