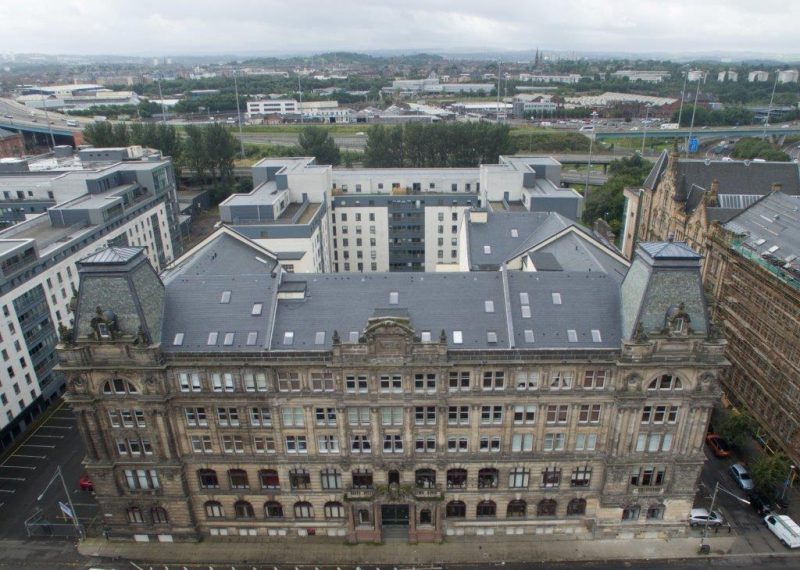 CRUCIAL restoration work has been completed on an "iconic" B-listed building in Glasgow.
The building at 33 Dalintober Street/53 Morrison Street was saved from falling into serious disrepair by a group of home and business owners, the building's factor Speirs Gumley, and grant funding from the local council.
Originally designed in 1919 by architect James Ferrigan as a warehouse for the Scottish Co-operative Wholesale Society, the building sits beside the Co-operative House, which is adjacent to the Kingston Bridge on the south side of the River Clyde. It was converted to 60 flats and four commercial units in 1999.
After a survey discovered the building would deteriorate rapidly if the almost 100-year-old roof was not completely replaced at a cost of £1.135 million, Speirs Gumley applied for an emergency grant of £576,000 from Glasgow City Council. With this financial assistance in place, the firm was then able to gain approval from the homeowners and business owners to pay their share of the remaining costs. Within just 12 weeks, the money had been raised and the vital repairs began.
As well as replacing the roof, improvements were also made to the underground car park and stairwells along with a refurbishment of the façade.
The newly restored building was ready in time to host the recent launch of Under One Roof – a new website designed to help private flat owners with the task of carrying out shared repairs. The building was chosen because it is a working example of best practice and what can be achieved when owners, property managers and local authorities pull together.
Lorraine MacDonald, owner of Speirs Gumley said, "In my entire property management career I've never seen anything like the dedication and determination of the Owner Focus Group to raise the money needed to save their beautiful building from deterioration. My team at Speirs Gumley have also gone well above and beyond the call of duty to make this happen, and the chartered building surveyors, Wiseman Associates Limited and contractors GDN Contracts have also done a wonderful job."
Councillor George Redmond, executive member for jobs and investment at Glasgow City Council added, "It's great to see the restoration of this splendid building, another symbol of the regeneration of Tradeston, and an enterprise that all involved should be proud of. I am delighted that the council supported this project, which saved an important part of Glasgow's built heritage for future generations."