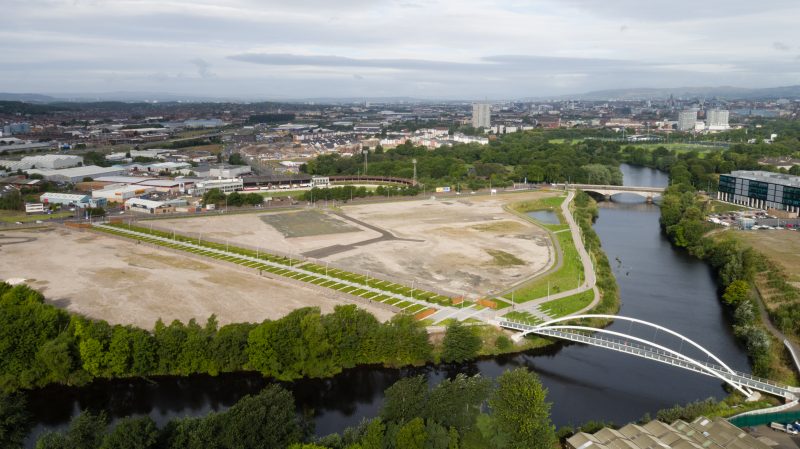 A new satellite business district in Glasgow has been tipped to create at least 12,000 jobs.
The east end development, named Magenta at Clyde Gateway, will comprise 1.2 million square feet of office space set on 27 acres next to the River Clyde and M74 motorway network.
Commercial property developer Highbridge Properties has launched what will become one of the UK's largest office parks, at the former Shawfield development in Clyde Gateway. Magenta is the largest office development with planning consent in Scotland. Clyde Gateway has invested £20 million in public realm and infrastructure works to the site.
Adrian Hill, director of Highbridge Properties PLC said,  "When I first saw this site it reminded me of London Docklands in the early years – so much potential and so close to the city centre.  Magenta is a very compelling option for businesses, boasting superb connectivity, infrastructure and value for money.
"The location is first class – a stunning riverside development that's just ten minutes from the city centre, 15 minutes from Glasgow Airport, two minutes from the M74, and with ample parking available on site." 
Ian Manson, chief executive at Clyde Gateway added, "This is an extremely exciting time for the Clyde Gateway area and I am delighted to have appointed Highbridge as our commercial development partner – a company with a fantastic track record in delivering high quality business parks. 
"Magenta will give the local economy and employment market a phenomenal boost.  It will also attract new inward investment to Scotland and stimulate economic growth."
As we as office space, Magenta is also expected to feature shops, cafes, a gym and business centre.