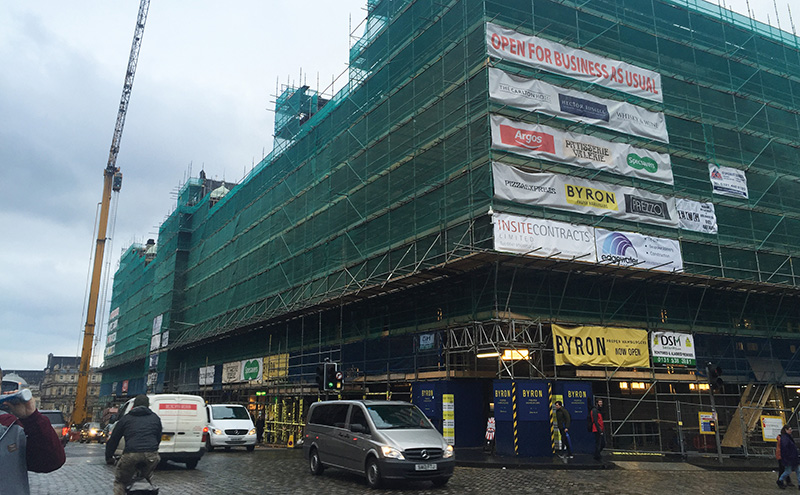 DENHOLM Industrial Services has added another prestigious Scottish project to their portfolio with their involvement in the refurbishment of the Hilton Carlton Hotel in Edinburgh.
The UK-wide firm, which has offices in Glasgow, provided scaffolding for the B-listed building in the heart of the Capital, just off the Royal Mile.
Denholm worked with Insite Contracts on the project, which involves refurbishment work including windows and stone repair.
"We were asked to erect the scaffold for Insite Contracts and it generally consists of erection, alteration and dismantling of a general-purpose perimeter access scaffold," explained George Muir, general manager of Denholm's scaffolding division.
"There were a lot of beams involved; a lot of the beams in the rear elevation.
"We had to use Excalibur bolts, which meant drilling into the wall, putting a fitting on it and then erecting beams off it, requiring a lot of design input."
Denholm had a team of 16 on the project and used between 70 and 80 modular beams.
The work, which began in October of last year, is ongoing, but a large portion of the scaffolding had to be dismantled to make way for the Edinburgh International Festival in August.
"Most of it had to come down for the Festival and whilst we've still got bits and pieces up, the main thing was getting the scaffold removed from the main thoroughfare," George said.
George explained that both Denholm and Insite's teams were working against the clock to ensure that everything came down in time and once Insite had finished its works, Denholm "had to get in there and get that away because it was right on the main thoroughfare".
The project encompassed High Street, with Jeffrey Street below and Carrubber's Close behind. Edinburgh's Old Town is well known for its narrow closes and lanes, complete with steep stone steps, which can make erecting scaffolding no easy task.
"Down the lane was very awkward," admitted George. "What we had to do was run the scaffold down the lane, take it up, over to the other side of the roof to the rear end of the hotel (and) run beams up there, as well."
"In certain areas it was 30-metre (and) the building ran something like 50-odd metres in length at the front.
"I would say at that particular time it was the most prestigious job in Edinburgh," George added.