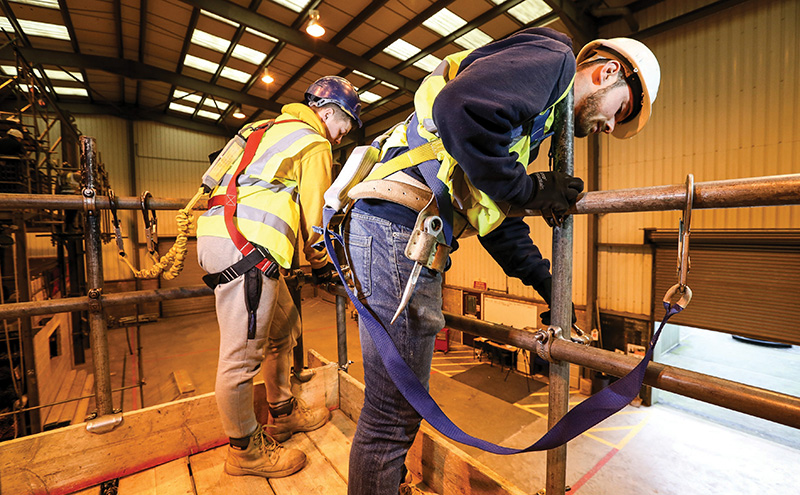 FOLLOWING lengthy discussions on the issue within the industry for many years, CISRS announced recently that from June 2017 it will introduce a two-day Continuing Professional Development (CPD) course, which will become a mandatory requirement prior to scaffolder or advanced scaffolder card renewal.
Here, Dave Mosley, CISRS scheme manager, tells Project Scotland's Gary Moug why the new courses are necessary, what is involved and about some of the challenges facing the sector generally
Q) WHAT'S THE BACKGROUND TO THESE NEW CPD COURSES AND WHY ARE THEY NECESSARY?
A) This was originally triggered by pressure put on us by HSE who felt that there were scaffolders out there who may not have received any formal training since they qualified, which in some cases could be decades ago.
Many view scaffolding as a high risk job. If it is done correctly this isn't the case. If you have the correct knowledge and training, risks can be managed. As a safety critical trade, CISRS wanted to ensure that every scaffolder was up to date with industry best practice, health and safety guidance, etc at the point of card renewal.
Q) WHAT HAS THE FEEDBACK BEEN FROM THE SECTOR TO THIS CHANGE?
A) The response has been mixed with a lot of people agreeing with the principle and seeing the benefit in making sure everyone is kept up to date. The biggest complaint has been additional costs to maintaining CISRS status.
Q) WHAT WILL THE COURSES ACTUALLY ENTAIL AND WHERE WILL THEY TAKE PLACE?
A) The courses will be held at CISRS approved training centres. The course content is still being finalised but some of the things to be included will be SG4, TG20 and SG6 updates, PPE, harnesses, Part 2 recap, communication and behavioral safety, trends in accidents, mobile tower module, scaffold inspection, H&S module and test.
Q) WHO WILL PAY FOR THE CPD COURSES?
A) We have approached CITB and are hopeful that we may be able to obtain £100 per day funding via a training plan, which would significantly subsidise the cost of the course (course costs range from around £250-£350 dependent upon which centre you attend).
If this does come to fruition, we would assume that those employers eligible to receive this funding would pay for the course.
We are also looking into possible options for funding for the unemployed. Self-employed scaffolders or those working for agencies would possibly have to pay for it themselves.
Q) WHAT'S THE HISTORY OF THE CISRS?
A) CISRS is a not for profit organisation. It delivers the industry recognised route to qualification for the scaffolding sector. It is based upon the philosophies of offsite formal training on site time served experience, health and safety, S/NVQ achievement and trade skills tests. It has been in existence for around 40 years and has moved the sector on enormously in that time when you consider that initially cards where issued via "grandfather rights" industry accreditation.
There are approximately 60,000 current CISRS cardholders with around half of those being made up of scaffolder (19,500 approximately) and Advanced cards (10,500 approximately.).
There are roughly 8000 registered operatives in both the Labourer and Trainee cardholder category with the remainder being made up by Inspection and Supervisors.
We now have over 6000 scaffolders who have completed additional systems scaffold training and have had their cards endorsed accordingly and these figures are showing growth each year.
Q) HOW WOULD YOU ASSESS THE STATE OF THE SCAFFOLDING INDUSTRY IN THE UK AT PRESENT?
A) I feel that the scaffolding sector doesn't get the credit it deserves. The training required to qualify as a scaffolder far exceeds a lot of the other trades you will find onsite.
Accident and incident rates, particularly of NASC members, are very low. The sector has raised its game considerably in the last 20 years – it is a safe and professional industry nowadays.
Q) WHAT ARE THE BIGGEST CHALLENGES FACED BY THE SECTOR?
A) As with a lot of sectors, recruitment can prove to be difficult. Unfortunately some of the perceptions of our sector are not the most flattering; as such we need to get out there and promote the positives of our industry and correct those misconceptions.
Depending on where you live the availability of CISRS training can be an issue, but we are looking to address this.
Health and safety within the sector has improved massively over the years, which is a very positive thing but this does come at a cost and these costs cannot always be passed to the client and must be soaked up by the scaffolding contractor.
Q) WHAT CHANGES HAVE YOU SEEN IN TRAINING SINCE YOU FIRST BECAME INVOLVED?
A) CISRS had around 12 accredited centres when I took the job. we now have 27 within the UK and several more overseas. The Card numbers were around 20,000 in 2000 with that figure trebling in the last 16 years.
We have also witnessed the introduction of training for scaffolding labourers, users of systems scaffolds, scaffold inspectors, a requirement for trade skills tests, the withdrawal of BS5973 and the introduction of TG20 ab d improvements to SG4. The scheme will continue to move forward.
Q) HOW IMPORTANT WILL THE NEW SCAFFOLDING TRAINING CENTRE BE IN THE NORTH EAST OF SCOTLAND?
A) This has been a long time coming. There has previously only ever been one training provider in Scotland – NCC based in the Glasgow area – which is convenient for those in the central belt but can prove quite a journey for others. NCC is currently struggling to meet the demand for CISRS training in Scotland which has resulted in long waiting lists.
We are hoping that ASET in Aberdeen can help to alleviate this.
Q) HOW DOES SCAFFOLDING HEALTH AND SAFETY IN THE UK COMPARE WITH COUNTRIES OVERSEAS?
A) In my opinion the UK leads the way in regards to scaffolding health and safety, but it really depends on where you and what sector you are dealing with.
The oil and gas sector usually strives to maintain high standards wherever they are in the world, however if you look at general construction, in some cases it will be diabolical.
Q) WHAT'S YOUR OWN BACKGROUND?
A) I worked for my father's business, Pinnacle AIS, in the North East of England for around 14 years in many roles ranging from labourer and scaffolder to supervisor. We operated all sectors from housebuilding and town work to petrochemical and power stations.
I started working with NASC and CISRS in 2000 when I realised it was easier talking about scaffolding than it was putting it up.
My current role has proved to be both interesting (working with UEG, the European Scaffolding Federation, opening CISRS approved centres internationally) and challenging (overseeing CISRS card renewals, developing CISRS systems scaffold and the introduction of Scaffolder CPD).
I think scaffolding is an excellent sector to get into; it's safe, offers a good wage and can lead to lots of other opportunities such as overseas work, supervision, health and safety and design.