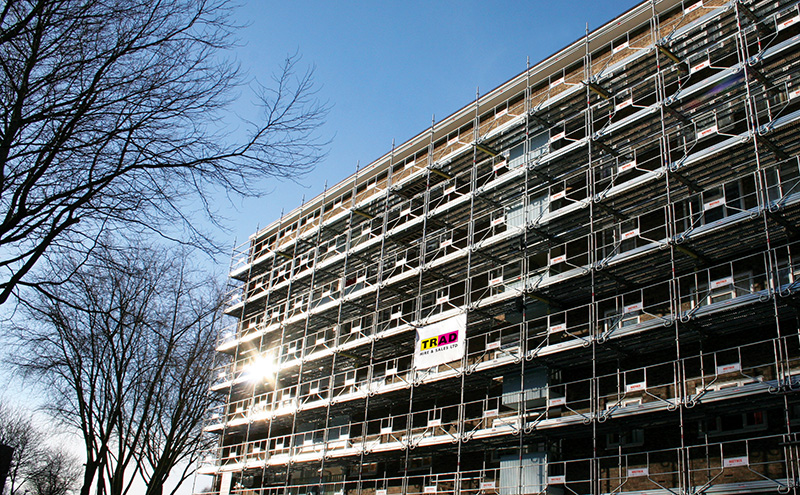 What's the secret to success in the scaffolding game? Just ask John Paterson, Managing Director of TRAD Hire & Sales – the UK's largest provider of non-mechanical scaffold products. John shares TRAD's business success story
WITH six depots nationwide, TRAD Hire & Sales is the "premier player" in the scaffolding market. And after the Altrad Group acquired it three years ago, the business's turnover has grown by 70%.
PEOPLE FIRST
Certainly, the Altrad investment has been key to that growth. But John believes it's not the company's biggest asset. "Our biggest selling point is, without doubt, our people. We have over 100 employees, almost all of them are long-serving, especially the management team.
"Long-term relationships built up over the years have allowed us to grow the business. The wealth of experience we have is second to none within our industry."
THE SCOTTISH DIFFERENCE
The other key to TRAD Hire & Sales' success has been serving the hugely important Scottish market. In fact, the Glasgow depot accounts for around £6 million of annual turnover. For instance, TRAD Hire & Sales has just finished a massive project on a new gas terminal in the Shetland Islands. While the two-year project needed 7,500 tonnes of tube and fitting equipment, John points out that the Scottish market is vastly different to the one south of the border.
"Scaffolding, especially the hires and sales business, is quite capital-intensive. You need a lot of stock to allow you to service client needs. Nationwide, 65% of our business still comes from traditional tube and fittings. But there has been a real shift towards system scaffolding over the last two years, especially as the industry is changing in terms of safety, training and cost."
In England, there's about a 70/30 split between tube and fittings, and systems. In Scotland, it's the opposite, because the Scottish market took up system scaffolding a lot quicker. As John explained, "There are cost savings and system scaffolding is faster to erect. Systems have got better, system training has got better, and the knowledge around systems has got better."
THE NEXT LEVEL
Of course, being a "market leader" means keeping up with the latest industry trends, tools, and techniques. It's clear that continuous innovation is another secret to success in the scaffolding sector. "You have to be improving your systems constantly, as legislation and health and safety requirements change on a constant basis," John said.
TRAD Hire & Sales is the sole UK supplier of PLETTAC METRIX, a new ring-based system scaffold. Made in Germany, the system allows bays to be broken up by length and width. It also comes with an optional permanent advanced guardrail system for improved safety.
Already available in England, PLETTAC METRIX will be launched in Scotland later this year, although it has already been used on some projects north of the border due to a national agreement between TRAD Hire & Sales and a major client.
TRAD is using the system in refurbishment and the new housing market. They have also used it to enter the industrial and petrochemical markets. John explained, "We see PLETTAC METRIX as a major product within our future range and we're implementing into our hire fleet as well as the sales side. With the backup of the Altrad Group and the direct approach with the manufacturer, we can look to promote and improve the system on an ongoing basis.
"We have an in-house technical manager, a group purchasing department and our own health and safety officers – that's all part of being able to help our clients to achieve their goals."
So TRAD's secret to success? It's quite simple, believes John. "A combination of hiring the right people, understanding your market, and having an open and honest policy with your client base."
TRAD Hire & Sales goes beyond supply. It also holds open days and training programmes to ensure clients know how to use the PLETTAC METRIX system. PLETTAC METRIX joins other products in TRAD Hire & Sales' stock, including TRADLOK, Kwik-stage, and Altrix – the new all aluminium temporary roofing system.