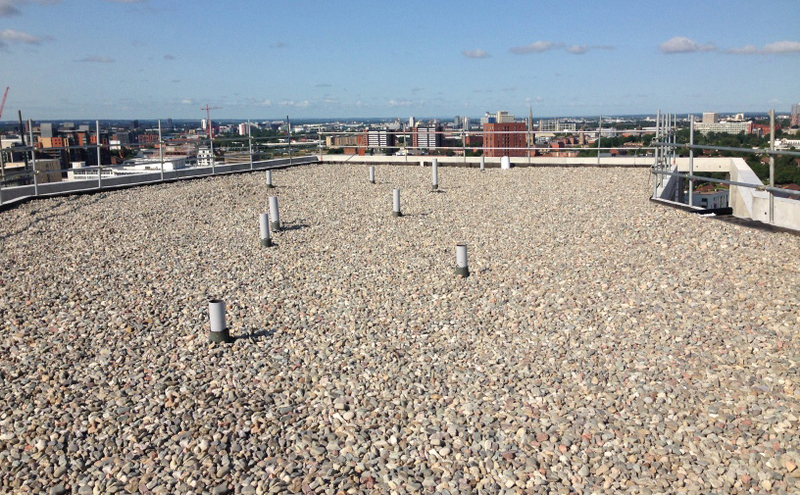 BriggsAmasco, has provided a "complex" waterproofing system to ensure a new multi-million pound residential complex remains protected against the risk of water ingress for many years to come.
Greengate Residential Developments in Salford, Manchester, is made up of two towers featuring 32 and 21 storeys respectively, of one-to-three bedroom apartments.
Designed by Jeffrey Bell Architects, the £50 million project required a watertight, cost-effective roofing system in an area notorious for high rainfall levels.
BriggsAmasco was appointed by main contractors, Renaker, to complete a series of waterproofing applications across the various roof levels including a lift overrun and a podium which connects the two towers and acts as communal green space.
For the buildings' main roofs and podium, the company installed a "robust, flexible, self-sealing inverted roof system" comprising IKO PermaTEC Hot Melt which was hand-applied to the substrate, followed by a layer of Enertherm Inverted Insulation.
To put a protective seal on the insulation, it was then finished with 20-40mm aggregate and paving slabs.
To complete the specification, the Ultra PrevENt Torch-On Warm Roof System was applied to the lift overrun. It includes a T-O vapour control layer, followed by a layer of Enertherm ALU insulation and Systems SA undelay. It was finished with an Ultra PrevENt cap sheet.
Mark Lewis, senior project manager at Renaker saidm "BriggsAmasco's quality workmanship, combined with a superior roofing system, enabled us to meet the client's strict deadline for this project.
"The onsite team's expertise made for an incredibly straightforward application and provided the buildings with watertight roofs which will stand the test of time."
The Greengate development, which started in June 2015, is due for full completion this month (September 2016) – well within the client's deadline.