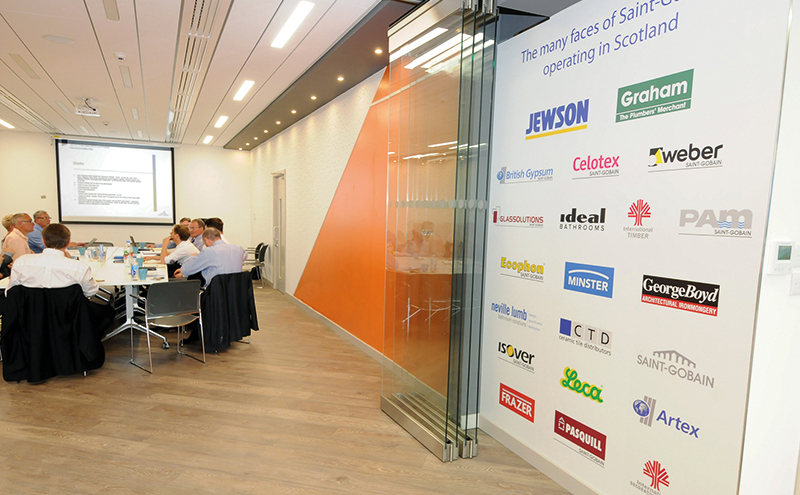 SAINT-GOBAIN has opened a new Scottish Hub to showcase new products and brand innovation, hold key client meetings and give them a facility to tell the story of a company that has over 350 years of history.
Saint-Gobain designs, manufactures and distributes a wide range of materials used within the construction industry.
22 Saint-Gobain brands currently operate north of the border – from British Gypsum, Jewson and Graham to George Boyd, Weber and Isover. All 22 of the brands have access to the new Glasgow-based Hub, which is headed up by Stuart McKill, Sustainable Habitat Leader for Saint-Gobain in Scotland.
The Hub is loosely based on the Saint-Gobain Innovation Centre in London, which is a platform for pioneering products. Stuart explained, "The idea is to provide a gateway to Saint-Gobain. We've got 22 great brands operating in Scotland. As we move more towards Saint-Gobain by design and look at building solutions, it's important that we have somewhere to meet key clients, a facility where we can hold CPDs, share information, explain more about our organisation and launch new products.
"We now have a place where brands can introduce clients to the broader business as well as their own individual brand, as and when that's appropriate. Each of our brands operate in their own right but where it adds value to our clients, we can look to see how we can deliver appropriate solutions. Sometimes it's as simple as being able to make an introduction to the right person.
"We've created this over-arching Saint-Gobain facility. While the brands are well in touch with the market, we wanted the opportunity to bring them more together in support of our customers.
"We  will have events which we hope will make people want to visit and to learn more about our activities in Scotland. As a location it's very accessible, we've got the underground at end of the road and the M8 at top of the road."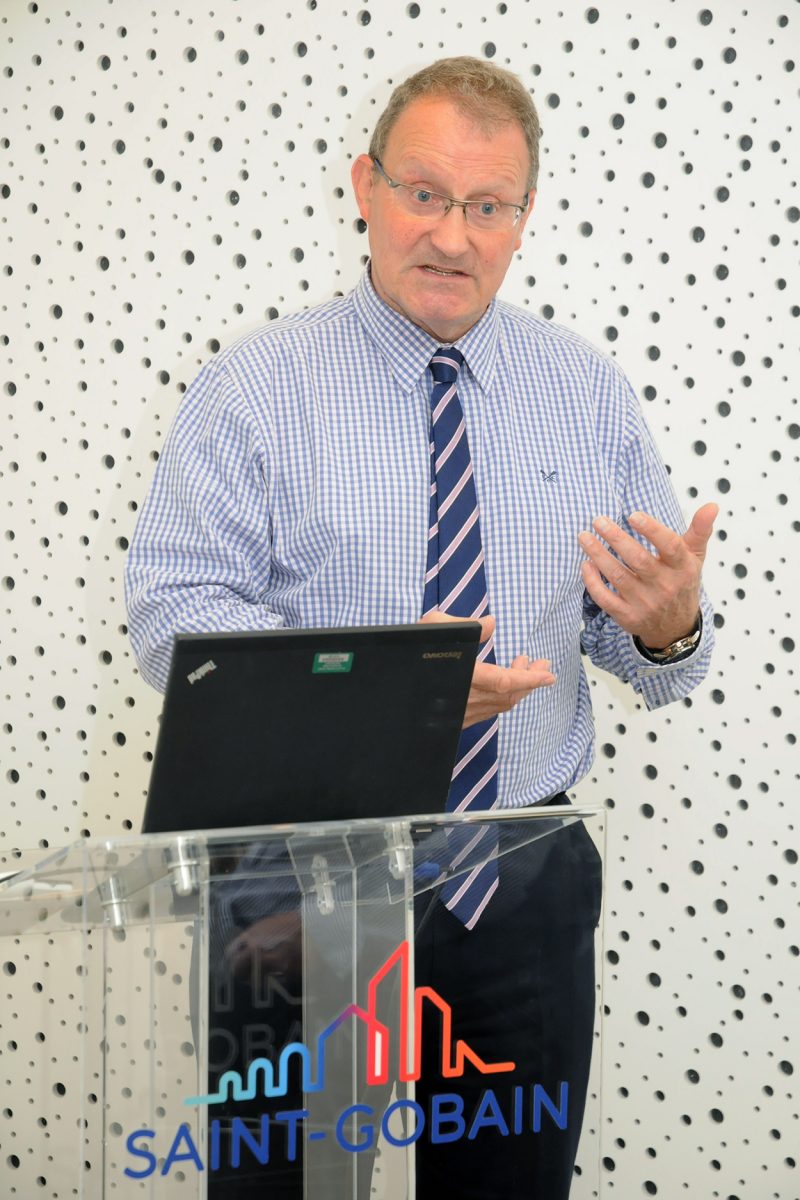 The Hub has taken over part of the office space previously occupied by another Saint-Gobain brand, CTD (Ceramic Tile Distributors) in Govan. Stuart added, "We looked around at various ideas and options. In the past I was involved with CTD  in Scotland so I was aware we had decent office space here and that we could do something that would give us meeting space, customer space and use it as a larger venue.
"We can go theatre-style, boardroom-style and/or have an open circulating area. It fits that bill and allows us to tell the story of Saint-Gobain. And it's quite a story.
"We're now in our 351st year. There are three key operating pillars – Innovative Materials, including our Glass business, Second-pillar Construction Products, which are manufactured in the UK and primarily sold in the UK – BG, Weber and Celotex as examples – and the Distribution side, which is the biggest part of the organisation and features the Jewson and Graham brands together with nine other trusted construction brands."
Saint-Gobain products and technology have featured in a wide range of high-profile Scottish projects including the Glasgow Riverside Museum (glass work), Falkirk Wheel (the cladding on the visitor centre), Edinburgh International Conference Centre (glass and rooflights) and The Kelpies (below ground work).
In many cases, more than one Saint-Gobain brand has been involved in the same scheme.
Stuart said, "We've been involved in some really iconic projects. Likewise, the hotel and leisure industry is a good example of Saint-Gobain brands working together from Jewson supplying a range of products to CTD and IDS doing the bathrooms and solid floor finishes.
"Many of our brands touched the Commonwealth Games developments in Glasgow (between the Athletes' Village and the Sir Chris Hoy Velodrome).
"The Scottish market is a very important part of our business – it makes up roughly 10% of the UK business if you take it on a per capita basis.
"We've been here a long time. Brands like George Boyd are very long established so there is a lot of history with the contruction business in Scotland. When you look at the portfolio of buildings we've engaged in and projects that we've touched…that says we're an important part of the construction industry in Scotland. Our materials are well renowned and generally well recognised and specified across the industry.
"I was personally fortunate enough to sell my business to Saint-Gobain back in 2002 and since then I've had some fantastic opportunities and been involved in building up a number of the businesses.
"As a business Saint-Gobain sells over 400,000 products and with over 1000 sites we can supply pretty much a total solution of all building and construction materials – from Leca, a substrate material, to Frazer, which supplies below ground and infrastructure products.  With Jewson we can go from aggregate to chimney-top in terms of breadth of product. Graham is the second largest brand in distribution in terms of plumbing and heating. More recent companies to join the business include Celotex, which strengthens our insulation offering. In addition you've got specialist brands like International Decorative Surfaces, which distributes solid surfaces, floors, laminates and worktops. Glassolutions is an important brand for us and Weber you'll know from adhesives and renders, particularly for facades."
Saint-Gobain has now introduced its MultiComfort concept for buildings. The aim is to create buildings that are highly efficient, but also consider the health, wellbeing and comfort of the occupants who live, work and play in them. Factors taken into consideration include acoustics, air quality, energy efficiency and visual comfort.
Stuart explained that improving the quality of buildings leads to increased productivity in offices, better learning in schools and even shorter hospital stays. Saint-Gobain has also been involved in a project with Crudens at the BRE Innovation Park in Lanarkshire.   
Stuart believes the construction sector is keen to embrace innovation. "I do believe there is that appetite for modernising the industry," he said. "From our perspective, as a company that's survived for over 350 years, innovation has got to be part of the solution, otherwise we wouldn't be here today!
"25% of the products we sell today didn't exist five years ago. If we create better places to live, better places to learn, better places to heal, then society benefits."