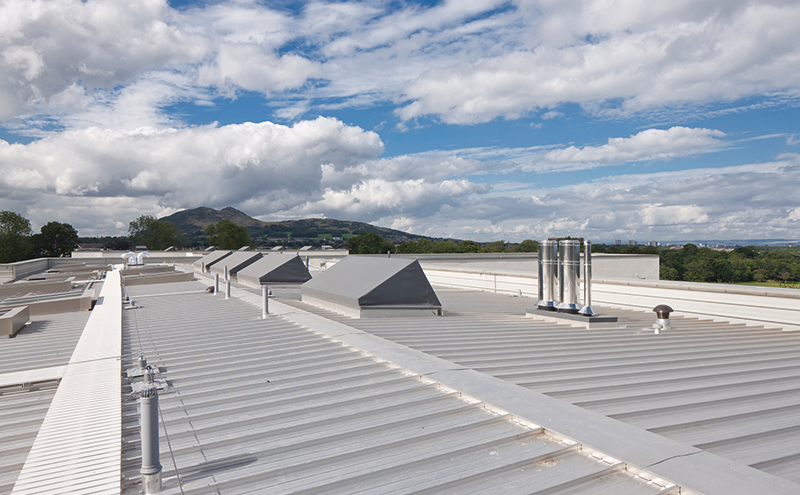 EDINBURGH'S new Portobello High School is one of the first of the new 'Wave 3' schools identified by Edinburgh City Council to replace existing schools.
The facility will become the city's second largest secondary school when it officially opens in January next year.
The new school features an open plan layout, designed to maximise the use of natural light and encourage the use of communal spaces for pupils to meet and swap ideas.
Lakesmere was appointed deliver the extensive roofing package, working alongside main contractor Balfour Beatty.  As the building has been constructed using a lightweight steel frame, Lakesmere said the roofing components had to be "carefully selected and utilised to be as strong yet as light as possible"
Lakesmere said, "The lightweight yet robust properties of aluminum standing seam roofing made it ideally suited to achieving the specific requirements and in total approximately 9500sqm of Kalzip aluminum was installed to the main teaching blocks, assembly hall, drama and IT buildings.
"Designed by JM Architects to be both sympathetic and complementary to the existing green space, the incorporation of Kalzip nature roofs and hot melt roofing to both the terraced roofs and plant areas not only softens the appearance of the large roof structure, but also provides rainwater absorption and enhanced acoustic performance.
"Careful consideration also had to be given to the roof of the swimming pool and the Lakesmere team devised a specific build up suitable for use in such a high-humidity environment to reduce the risk of corrosion of the fixings and roof system from moisture and chlorine in the air."